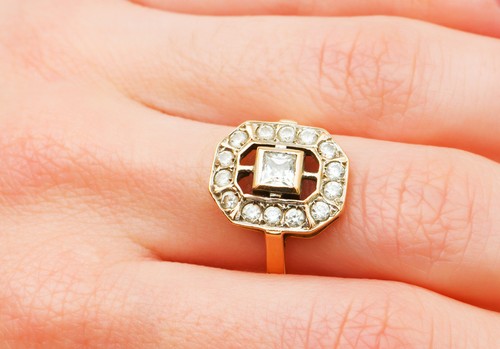 For a buyer who wants a one of a kind, unique diamond engagement ring, a vintage diamond engagement ring is the perfect choice. A vintage ring is certain to please an antique fan as well as a buyer who enjoys an interesting piece of jewellery, and a vintage ring makes a beautiful engagement ring as well. There are many styles of vintage diamond engagement rings, from simple, elegant rings to oversized and dramatic cocktail style rings, so there is sure to be a ring to please every buyer.
Vintage diamond rings may not be as affordable as newer rings, especially if they are quite old and in good condition, so a buyer should adjust his or her budget accordingly. A vintage diamond ring is a worthwhile investment and an heirloom which can be passed down to other family members as the owner desires. The shopper should ensure that there is not another ring like the one which is purchased by selecting a vintage diamond ring that is sure to be a conversation piece. The buyer should also select the perfect vintage diamond engagement ring by choosing a ring by style, size, condition, and setting.
Types of Vintage Diamond Engagement Rings
Vintage diamond engagement rings offer many styles from which the buyer can choose. From creative, Art Deco styles to the more refined Victorian and Edwardian rings, there are many styles of vintage diamond engagement rings. Some rings offer a variety of stones and some may have one sparkling diamond as its centrepiece. Ornate engravings, baguette designs, and filigree bands are just a few of the things that make vintage diamond rings stand out from newer types of diamond engagement rings.
Art Deco Rings
Art Deco rings offer a variety of styles. A typical Art Deco diamond ring is from the time period between 1915 and 1935, and it offers many styles such as a round setting, a large stone, an ornate band, and an Edwardian style ring as well. An Art Deco ring is a good option for a buyer who really wants a unique ring, because Art Deco rings vary so widely in style, no two are alike.
Some Art Deco rings have more than one metal that was used to create the rings, and rectangular, large, geometric style settings which the stones are embedded into, along with side stones or creative bands. An Art Deco ring stands out and is typically not a plain or simple ring. It is a showpiece, and makes a perfect diamond engagement ring for a buyer who does not want something standard or typical. Art Deco rings are also sometimes called Art Nouveau rings.
Cluster Rings
A cluster ring is a type of vintage diamond engagement ring which has several diamonds in a cluster formation. This can be in a shape, such as a flower, or simply create a circle shape within the setting of the ring. Cluster rings come from every time period, and are still popular today. A cluster ring also may have a stone in the centre or a pearl. Cluster diamond rings are a variety of sizes, from small clusters of diamonds to larger settings which offer other stones with diamonds surrounding them to form an oversized cluster shape.
Cluster rings are also set with pave style diamonds, which are small diamonds that surround a larger stone for a sparkling look. Cluster rings are also rings which have several bands soldered together that are laced with diamonds.
Solitaire Rings
Vintage diamond solitaire rings range from sophisticated marquise cut diamonds to more traditional round cut diamonds. A vintage solitaire diamond ring which is surrounded by diamonds on each side is also called a trilogy ring, since it has three main stones in the centre of the band. The difference between a vintage solitaire ring and a solitaire ring of today is mainly the band. A vintage band offers a more distinctive look and is generally more decorated and embellished than a newer or more traditional solitaire ring.
Filigree bands are common, as are bands studded with small diamonds or stones. A vintage solitaire ring offers the buyer the classic look of a solitaire, but with the added benefit of the beauty and distinct look of a vintage style ring. The solitaire ring which many people associate with the standard solitaire look was created in the late 1800s.
Eternity Bands
An eternity band is an engagement band that generally has diamonds all the way around the band, as opposed to having one central stone as the main focus of the ring. A vintage eternity ring may come as a set with a wedding ring as well as the eternity ring, which is the engagement ring portion of the set. A vintage eternity band may have other details such as engraving or a filigree band.
Victorian Rings
The Victorian period lasted from 1837 to 1901, and the style of Victorian diamond engagement rings is quite distinct. A Victorian ring offers the buyer a romantic and elegant piece of jewellery that reflects the romance of Queen Victoria and Prince Albert, the couple the era is named for. Victorian diamond rings are elegant, timeless, and intricate, and some have one stone but many have more than one diamond which makes up the setting, along with ornamentation such as shaped clusters of diamonds, pearls, or other stones. Victorian diamond engagement rings are generally created with yellow gold.
Most diamonds in this period were not the colourless diamonds that a buyer looks for today to signify quality, so when a shopper is looking at Victorian rings, he or she needs to keep in mind that diamonds of this era were mostly off coloured; some diamonds were even yellow in colour, which was considered beautiful for a diamond ring in this age.
Cocktail Rings
Vintage cocktail rings are another type of vintage diamond engagement ring, and they have a style all their own. Cocktail rings are usually created with oversized stones. A cocktail ring is an elaborate ring which usually has a showpiece diamond or stone in the centre, and is surrounded by other diamonds or stones. This is a ring type for a wearer who is not shy, because the style is quite eye catching.
Vintage cocktail rings come from different eras and include many different signature antique styles such as filigree bands, elaborate settings, and even Art Deco style settings with geometric and odd shaped mounts for the diamonds and stones. These types of rings make a strong style statement, and they are oftentimes quite costly due to the sheer volume and size of the diamonds and gemstones involved.
How to Buy a Vintage Diamond Engagement Ring on eBay
Look for a one of a kind vintage ring on eBay for an affordable price. Search for "vintage diamond engagement ring", and from there you can narrow the selection by style and period of the ring, by the main gemstone of the ring, or by the metal the ring is made from. Purchase a vintage diamond engagement ring from a merchant who is a Top-rated seller on eBay, and check the seller's feedback to ensure he or she has a lot of positive reviews from other buyers.
Read the seller's description of the vintage diamond ring carefully to see what kind of condition the ring is in, how much it costs, and any other necessary information such as carat weight, type of metal, and what the ring's size is. If you would like to see a certificate of appraisal for the ring, select "Ask the Seller" to see if the seller can provide you with one. Once you have received your vintage diamond ring from the seller and you are satisfied with your purchase, go to the seller's page and leave feedback, which helps other buyers in their search for the perfect vintage engagement ring.
Conclusion
For a buyer who has the budget and wants a unique engagement ring, a vintage diamond engagement ring is the way to go. Vintage rings from all time periods make interesting and special engagement rings and promise to be unlike others' engagement rings. The settings and styles of vintage rings are vastly different from modern rings, and they create an antique style that looks classic with all women's wardrobes no matter what their styles are. Vintage engagement rings have a distinct style which range from the geometric designs of the Art Deco style to the romantic, filigreed rings of the Victorian Era.
A vintage diamond engagement ring has a history, and it is also an investment piece which makes a gorgeous family heirloom to pass down. A vintage ring can become a woman's signature piece of jewellery and one she never wants to take off. Make a proposal even more special by purchasing a vintage diamond ring that is affordable from eBay, and create a one of a kind engagement experience that is even more amazing due to the fact that the ring purchased is completely unique and unlike any other ring. Whether it is diamonds combined with pearls, as was the style in the Victorian Era, or an oversized cocktail style ring, there is a perfect vintage engagement ring for every woman.