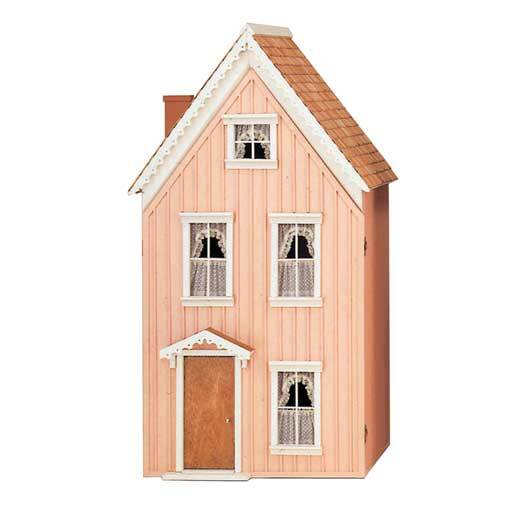 Collecting dolls' houses is a well-loved intergenerational hobby. Buying, maintaining, restoring and building dolls' houses provides hours of pleasure for enthusiast of all ages. The choice of dolls' houses and accessories is vast, meaning there really is something to suit any need or taste.
A popular choice is the vintage dolls' house. A vintage dolls' house, sometimes referred to as an antique dolls' house, is a dolls' house or accessories for the house made before 1960.
This choice can at times be overwhelming so before embarking on this hobby for the first time, it is advisable to research and make a decision about what type of dolls' house is desired.
eBay offers a fine selection of vintage dolls' houses ranging from historical varieties to a more modern choice, in houses, shops and mansion models. Vintage dolls' houses on offer through eBay include buildings from the Victorian, Tudor, Georgian and Edwardian periods.
What Types of Doll Houses are Available
As vintage dolls' houses are made prior to 1960 they will be sold as 'second hand' or 'used' items.
New vintage dolls' house replicas are available in the style of the era, but it is important to understand that these are replicas and not 'vintage' in its traditional sense. This is not to say the houses aren't vintage inspired as they reflect the same time period, they were just not made prior to 1960.
Because of this, traditionally vintage dolls houses can be 'built' by the hobbyist from a number of acquired vintage accessories bought individually over an extended period of time then put together to create the vintage house.
Alternatively, if after a replica vintage house of a specific era, ready-made kits and packages can be purchased for self-assembling.
Doll House Scale
When restoring or building vintage dolls' houses, the scale of the house is an important factor to take into consideration. Each piece of furniture or additional feature purchased for the house will be set to a particular scale. If it does not correspond with the scale of the house, it will not fit.
Traditionally the dolls' house collectors can be broken into two categories with the following scales attached.
| Category | Scale |
| --- | --- |
| Children's play dolls' house | 1:18 (or 2/3") |
| Adult collectors | 1:12 (or 1") |
However, please note this list is not exhaustive. Be sure to check the scale of each additional accessory before purchase to ensure it fits with the scale of your dolls' house.
Number of Rooms
Dolls' houses are often sub-categorised by the number of rooms. The sub-categories of eBay, for example, allow the buyer to decide upon the scale, era, style and size (number of rooms). Traditionally, the more rooms the larger the house – with houses available with up to 8 rooms. A bespoke built house can be larger depending on the want of the hobbyist.
Access to a dolls' house is via the back of the house where the back wall is removed or doors are opened. In some houses, the back part of the roof is detachable.
Vintage Styles
Dolls' houses come in many different styles and scales. However as a vintage dolls' house is a niche collectable, the term is used to categorise specific styles of houses which are associated with a specific time in history. Remember that vintage is generally used to label items made pre 1960, but will also label replica house made of the style post 1960.
Victorian Dolls' Houses
The Victorian era (British) is dated from approximately 1837 to 1901 during the reign of Queen Victoria.
A vintage Victorian dolls' houses will often be available in the following styles of buildings:
Georgian Dolls' Houses
The Georgian era (British) is dated from approximately 1741 to 1830. This particular era in history is often associated with architecture and has a very distinct architectural flavour and flare.
Georgian dolls' houses are easy to come by, generally with 4 rooms.
Edwardian Dolls' Houses
The Edwardian era (British) covers a very short period of time in history from approximately 1901 to 1910 (sometimes these dates are extended as far as 1919) and covers the reign of King Edward VII. Edward's love for travel saw him bring in a continental flavour to the UK which is evident in this era of architecture.
As the time period is shorter – the choice is often harder to come by. The most common categories are:
An Edwardian dolls' house will typically have between 3 to 4 rooms.
Tudor Dolls' Houses
The Tudor period (British) existed between 1485 and 1603. It is a period of time that existed in England and Wales and was attached to the Tudor dynasty.
Tudor dolls' houses are most commonly found in the following styles:
As with Edwardian dolls' houses, the Tudor houses or mansions will often feature between to 3 to 4, but some have up to 5 rooms.
Materials of a Doll House
Whether after a true vintage dolls' house or a replica vintage building, the materials used to build the house deserves attention. This point is particularly important to hobbyists creating a replica house out of materials made post 1960. Many dolls' house enthusiasts build their dolls' houses as a family air loom with the intention of passing it from generation to generation.
As a result, the durability of the materials is a detail that requires attention. Where possible inquire about the materials used, steering away from newer synthetic materials and going for more traditional materials such as woods like walnut, oak, maple and premium Russian Baltic birch. The natural materials will also help give a more authentic look to the building and accessories and, enable the builder to focus on obtaining intricate design features.
Vintage Doll House Accessories
Most dolls' houses and furniture/accessories are purchased separately. However, if a second hand or vintage building is being sought, often the seller will have already spent hours upon hours furnishing the house. It is possible to purchase a vintage house off eBay that is ready to use with no additional work. This can also include electric fittings for working light bulbs within the building.
However, should the user wish to add their own personal style to the house, additional furniture, fittings and accessories can be purchased. When doing this, always ensure that the accessory or piece of furniture fits with the style and scale of the house. There are some simple questions to ask to ensure this is the case:
Is it to the same scale as the dolls' house? Remember that dolls' houses come in a variety of different scale sizes.
If appropriate – is the piece of furniture or accessory vintage? Does this matter?
What material is the piece of furniture or accessory made out of?
Where to Purchase Dolls' Houses and Accessories
There are many different outlets and online stores to purchase all manner of dolls' house buildings and accessories. For example, auction sites like eBay offer thousands of different products.
There products include a wide range of accessories and furniture, Victorian houses,, shops and mansions,, Edwardian houses and shops, Tudor houses and, Georgian house and shops – all in vintage (made pre 1960), vintage inspired or replicated and modern. The main advantage to shopping and buying on eBay is the wide selection, the ability to shop from the comfort of your own home and also, the flexible payment options.
To browse all of the aforementioned products, simply go to the Dolls & Bear category. Here further search options will be signed posted such as Dolls' House, Vintage, Modern and Kits. There is also a porthole for Antique (pre 1920) dolls.
If the exact item is known, the search function on eBay allows the user to search directly for the product. This search function is easy to find and is located on every page. Remember, if unsure about the exact title or name for the product, a simple educated guess of title or name should sign post the pathway to finding the product.
As there is so much choice, it is advisable to carefully read all the reviews about the product and seller. This will ensure the item is exactly what is being sought. The photographs will confirm the condition of the product.
f in doubt, always email the seller via Ask the Seller.. It is their job to send on additional information about the product and delivery details and fees.
Never mind if this information is forgotten, eBay have a Buying Tips page that goes over all this information and more.
When the correct product is confirmed all that is left to do is to place a Bid, put down a Best Offer or Buy it Now depending on the payment options. PayPal offers a simple payment process that runs smoothly and is easy to use. And to seal the deal, eBay users are protected by the Buyer protection Programme.
Conclusion
Whether it is collecting for a personal hobby or building the dream dolls' house for a relative or friend as a family air loom, this hobby provides hours of pleasure. The use of auction sites like eBay means that users can select the perfect finishing piece of vintage furniture for the perfect vintage dolls' house.. The easy to use search system means that browsing is never more than a few clicks away. And with unlimited choice, there is bound to be an affordable option for everyone.
Now all members of the family can enjoy this hobby together. Collecting, restoring and building vintage dolls houses is a great intergenerational project and produce stunning results that can be displayed in any home for hours of viewing pleasure.