Ferguson TE20
This is one of many illustrated classic tractor guides I've created for the community. I hope you enjoy it and if you would like to find out more about the classic Tractor art featured in this guide please click here.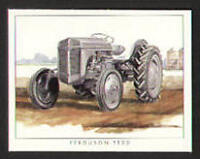 The 24hp Ferguson TE20 tractor was introduced in 1946 and became extremely popular all over the world. It was fitted with a hydraulic three-point linkage and draught control system developed by Irish inventor Harry Ferguson. The TE20 was small and compact and new users were amazed at what they could achieve with this apparently undersize tractor. With mounted implements, jobs could be done quickly and efficiently, although for some the seating position took a little getting used to. Virtually every tractor made today is fitted with a modern version of this ingenious Ferguson system.
If you would like to see more guides on classic tractors please click!
Thank you for reading my guide and I hope you found it interesting!