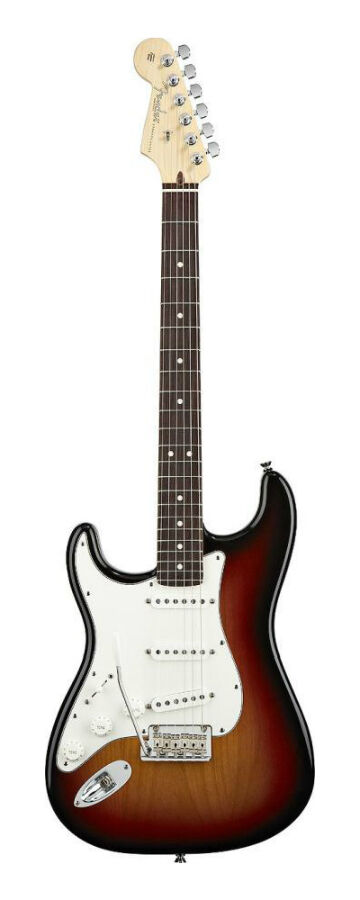 Owning a vintage Fender Stratocaster electric guitar is the ultimate ambition for many guitar players. Considered by many to be the electric guitar by which all others are judged, early Stratocasters (or 'Strats'), are highly sought-after. However, buying a genuine vintage Strat can involve a considerable amount of money, so it's important to know as much as possible about what to look for and which pitfalls to avoid before committing to spending a considerable amount of money.

The Fender Stratocaster was first produced in 1954, and has been produced since that date. Fender have continuously upgraded, refined and developed the design, although the basic elements which have made the Strat a design classic have remained broadly unchanged.
The Iconic Features of the Fender Stratocaster
When the Stratocaster was first launched, it had several unique design features.
The 'Custom Contoured' body

'Double-cutaway' design where the neck meets the body – allows easier access to higher frets

Upper 'horn' of the cut-away is extended – body is better balanced.

Upper edge of body recessed – easier for player to reach the strings.

Lower edge chamfered to allow right arm easier access.
The neck
Single piece maple neck on early versions, and later reintroduced.

Usually 21 frets although 22 frets on some versions.

Early models have slab neck, later models have a C-shaped neck.

Distinctive dog-leg head design.
Pickups
Early Strats designed with 3 single coil pickups (SSS), placed on bridge, neck, and middle

Originally a 3-way control switch, but later replaced with 5-way switch.

Originally one volume control, but additional tone controls on later versions.

Later Strats have reverse-coiled pickups, known as humbuckers. Different combinations of single (S) and humbucker (H) pickups available. Strats with humbuckers known as Fat Strats.
Bridge
'Floating bridge' design allowed tremolo arm to bend the pitch.

Fixed bridge option – called a hard tail.
The Stratocasters Which are Considered to be Vintage
It is generally agreed that Strats made before 1980 are considered vintage, with those made in the 50s and early 60s being the most collectible.
Vintage Fender Stratocaster Features
The Fender Stratocaster design has continuously refined since its inception, and it would be impossible to include all the fine details about each different change There are websites which record information about every development, which can be consulted for specific details. However, there are some general changes which can be seen.
Iconic 'Sunburst' colour design.

One-piece maple neck.

Slab rosewood fingerboard.

Single layer pickguard.

Thin Spaghetti logo.

1954-56 – experimental thermo-plastic used on pickguard, knobs, pickup covers etc

Distinctive tweed case.
Wider range of colours, but still limited.

One-piece maple neck discontinued.

Slab rosewood fingerboard (until 1962) then veneered version introduced.

1967 – maple cap neck introduced (in addition to rosewood cap).
1970 – one-piece maple neck reintroduced.

1977 – 5-way pickup control became standard.

Humbuckers introduced.
Post-CBS Changes to the Fender Stratocaster Features
In 1965, the CBS company took over Fender, and made changes to the production methods to make them more cost-effective. It is said that attention to detail and a high standard of finishing was lost. Some players believe that these changes affected the sound, and that early models have a superior tone to those which were produced later. This is why guitars form the 1950s and early 1960s are especially prized.
Post-CBS Changes
Less sleek and sculpted body.

Indian rosewood replaced higher-quality Brazilian rosewood on fingerboard.

Clay fingerboard dots replaced with pearl.

Larger peghead.

Plastic on pickguard changed, and 3-ply or 4-ply instead of single ply.

1968 - polyurethane replace nitrocellulose lacquer finish.

1971 - 3-bolt neck replaced the 4-bolt neck.

1971 – single die-cast bridge introduced.
Buying a Vintage Fender Stratocaster
Naturally anyone wanting to buy a genuine vintage Strat will need to know which features are present in guitars of each period, whether any parts have been replaced, and if genuine period parts were used.
The After-Market
Fender deliberately designed the Fender Stratocaster to be easily assembled, and, therefore, easily dis-assembled, and there is a thriving after-market in existence, where Strat parts can be bought. In fact, there are companies that specialise in building guitars, including Strats, using genuine Fender parts; though there is hot debate about whether or not the result is actually a genuine Strat. For this reason, buyers need to be aware that a vintage Strat may not necessarily have all the original parts and features, which could affect its value, so it helps to know what essentials to check.
Checking Serial Numbers and Codes
There are websites where information such as serial numbers, date codes, other codes, and more general features are catalogued, together with advice about where to look on the instrument to find this information, depending on the date of manufacture.
Serial Numbers
Serial numbers are probably the most important features to check when trying to ascertain whether or not a guitar is a genuine Strat. However, both the format and positioning of serial codes has changed significantly over the years, so when considering a purchase, find out which year the guitar was manufactured, and check the format and positioning for that date. A guitar without any serial number should definitely be avoided, as there is no way to tell if it is a genuine vintage Strat.
Date codes
Again, date codes and their positioning has changed over time, so check carefully where to look, and the date code format used to ensure it matched with the genuine codes from that period.
Other Codes
There are other codes which can usefully be checked which will help show whether any parts have been replaced, and whether or not the replacements are genuine parts from the period in question.
Neck stamps.

Neck and body stamps.

Pot codes.

Pickup codes.

Large letter stamps.
General Guitar Features to Check
As well as looking at serial numbers and codes, there are some more general features of the guitar that can be examined to help decide if the Strat is truly a vintage model.
General features

Frets

It is reasonable for vintage frets to be worn, so if frets look new, they could have been replaced.

Colour

Pre-1965 guitars had a limited range of colours, so check to see which are genuine for the period.

Pickguard

Pickguards could also be expected to be worn from usage. Some vintage pickguards, especially on very old models, may even be worn through. A new-looking pickguard could be a replacement.

Pickups

Be aware of which pickups were available for the period e.g. 1950s guitar should not have humbuckers

Logo

There have been several changes to the Fender logo, and these can be used to date the guitar. Be aware that a logo could be fake, so check fine detail carefully.
Check the History of the Guitar
If possible, try to find out some details about the history of the guitar. If the guitar has had a famous owner, then this could increase the value. Of course, ideally there should be some authentication available to prove this information, such as a purchase receipt, verification of a famous player using the guitar, or other written proof. However, again, this kind of information can be faked, so always back up any claims by making other checks as already outlined.
Obtain as Much Information as Possible About the Guitar
A reputable seller will always be willing to provide as much information as possible. If purchasing directly, then the guitar can be examined closely, and details checked. Online selling can be more problematic, but photos can be very helpful here. If they are not already provided, ask for several close-up shots, showing features such as the logo, pickups and head, and any items which may have been replaced. If possible, obtain photos of any codes or serial numbers. The seller should also be able to answer questions about the history of the guitar, or information about any replacements, modifications or repairs which have been carried out.
Buying a Vintage Fender Stratocaster on eBay
To buy a vintage Fender Stratocaster on eBay, start at the home page, then go to All Categories, followed by Musical Instruments. Under Guitars select Electric, and then under Brand select Fender. Under the Condition menu select Used, where the results can be browsed. The search can be further refined using key words.
Conclusion
There is no doubt that finally holding that long-awaited vintage Fender Stratocaster will allow the keen guitarist to create the distinctive sounds of yesteryear, so taking the time to avoid problems and pitfalls when making a purchase will ensure many happy hours of playing.