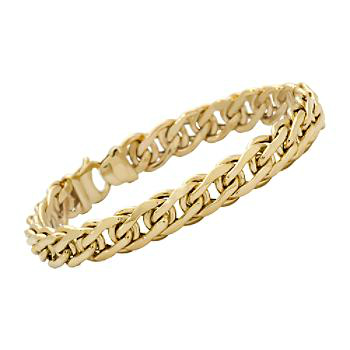 A vintage gold link bracelet is a jewellery item that can be worn on a daily basis. Because it can be appreciated so often, it is important for buyers to choose a bracelet based on its durability and versatility. A link bracelet is made up of individual links that are all of similar shape and interlock with one another to form a chain. The most common link shapes are round or oval. Some chains are light while others are heavy due to their design.
Vintage is often confused with antique but the two are not the same. Vintage refers to a certain era or design period in which a certain style was prevalent. For lovers of history or era enthusiasts, purchasing a vintage bracelet can bring a piece of that history home. But buying vintage jewellery can be confusing, so it is important to learn all the facts before beginning one's shopping experience. Buyers should check how much gold the bracelet contains and if it bears a trademark from the jeweller who made it. This helps to ensure that a buyer is purchasing a real vintage bracelet. Purchasing the correct length and choosing an era type are the next considerations, along with budget.
Once a buyer knows what he or she would like to purchase, a vintage gold link bracelet can be purchased from estate sales, secondhand jewellery retailers, and online marketplaces such as eBay.
Vintage Gold Link Bracelet Quality
Gold is durable and strong. Because of its rarity, it is often mixed with other metals to form jewellery. When several of these lesser metals are brought together, they make an alloy. This alloy increases the gold's strength and reduces the amount of pure gold in a bracelet or ring. Depending on the alloy used, jewellers can create an end product with a variety of colours, such as rose and green gold. Because of this mix, however, it is important for buyers to be aware of the quality and durability of a vintage gold link bracelet. They can do this in two ways.
Carat Quality Marks
The carat mark, usually located somewhere near the clasp on the inside of the bracelet, shows the actual proportion of gold contained in the jewellery. Pure gold, otherwise known as 24CT gold, is typically too soft to withstand daily use, hence alloys are mixed in order to strengthen it.
18CT gold is one of the most popular types of fine gold used in bracelets. It is 75 per cent gold, so the European carat quality mark is "750". In the United States, 14CT gold is the most commonly used gold mixture in jewellery, meaning it is approximately half pure gold. In the European marketplace it is marked as "585".
10CT gold is generally as low in carats as modern jewellery goes, but buyers may still be able to find some vintage bracelets in eight or nine carats.
However, people with metal allergies should be careful around this level of gold. The alloys used may cause an allergic reaction. For them, it is better to get as close to pure gold as their budget and activities allow.
Trademarks
Trademarks can be found on vintage bracelets that are less than 50 years old. These trademarks are in fact tiny stamps signifying the jeweller that created the bracelet, and are usually found next to the carat quality mark. On some bracelets, there may be a mark from its country of origin. Depending on what era the bracelet is from, the buyer may even find inscriptions of the date it was given to the original recipient. All of these methods help buyers ensure the vintage gold link bracelet is genuine.
Construction
Buyers should also be aware of the overall construction of the bracelet. The best way to ensure a quality bracelet is simply to inspect it. If a buyer is purchasing the item online, they can ask the seller about the condition of the clasps, how effectively they catch, and the strength of the links. A genuine gold chain of high quality should lay flat with no kinks or bends in the links.
Vintage Gold Link Bracelet Types
Vintage gold link bracelets encompass several different design periods throughout history. The type of bracelet buyers choose depends mainly on personal preference and how rare the item is. Categories are listed below:
Type

Features

Victorian

Ornate and heavy

Nature-influenced designs

Should be worn alone

Art Deco

Minimalist design

Layered gemstones

Can be easily paired with other jewellery

Retro

Bold and chunky

Typically bright colours

Mixes well with other vintage designs

Estate

Unique, often handcrafted

Typically found at estate sales

No more than 50 years old
As the above chart shows, vintage gold link bracelets come in many different styles. Buyers should consider their budget, personal style, and where they intend to wear the bracelet before deciding which era style is the most ideal.
Victorian
Popular across all collector types, Victorian gold link bracelets are one of the most sought-after styles. This design period began in 1837 and ended in 1901, under the reign of Britain's Queen Victoria. Victorian bracelets are ornate with a heavy influence from nature in the form of leaves, vines, and flowers. Because it can be overwhelming if not worn properly, Victorian bracelets must be chosen carefully. Buyers should consider buying one or two pieces that can be worn by themselves as striking statement items.
Art Deco
Art Deco gold link bracelets stem from an era that lasted from 1915 to 1935. This style of jewellery is highly sought after by collectors. Bracelets feature minimalist designs. Sometimes, containing layered gemstones that complement the "flapper" clothing effect. Many people appreciate this style of bracelet because it is so easily paired with clothing and other jewellery.
Retro
Though the term "retro" is often associated with vintage-style inspired clothing and jewellery, retro gold link bracelets belong to an actual retro period that occurred from 1945 to 1960. This style can best be seen in classic Hollywood movies. These bracelets tend to be bold and chunky and feature bright colours. Many buyers enjoy this design era because it can easily be mixed with other vintage periods.
Estate
Estate gold link bracelets are technically those bracelets that are found at an estate sale. These estate sales typically occur when the owner has passed away. Many such people leave a wealth of vintage treasures behind, giving buyers a chance to find jewellery from all different design periods. Often, unique and handcrafted bracelets can also be found at estate sales since the majority of them were designed for a specific person. The term "estate" can also be applied to bracelets that are no more than 50 years old.
Buying a Vintage Gold Link Bracelet on eBay
Once buyers have a good understanding of a vintage gold link bracelet and know what they want, they can begin shopping at an online marketplace like eBay. With hundreds of private and commercial sellers and thousands of items, shopping on eBay is a quick and simple solution to finding what you need.
You can begin your shopping experience by typing your search terms into the search field located on every eBay page. For example, typing "diamond vintage gold link bracelet" provides you with listings of vintage bracelets that have diamond settings. These frequently number in at least the hundreds based on what you are looking for. Therefore, you can simplify the search by using the various category and organisational filters to reduce the number of listings that appear at any one time.
After you have found an item you are interested in, click on it to be taken to the item's page. Here, you can read a full description of the bracelet, its condition, how old it is, and any applicable shipping charges. Because you are buying a valuable piece of jewellery, it is wise to review the seller, as well. Make sure he or she has good customer feedback and a solid selling history before buying from them.
Conclusion
When purchasing a vintage gold link bracelet, buyers should remember that they are choosing a secondhand item with a lasting value. It may be difficult to find exactly what the buyer envisions if it is a particularly rare bracelet or popular in design. Depending on what era or style is desired, some vintage link bracelets can be found easily through specific sellers.
Before shopping, buyers should consider who the bracelet is for and how much they would like to spend. These two things alone help to narrow down the possibilities. It is important to have a solid understanding of vintage bracelets so the item can be inspected to ensure that it is genuine. Durability is also a key factor since bracelets are worn more often than other jewellery and their placement on the body makes them more susceptible to accidental damage.
Once buyers know what they want, they can purchase vintage gold link bracelets in a variety of places, such as antique dealers, estate sales, thrift stores, and from online auction sites like eBay.