If you find this article interesting or useful please give it a YES rating at the end. Many thanks!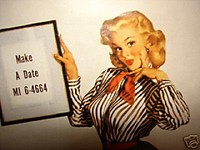 With the current interest in vintage and burlesque fashions, there is a growing demand for ladies 20's, 30's 40's and 50's hair styling to compliment the outfits. Here is a guide, using references from original hairstyling books of the period, personal experience and professional advice on how to re create that glamourous Hollywood retro look at home.
There's no doubt about it, the wartime era was certainly a time of pure glamour when it came to hair. After the flapper eral of the 1920's when the Shingle, Eton Crop, and Bob gave women boyish practical hairstyles, there came a time when women wanted to look more feminine with longer hair, waves, curls, partings, fringes, rolls and accessories. Recently Christina Aguilera has been playing the vamp in her pop videos with platinum pin curls. Dita von Teese is making waves with burlesque look, and Scarlet Johansson, with her carefully coiffured locks in The Black Dahlia, has revived the interest in retro hair styling.

First you will have to decide whether you want to adopt this new vintage look as an everyday thing, for a fancy dress party, wartime re-enactment or for just an evening out. In this 'wash and go' era, we have forgotton just how long our great grandmothers took to do their hair, so please take into account the time and effort involved with sorts of these hairstyles. There are salons around that will do this kind of look for you, but make sure you have a consultation first. Also, curls stay in better on hair that's got some degree of movement, either natural or permed. Remember too, that many movie stars wore wigs in those old films so their hair looked perfect for every shot. This is always an option for a special occasion if you want to try it and e bay has some great vintage style wigs to buy. Today's ones are pre styled, lightweight washable and inexpensive.
--------------------------------------
I have designed this guide in a question and answer format as follows...
Q. Where do I start?
A. Well, you start with what you've got. Short layers? A bob? Shoulder length hair? Past the shoulders? Whatever length you have there is likely to be a way of styling it for a good retro effect. It might not come out completely true to period but remember its an image you are aiming for not an exact historical re-creation. Also the finished style might not look so good once you've slept on it, so involved styles are probably best kept for special evenings rather than everyday wear.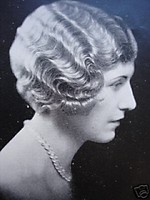 Q. What tools and products will I need?
A. In addition to a shampoo and conditioner, you'll need a firm hold setting agent such as mousse or setting lotion, serum for gloss and to ease frizz, plus a STRONG hair spray. I tend to prefer the wetter non aerosol sprays because they give me a few seconds to adjust the style before drying rock hard into an all day hold that washes out. Depending on the style, you will also need dryers, a comb, a tail comb, a selection of quality brushes, pin curl clips, ghd styling irons (the small size are great for curling hair when you know how!), tongs, hair bands, valcro or heated rollers, hair accessories, hair pins, sectioning clips, kirby grips.
Q. It all sounds very involved - isn't there an easier way to get a retro hair style?
A. The good news is YES! A good cut is the answer. Try a very short wide fringe with an all one length club cut bob just to the middle or bottom of the ears. This works well on straight or wavy hair. A short layered cut is easily plastered down to the head with wax or pomade with a deep parting and a couple of kiss curls by the ears like Josephine Baker. For quickness long hair can be worn in a snood at the nape of the neck or can be taken into two high bunches with ribbons, plaited and wrapped across the head. It's very important to use accessories like large silk lilies to add glamour, colour, interest and to hide those grips and pins!. For a land army girl look, tie a triangle scarf up on top of the head leaving out the fringe.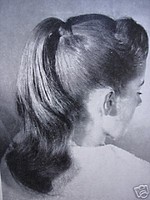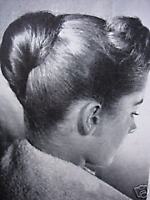 Q. Okay, they're the quick fix ideas, but what about those rolls and curls?
A. To create a Hollywood look you must decide on the era you want to represent. In a nutshell, the 20's saw those no nonsense cuts I mentioned earlier. Spice things up for the evening with a headband and a feather and you have the great silent screen goddess image. The 30's had hair quite neat and as flat to the head as possible. Try pin curls or barrell curls (see below). If you are concerned they will drop, just leave the hairgrips in for a more interesting look. Long hair can be parted, combed flat, finger waved, rolled and secured. The 40's typically saw side parted longer hair with height in the front and at the sides with height rolls cascading waves and curls at the back. Backcombing didn't come into fashion till much later but you can cheat a bit to add fullness to thin hair as long as you disuise it well! Another look of this time was to have a chignon at the back and tight curls on top - sides to be sleek. The 30's and 40's was a great era for hats, so do consider adding one to your style. The 50's rockabilly image was more about bounce and body rather than set looking waves so try a Betty Page style wide short fringe and long bob tucked under, a sleek chignon or a glossy ponytail that's curled at the bottom. Short hair was flat on top and gently waved or curled around the edges or go for a short wavy bob like Marilyn Monroe.
Q. How do I do those rolls waves and curls?
A. Here is a guide to creating those looks...Every professional hairdresser has their own way of doing things - this is what works for me and my clients. If you have difficulties, get a friend to help your, especially for the back of your hair. Practice makes perfect so have a few practice runs before an important occasion. Work on clean hair that has a setting agent added to it. Hair spray liberally once you have a good effect. Experiment! For example, pin curls can be worn as they are or if they don't look quite right comb them out when dry for a loose wave effect. Rags can be worn just in the pony tail giving you a bunch of ringlets.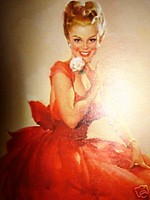 Finger waves - part the hair, comb a section down and push back to form a wave. Using your index and middle finger, trap the crest of the wave and secure with a sectioning clip (or a marcel wave clip if you are lucky enough to find any old ones!). Continue down the section creating waves as you go. Finish at the bottom with some form of curl - typically pin curls or barrel curls (but you could cheat and use rollers or tongs). Dry well and remove clips.

Pin Curls - take a smal section, twirl it around your finger, place the curl flat on the hair and secure with a couple of kirby grips or a clip. Condtinue in rows, alternating the direction of the curls in each row. Dry and remove the grips if required.

Curls - create with the use of rollers, tongs or by taking a section, winding it around the finger like a pin curl and then securing it upright (not flat like a pin curl), dry well and remove the girps. Or you can use ghd hot irons on dry hair like this - use a mist of heat protecting spray, then take a small section, put the irons in at the roots, grasp and twist 180 degress and slowly pull the irons away from the head. It won't feel as if you are curling the hair but when you release the irons the section should be a lovely ringlet - accentuated if you wind it around your fingers and spray to hold. If it doesn't work move to another section before repeating .

Curling with rags - use stips of old sheet, j-cloth or similar to give long lasting ringlets on long hair as follows...on barely damp hair fold the ends of the the section into the rag, wind to the root or where ever you want the curls to start, tie the two ends of the rag together, continue all over the head, dry well and remove rags.

Rolls - take a section of hair, comb smooth, create a neat barrel curl, tuck the ends in neatly and secure with kirby grips. Repeat where desired.

Chignon - section hair off from ear to ear across the top of the head. Working on the back section, brush the hair to one side and place a secure row of kirby grips vertically from neck to near the top of the head. Now brush the section the other way, roll with the fingers and secure with grips starting at the bottom so that the original row is covered. Work as neatly as possible, tucking the ends of the hair into the cone you have created. Arrange the top section in whicever way you want (e.g. curls, rolls etc.) Any unsightly grips can be covered with accessories. Slick down and spray well. You can do more than one chignon if you hair is very thick or make it assymetric (over to one side.)
TIPS

Don't work on dripping wet hair. To set hair it needs to be just damp.

Make sure the hair is completely dry before removing rollers, rags etc

Don't expect curls to last too long if your hair is poker straight.

On hair pins, bend one end back before pushing into the style to secure it.

Use setting agents and lots of water soluble hair spray.
Go to a professional hairdresser who has an interest in retro / vintage hairstyling for ideas.

Get a versatile cut if you want to vary your image.

Use media resources for ideas or get tips from elderly female relatives.

Try Clare's Accessories for cheap hair things or make your own using silk flowers, ribbons etc

Be daring! You don't know what you can create until you try!
I do hope you have found this interesting. This is all my own work - please credit me if you re-print it. I am happy to answer questions (to the best of my ability) but for specialist advice please ask your hairdresser.
Please vote YES in the box below to improve my overall rating
Other guides I have written include a very popular one about car boot sales - do's and don'ts, as well as others on ebay listing tips, vintage clothing and furs.
Just click on the 'other guides' button at the top of the page. Don't forget to vote 'YES' for each of them too - every vote counts!
Dressing-2-Kill