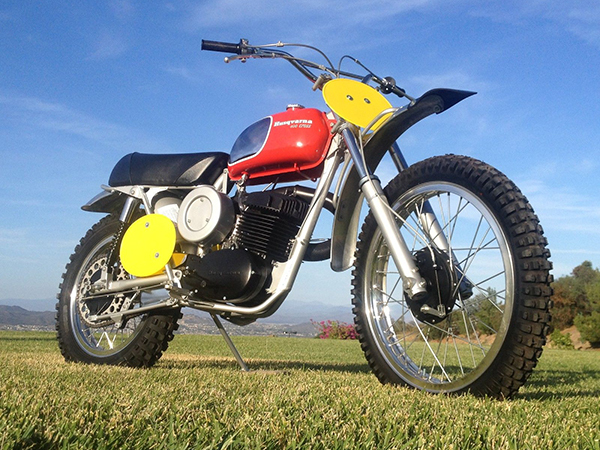 Vintage Husqvarna motorcycles are renowned for their high quality and performance. The company originally focused on the production of bicycles; however, in 1903, they switched to Husqvarna motocross, enduro, and supermoto motorcycles. The first Husqvarna, or husky, motorcycles used imported engines, while later motorcycle components were designed, engineered, and manufactured entirely in-house.
Earlier Years
In 1919, Husqvarna released their first 500cc engine. This engine remained in production until 1932. A few years later, the company developed a 994cc engine. Despite their popularity, Husqvarna choose to focus its attention on smaller bikes with 175cc and 350cc engines, as these were better suited for the general public. In 1935, Husqvarna began production of their first two-stroke motorcycle. Appreciated for its light weight, this model did not require a driver's license, as it had pedals similar to a traditional bicycle. It featured a 98cc engine and quickly climbed rank in popularity.
The Black Mill and the Red Mill
Immediately following World War II, Husqvarna launched two new models, the 1946 Black Mill and 1954 Red Mill; nearly 70,000 were sold. The success of these Husqvarna bikes led to the release of a 175cc "Drombagen" dream bike; however, the model proved unsuccessful and was short-lived.
The Svartkvarna
The Svartkvarna was introduced in 1946 during the same time period as the Black Mill. Both of high quality and affordable, this two-stroke street bike features an 118cc engine with 3.5 HP and three handle gears. The motorcycle is renowned for its reliability and was used as a popular form of transportation during this postwar period, especially amongst daily work commuters. Classified as lightweight, the Svartkvarna weighs less than 75 kg.
The Iconic Silverpilen
The Iconic Silverpilen, also known as the silver arrow, was introduced in 1955. Both powerful and sporty, this Husqvarna motorcycle weighs only 75 kg and was quite agile. Its hydraulic dampers and frame-mounted engine were revolutionary for its time. The Iconic Silverpilen featured a 175cc motor and a three-speed transmission. Riders immediately began modifying the two-stroke engine for off-road bike use. The following year, Husqvarna launched a 200cc version; this version was labelled the Golden Arrow. By 1959, Husqvarna produced five special motorcycles for its riders, which featured an enlarged 250cc engine and a four-speed transmission.
1966 Husqvarna 250
The 1966 Husqvarna 250 was the first motorcycle to be used for the purpose of competition. A total of 300 models were made with 250cc, of which 76 were imported to the United States. Still, 50 models were made with 360cc, of which 10 were imported. The 1966 Husqvarna 250 proved successful in off-road racing events and was labelled the lightest and quickest motocross competition event bike in the world.