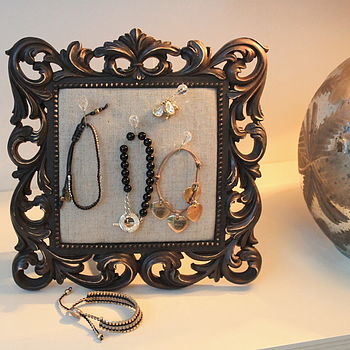 A customer enters a modern jewellery store and buys a magnificent gold necklace adorned with diamonds as a gift. He pays a small fortune for the item and receives it in an unoriginal cardboard box, that cost a tiny fraction of the overall price of the necklace. It was not always this way, nor should buyers settle for unappetising methods of storing and displaying their jewellery collection.
The jewellery display boxes and racks of yesteryear were almost art forms in their own right. Many were made out fine materials like leather, velour, and real wood. The good news is that many vintage jewellery display pieces are still sold on eBay, and it is one of the few places left where customers can purchase these items. When shopping for the right vintage display, the buyer needs to select one that is still in good condition that fits their jewellery collection nicely.
Importance of Vintage Jewellery Displays
Vintage jewellery pieces are not the same as modern jewellery, and must be treated differently as a result. Throwing necklaces, earrings, and bracelets altogether, inside of the same box, instantly creates clutter problems. Gold grows brittle as it ages, causing chains to snag and break when they bang against one another inside of the box. Silver, copper, and bronze start to tarnish in stale air, and this can stain other jewellery pieces placed nearby. Even something as simple as a diamond necklace brushing up against a vintage ruby ring, can cause disaster since the diamond is hard enough to scratch the ruby.
Protecting Vintage Jewellery
The best way to keep vintage jewellery safe is to protect it from harmful agents such as: moist conditions, stale air, and even other pieces of jewellery. Many collectors elect to do so by storing their jewellery on display cases or in boxes. This keeps the jewellery separated, and also allows collectors to show off the items they've gathered over the years. For example, collectors who are not keen on keeping most of their collection hidden away in separate boxes, can purchase a vintage wire mannequin and adorn its neck and arms with rows of selected jewellery pieces.
Vintage Jewellery Display Boxes
There is something to be said for the craftsmanship of vintage jewellery display boxes. While many modern display boxes made out of flimsy cardboard fall apart after a few years, these vintage pieces have endured for decades. This primarily due to the materials used to make the box, which are vastly superior to cardboard.
Velvet Jewellery Boxes
Velvet is a soft, tufted fabric that is commonly used in vintage jewellery boxes. It creates a lovely setting between the hard, metallic lines of jewellery and the supple feel of velvet. Some shops still display their wares in velvet jewellery boxes, but this practise is becoming less common as time goes on. This is a shame since this fabric provides an excellent cushion for even the most delicate necklaces.
Leather Jewellery Boxes
Leather jewellery boxes were primarily used to display men's jewellery, such as watches or cuff links. However, many older pieces used to display rings of both sexes, especially in the 1920's and 1930's. These pieces typically show their age, since leather starts cracking if it is not periodically polished. Be aware that once the leather cracks, it cannot ever be replaced. More recent vintage pieces from the past 30 years tend to offer leather display boxes in better condition.
Wooden Jewellery Boxes
Wooden jewellery boxes typically come in a larger size, and can hold several pieces of jewellery. When buying this type of display box, make sure its internal components are divided and that only one piece of jewellery is stored in each compartment. Wooden boxes are a classic storage option, and if kept properly they can last for hundreds of years.
Wooden Designs
When it came to wood, many designers took great liberty with how they decorated the boxes. Very old pieces from the Art Deco period are often covered with a thick coat of lacquer and depict Oriental or Egyptian motifs. Retro pieces are brightly coloured in startling shade combinations that make modern day designers cringe.
Gold Jewellery Boxes
A gold jewellery box proves the point that there is no better way to store golden jewellery than inside a golden box. In most cases, these boxes are made from plated gold, which keeps their prices quite reasonable, and their interior is typically lined with a thick fabric like silk or velvet. While these make stunning display boxes, buyers need to carefully inspect their condition before deciding to purchase the item. Gold tends to scratch easily, and this can cause the plated coat to start peeling. Once the coat starts to fail, the item becomes little more than a fancy metal alloy box for holding jewellery.
Vintage Jewellery Display Racks
For buyers who don't want to keep their pieces of vintage jewellery in a box, choosing a display rack is always an option. There are several different styles, such as the free-standing tree rack and wall rack. These were usually meant to hold necklaces, but some are so cunningly crafted that they also include special pegs for bracelets and even rings. Most vintage display racks are made from thick wire that is painted.
Display Rack Styles
When it comes to vintage displays, everything is possible. There are so-called tree racks designed to look like a tree complete with wired branches and a trunk. Even wall racks often had designs like hearts or flowers made from bent wire. Another quirky favourite was the dress-up mannequin found in many old jewellery shops. The main difference between vintage and modern styles is that vintage pieces are metal, while many of the modern ones are plastic.
Hanging Jewellery
Hanging jewellery on a display rack is fine for most modern and slightly vintage pieces. However, once collectors start getting into the stage where vintage starts to blur into antique, owners should re-evaluate how they display their jewellery. True antique pieces typically require more care than a display rack, and should be stored in a jewellery bag inside of a jewellery box.
Cleaning Vintage Jewellery
Always clean vintage jewellery before displaying it. While many metals and gemstones have special cleaning requirements, there are a few universal cleaning tips. First, never completely place the entire piece in water. This allows water to enter areas where it then becomes difficult to remove, potentially creating rust. Nothing damages jewellery quite like rust, so only clean vintage pieces with a brush dipped in a mixture of water and soft detergent soap. The water should be either cold or lukewarm for cleaning. Many gemstones, with the exception of diamonds, cannot take the heat from boiling or very hot water.
Buying Vintage Jewellery Displays on eBay
There is no other place like eBay for buying eclectic, vintage jewellery displays. Whether the customer is looking for a complete unique display rack from the 1960s, or a jewellery box with the flashy, daring Art Deco style, he or she can find it on eBay. Everything from weather-worn leather jewellery boxes, to heavy metal mannequins sell on eBay, typically in used condition.
Searching for Jewellery Displays on eBay
eBay's search engine responds to any terms you enter into the search box. For example, a search for 'jewellery display' returns hundreds of results. You can narrow this down by picking a type of display, such as 'jewellery display box'. If the results are still so large that it is difficult to search through all the listings, try narrowing down the search again by using terms like 'velvet jewellery display box', or 'wooden jewellery display box'.
Vintage Condition on eBay
Vintage items are old, and they don't come in new condition. Buyers should expect some wear and tear on the items; in fact, if a piece lacked any conditional issues, many buyers would have concerns about it being authentic. Some conditional issues are acceptable, such as the paint starting to peel off of metal wires, or even the leather beginning to crack on a jewellery case. However, extensive leather cracking, or heavily scratched metallic jewellery boxes, likely have more conditional issues than they are worth.
Conclusion
Jewellery collectors love displaying their vintage collection at home using authentic vintage displays. Many of these pieces were once either used in either jewellery shops or private homes, and they have their own fantastic style. It is extremely rare to find vintage jewellery display items in stores, but they are plentiful enough on eBay. When purchasing vintage displays, customers should always carefully evaluate the condition of the items as well as how it fits into their jewellery collection. For example, a collector with a lot of rings would be better off purchasing either a mannequin hand, or several ring boxes, instead of a hanging rack with only a few pegs for rings. Conditional issues should be assessed on the basis of whether or not they can be repaired. Pieces that are beyond repair are best left alone. By making careful purchasing decisions, buyers can enjoy their unique vintage jewellery display item.