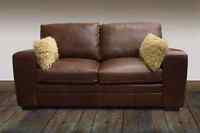 At Vintage Leather Sofas we are often asked, what constitutes a "Premium Quality Leather sofa"
Leather that has been pressed, rolled or corrected is always cheaper and of poorer quality.
These types of leather are as a rule made from the underside of the hide and are known as split leather.
Premium leather will always be leather that is the top part of the hide (top grain ) or full grain leather (the top grain and split) This leather is best when not heavily tampered with.
So when out shopping for leather sofas always ensure that you are buying a sofa made from Top Grain or full grain leather. Avoid corrected and bicast leather.
Full grain and top grain leathers as a rule will not have been filled, stretched or rolled to enhance appearance or create an un-natural patina.
With uncorrected leather, any scars or imperfections within the hide will be very noticeable. This is not a generic fault. These natural markings are what makes this type of leather so special.
Each hide will be unique and full of natural character.
You will often see leathers called aniline or semi aniline leathers - these will always be top grain uncorrected leathers ( so very good )
A full aniline leather will only have been treated with a natural dye running through the top pigment, therefore any scars or natural patinas will be greatly high lighted. This leather is beautiful but only for those buyers that want a very vintage, distressed looking sofa. Sofas covered in this type of leather will become faded, scratched and distressed over time.
If you want a leather of equal quality that will slightly cover scarring and also keep its colour long term, then go for semi aniline leather. You lose nothing in hide quality. The difference being that a permanent colour is absorbed in to the top pigment of the hide, this offers a more consistent uniformed colour that will note fade greatly over time. A top treatment will also be added to give extra durability.
A European (Not Chinese or South American buffalo ) full grain leather will cost a minimum 25.00 per meter. On average a 3 seat sofa will require 13 meters coverage. So there you go, the leather alone on a good quality sofa costs 325.00 minimum.
The final factor in terms of quality will be European, South American and Chinese hides. European is always best. The simple rule being climate. European hides have to withstand harsher weather and as a result hides are more resilient and durable
Leather, as everything in life is very subjective. Good retailers will always have many options of leather displayed on the shop floor. A good retailer will also be able to offer impartial advise on what is the best leather for your particular needs. Always get samples prior to making a purchase and really work the leather by scrunching and pulling it about. By working the leather in this way you will see how the leather will react after continuous use.
A corrected leather will not really react but conversely this is great for people that want durability over aesthetics. Wiping this type of leather with a cloth will do no harm.
A full aniline will wrinkle, lose colour and become battered. A semi aniline will simply wrinkle nicely.
Do not be fooled by commission seeking salesman telling you that a leather is premium or A GRADE 24 etc. etc. ( this is just sales speak ) Simply ask them is it a full grain leather?
Ask your retailer where the leather comes from and where the sofas are manufactured?