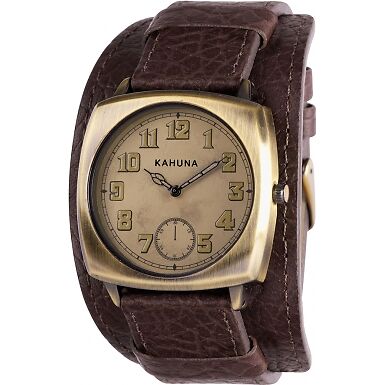 A watch is one item or accessory that is timeless and helps to serve an important purpose. No matter where one is during the day, there is a need to know what time it is. While the purpose of the purpose of a watch in the last few decades seems to be more on the accessory side than that of a time telling device. There are still a great deal of people that prefer to wear wristwatches. A watch now is more an accessory that adds to the style of our clothing. Some prefer them new, other prefer vintage watches and basically it is all up to personal taste.
The vintage models are very appreciated and possess many different values. Except for watch collectors and enthusiasts, not many are well informed regarding the merits this type of watches possess. The lack of information on the subject can pose a problem for any potential shopper interested in a vintage leather piece. Regardless the purpose of the particular watch that a buyer is looking for, it's important to understand exactly what one is looking for such as style, and features.
The Value of a Vintage Watch
Many different aspects need to be considered when speaking about the value of a vintage watch. Perhaps the greatest value of all is the sentimental one. Some watches represent family heirlooms and have been passed on from one generation to another, This might hold value to the seller, but in most cases does not present any kind of merit that encourages a buyer to spend extra.
Collectibles
Buying a watch that is considered a collectible item is a whole different matter. Many different types of vintage watches can be considered collectables. Some collect one specific brand, other have themed collections such as army watches. Not all collectables truly posses extra value, so make sure not to overpay for a piece that does not posses a good individual resale value.
Quality
Probably the best reason to consider buying a vintage watch is its overall quality. A good watch mechanism can keep precise time for decades. Certain levels of quality can even be more expensive on a new watch, making the vintage models a vise and attractive choice. The use of more luxurious materials and jewellry surely adds to the price of a watch. Those luxurious models are even harder to find, so rarity also weighs on the price.
Condition
When considering the purchase of a vintage watch, pay close attention to its overall condition. The build and the mechanism type of a model should not be confused with how a particular watch runs. The worth of a watch is very dependant on how good it functions. A timepiece that can not keep good time is considered worthless and useless. The only worth a defective watch might have is to a collector as some pieces are harder to come by and even a non operational one can be a good choice to fill the spot in the collection.
To make sure it runs good, always check the movement. Movement that seems uneven can be due to accumulated rust in the mechanism and it might even be beyond the point of repair. Do not worry if there is noticeable oxidation on the dials. Scratches on the crystal can be fixed by polishing them. It is an easy task that any watch owner can perform without any help. If there is more damage than a simple polish can fix, replacement is an option in most cases, as shapes are pretty standard.
Repair And Maintenance
Repairs and maintenance are two less obvious expenses that are still quite common. One should never purchase a watch in need of repair, as there is no guarantee that the damage assessment is truthful. Even if the watch is in good shape, have in mind that some watches are pretty hard to repair due to the rarity of the mechanism. Repairs on those type of watches can cost a lot.
Maintenance is something that any watch needs, especially the vintage ones. Modern watches are hermetically sealed, but the vintage ones are more exposed. Maintenance should be regularly performed to keep the watch in good shape. Not all watches have same maintenance needs so make sure to research the model thoroughly and gather information on the subject and never forget that the maintenance is always less expensive than a repair.
Watchband Size And Style
Leather is very durable and can last for years, However, the constant wear and tear eventually destroys every leather watchband. This is why, one should not look for a watch with its original band. The original might be considered more valuable to a collector, but if the buyer intends to wear the watch, using the original band is both unsanitary and not worth the money spent.
A leather watchband with the design and texture to match the original can always be found. If authenticity is not that important, experimenting with different colours, patterns, and types of leather is always a good idea. The most common leather used for watchband is cowhide. The durability varies on how the leather is processed but it is a pretty good choice. Textures can be made to resemble alligator, crocodile or snake skin for a more luxurious look. There are also models made of ostrich and stingrey leather for more smooth textures. These types of watchbands are considered more luxurious and can be a bit expensive, so consider the worth of the watch when selecting the watchband.
Colour should match both the watch and the clothes that it is intended to go with. There are many watchband colours available, making them easy to match with formalwear. Casual and sports clothing are harder to match with an vintage watch, as the colours and the leather watchband itself, give out a more formal look.
It is very important to make sure that the watchband fits the casing and the deployment buckles. The size of a leather watchband might be adjustable, but they still come in different sizes to better accommodate users with greater or smaller wrists. Following is a typical example of a watchband size chart.
| Gender | Short | Regular | Long | Extra Long |
| --- | --- | --- | --- | --- |
| Male | 15 cm | 20 cm | 22 cm | 23 cm |
| Female | 13 cm | 17 cm | 19 cm | 20 cm |
The watchband itself rarely shows any marks indicating its size. When purchasing a watchband online, these charts can be very helpful in making proper selection. To determine the size needed, measurements should be taken round the wrist in the exact position where the watch is supposed to be placed. The short ones are usually good fit for children, while adults fall in the other three categories.
Finding And Buying Vintage Leather Watches On eBay
Finding vintage leather models on eBay poses no problem at all. Entering the term 'vintage' to accompany 'leather' and 'watch' as keywords in the search bar do not provide the desired results. That strategy generates only a handful of items loosely fitting the description. Also, this query is not able to separate the new timepieces popularly labelled as 'new vintage'.
Knowing that the desired items have been produced a long time ago, it is a safe assumption that they belong to the used category. So, the smart way to approach is by searching for leather watches only, and then applying the 'used' filter. This significantly narrows down the choice, but still more can be done to further customise the results.
The two other filters that make a huge difference are the gender and brand filters. The gender of the intended user is most likely known, and its preselection can cut down the number of results in half. Brand is also a good filter if one has a more specific watch in mind.
To ensure the watch is authentic, consult other blogs and try to find detailed description of the same model elsewhere. Make sure to save all the pictures of an offer along with the description text of the item when purchasing it. This way, it is easy to compare the pictures with the item received and eliminate any doubt of foul play. The rating the the seller is also a good indicator to check prior to purchase.
Conclusion
A vintage leather watch is quite a good choice when considering wristwatches. In some cases the vintage watch might even offer greater quality for a lower price than a new model. The selection of a vintage watch should be done with care as there are many things that need to be taken into consideration. The most important issue is the condition of the watch itself. Even though the watch is now used more as an accessory rather than a device for telling time, a watch that does not run well is of little or no worth to anyone.
A smooth running mechanism, that does not need a lot of maintenance should be the main focus. More common mechanisms are easier to repair so if rarity is not a main concern, selecting a common mechanism can make any future repairs less expensive. The leather watchband on a vintage watch allows a lot of freedom of choice. A band of same material, colour and texture as the manufacturer's original can always be found, but a lot of different ones can be fitted as well. There is a vintage watch within anyone's budget, and having all these information one can definitely make the right choice.