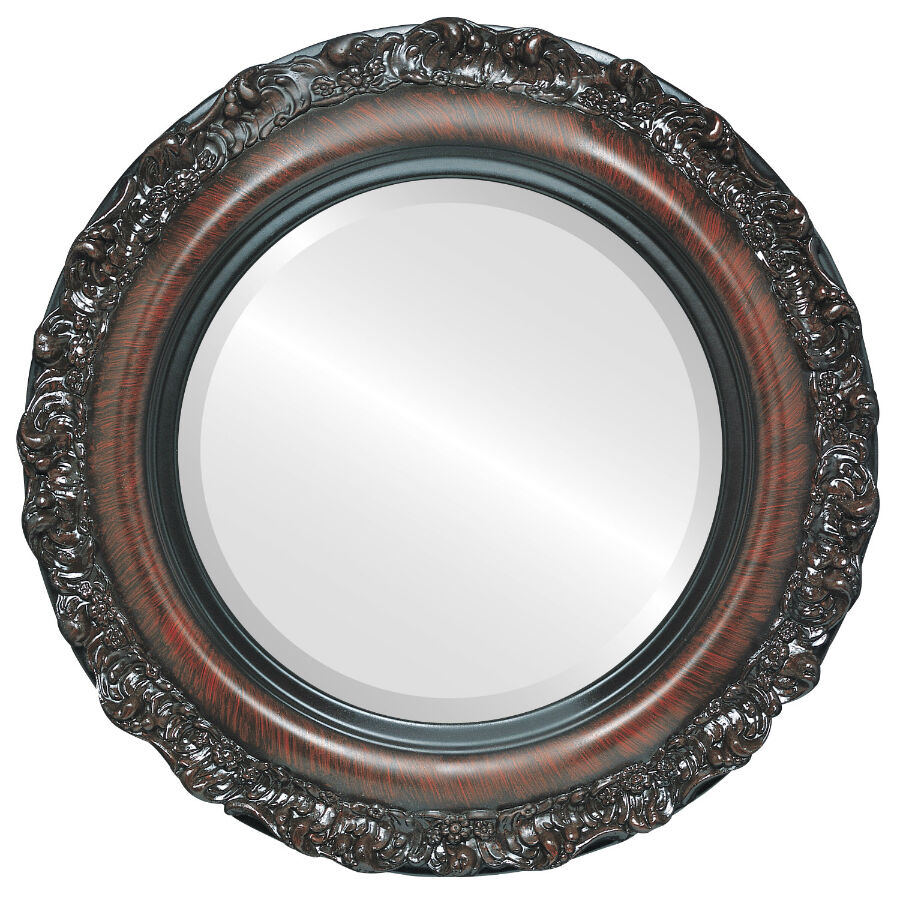 Checking one's appearance isn't necessarily vain, it's good manners to check that there are no specks or smudges spoiling an outfit. Mascara can run, toothpaste can leave a white rim, and shaving can leave cuts. All of these things are easily seen, and fixed, in a bathroom mirror. If nowhere else in the home, it is essential to have a mirror in a bathroom for exactly these reasons.
Shabby Chic Style by Recycling and Revitalising
Interior designers enthuse about the merits of light play and one trick for a shabby chic look is to have splash backs made from vintage mirror glass. Large pieces showing their age become focal points and because of the distress on their silver, they do not invite close inspection as such, but they still bounce the light effectively making a room appear more spacious. The blemishes and slight signs of decay contribute to their charm and they do not act in the same way as highly polished, perfect modern mirrors with a reflected image of a naked bather covering the wall. Revitalising an old mirror with artistic effects are achieved by adding to its character through creating a marbleised appearance with additional blooming, or by scratching away further bits of worn silver from the back to leave a silhouette of leaves or trees.
Mirrors for Him and Mirrors for Her
Men and women may have different tastes and where there are separate dressing areas, where one preference is dominant, there are mirrors with decidedly masculine or feminine elements to them. As far as vintage mirrors are concerned, the Art Deco period probably offers the most unisex choice for shared areas. Fan shaped and stepped mirrors with their angular lines have universal appeal. Many are simply glass without frames for a clean, uncluttered look, yet a hint of yesteryear is offered in their design.
Bathroom Boudoir Style
The addition of an elegantly framed or decoratively shaped vintage mirror adds a certain timeless cachet to a bathroom. There are several periods in history from which to take ideas or find the real thing, if the glass has survived. Even if a mirror is cracked, all is not lost as replacing mirror glass is easily done by a glazier. The replacement glass might even be improved by upgrading to a bevelled edge finish to complement a stylish frame. Boudoir style suggests intimacy and privacy and permission to be surrounded by comfort and style that suits a woman's bedroom. Hence, girly, pretty, and ornate are synonymous with boudoirs. Elements of luxury and opulence found in the grand houses of old will guarantee design success. Romantic French influences from the courts of Versailles offer dramatically ornate pieces with Rococo embellishments in silver or gold. Full length wall mounted mirrors will provide an opportunity for a whole body view as well as a stunning focal point in the room. Art Nouveau pieces with their swirls, sweeping curves, and natural motifs are wonderfully feminine and the deeper the frame, the better the look.
The Gentleman's Dressing Room
Free standing cheval mirrors that can be angled for the best view are magnificent practical additions to a dressing room or an en suite. They are often in plain, highly polished wooden frames ideal for a more masculine inclusion, though they too are the epitome of exceptional craftsmanship. The shapes vary immensely from rectangular Victorian mahogany Regency style to figured designs or cartouche-shaped mirrors on moulded frames. Edwardian oval mirrors and gilded Chinoisserie mirrors with differing supports, such as reed side columns or barley twists in ashwood, walnut burr, and rosewood all present tempting frames. Plain mirrors, in geometric shapes, such as hexagons, circles, squares, and rectangles, present on unfussy look and, with bevelled edges, add an element of understated sophistication for the discerning gentlemen's 'cabinet'.
Making a Mirror Special
Intricate carving detail on deep frames was commonplace many years ago. Modern reproductions produce the same effect with moulded fretwork recreating fancy patterned leaf trails, twists, scrolls, and beading. Where a mirror might have been gilded in the past, a lick of antique gold wax or paint achieves a similar appearance. Plastics and resins, which are easy to manipulate, may form the surrounds and often make a larger mirror lighter and thus easier to hang by presenting less stress to a wall. Repairing older pieces that have suffered damage to their frames is easily done through the use of appropriate fillers and a fresh decorative topcoat of wax or paint. If painting over an old frame, prepare the surface first by sanding back the old surface to get rid of chips and cracks in the varnish, or to smooth out bumps in the surface. Mask the inside of the frame with low-tack tape to prevent splashes on the glass and to keep clean lines. Paint or varnish in a colour to suit personal taste and to complement the decor where the mirror will be hung.
Resilvering a Precious Vintage Mirror
Smaller mirrors, or pricier bevelled edge mirrors, with damage to their silver are still worth pursuing as resilvering is a task that both professionals and DIY-ers can undertake. The back of a mirror consists of paint, underneath which lies a copper layer and then the silver backing. There are kits available for the removal of the silver backing that involve using nitric acid and spray paint to replace the silvering. In a well-ventilated room and using the correct safety equipment, the process, although expensive, is worthwhile if it resurrects a valued mirror to its former glory. Some unique pieces simply cannot be replaced, and resilvering an otherwise undamaged mirror is an effective solution.
Glossary:
Bevelled – the mirror edges have a slanted angle rather than a straight cut. Bevelling is both a decorative and a safety measure and typically used on thicker glass and more expensive pieces. Tinted – colour added to the glass rather than the usual silver, most often in peach, copper, or bronze tones. Plain – ordinary untreated glass without special cut shapes, usually square or rectangular, the least expensive type of frameless mirror. Silvering – the process which provides the reflective surface to a mirror sprayed on to the back of the glass. It can be damaged through scratching but it is possible to resilver mirrors
Fixings
There are various different available fixings for vintage mirrors.
Adhesive
Small adhesive pads are a handy and quick way to mount lightweight mirrors to an acceptable surface. [Not suitable for safety backed glass or heavy mirrors.]
Clamps
A variety of different clamps are available for mounting a wall mirror. The screws fix to the wall through the plastic or metal housed clamps which then grip the mirror without having to drill through the glass. For rectangular mirrors, decide the orientation, either landscape [longest side horizontal] or portrait [longest side vertical] before marking the wall for the clamps.
Hooks
Some older mirrors have hooks at the back so the mirror is hung like a picture. These are easily changed for a flush mount on frameless styles. Framed mirrors cannot accept clamps as fixings. Instead, to flush mount a framed mirror, fit a hook to each side of the mirror and attach to picture hooks fixed on the wall. For large, heavy mirrors, strap hooks are best for bearing the weight and securing the object safely and firmly. These are best for arch shaped over mantle mirrors that can be the size of doorways.
Screws and Buttons
Some large older mirrors may have drill holes through the glass. These are fixed with special star head screws that accept a 'button' cover to disguise the screw head.
How to Find Vintage Mirrors on eBay
Begin on the eBay home page and click the arrow beside Categories. When all the categories are revealed, find Home, Furniture & DIY. Click the blue More prompt for an extended list, and within that choose Home Decor. Read through the categories offered and select Mirrors where several options for refining a search are offered. Check any appropriate boxes from Type, Width, and Condition along with options for Style, Frame Material, Shape, and Seller preferences. To find a vintage bathroom mirror, for example, a wall mounted and antique style, check those boxes and a page will come up offering Room selections. Click on Room, choose More and in the pop-up select Bathroom. Listings should appear. Or, make use of the large search box with the blue Search Button by typing in the words which best fit the desired object. For example, type 'retro mirror' and the eBay site will make a search for the best match as well as offering related searches.
Conclusion
Vintage mirrors and vintage style mirrors are elegant and functional pieces. The variety of decoration is immense, and even damaged mirrors are salvageable as frame repair, glass replacement, and resilvering are all possibilities. Sometimes it is worth buying a mirror for its frame alone to provide a stylish surround for pictures or prints. There are many products to help with restoration projects if space and time permit.