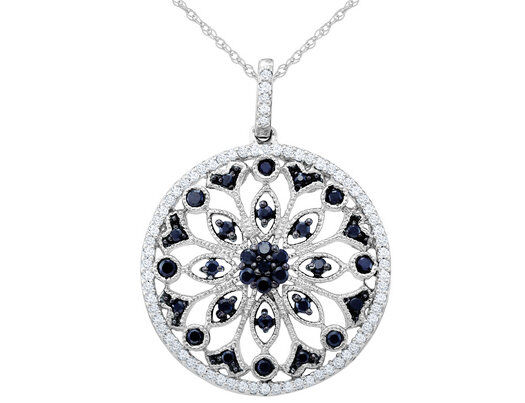 Vintage fashions and accessories never seem to go out of style. Instead, the older trends become more and more popular as they age. The same is true for vintage necklaces and pendants, which can be used to accessorise a modern style or go along with an entirely vintage outfit from a certain time period. Shopping for vintage jewellery requires a keen eye and a bit of knowledge regarding fashion from previous decades.
For this reason, finding the perfect vintage necklace and pendant is not always an easy task. To shop for vintage jewellery, a shopper must understand what vintage jewellery is, be able to identify the themes and symbols of certain pieces of jewellery, know which materials were used in what eras, and be able to determine which pieces or vintage jewellery are worth the investment and which ones to bypass. Shopping on the Internet is useful in that the Internet provides access to the largest selection of vintage jewellery. eBay in particular maintains thousands of listings for vintage necklaces and pendants. The listings are constantly changing as new items are being listed.
What Is Vintage Jewellery?
The term 'vintage' is often applied to things that are more than 20 years old. In reference to clothing, jewellery, and other accessories, the term 'vintage' refers to items that were made between the 1940s and 1980s. However, some items from the 1990s are on their way to vintage status as well. Additionally, antique jewellery, or jewellery that was made prior to the 1940s, is often lumped together with vintage jewellery too.
Vintage jewellery reflects the styles of the era in which it was made. For example, Egyptian-themed jewellery reached the height of its popularity in the 1920s when King Tut's tomb was discovered. Glamourous, larger-than-life jewellery was particularly popular in the 1940s because of the rise of movie stars, both in Hollywood and throughout the U.K. By the 1960s, traditional designs were out and abstract necklaces and pendants were in. The 1980s necklace fashions featured gold chains, large pendants, and bulky costume jewellery. With so many changes in trends, the term 'vintage' doesn't cover a single style, but rather all of the styles from previous decades.
Vintage vs. Vintage Reproduction
True vintage jewellery often carries a high price tag. This is in part due to the age of the piece as well as the consistently high demand for vintage items. Vintage reproduction jewellery is fashioned to look like a piece from a previous era, but was made quite recently. These necklaces may or may not use the same materials that are consistent with a particular time period, but, depending on the materials that were used, the prices are often much lower. While vintage reproduction pieces are not authentic, people can still wear them to show off their favourite vintage styles.
Pendant Themes
With the exception of the abstract pendants of the 1960s, most vintage pendants feature a particular theme. These themes often carry a specific and personal meaning to the wearer. For example, pendants featuring precious and semi-precious stones were believed to possess special powers. Sapphire pendants were thought to cool lust while ruby pendants bestowed leadership upon the wearer. Additionally, the objects, items, or animals featured on the vintage pendants were also representative of different qualities and characteristics. Owls represent wisdom, elephants symbolise strength and honour, and four leaf clovers represent good luck. A shoppers can choose a pendant that represents their personality or bring them special powers based on the themes.
Vintage Necklace and Pendant Options
When shopping for vintage necklaces and pendants, shoppers must select the different materials, size, or style. Shopping by time period is often the easiest way to locate a necklace or pendant that fits within a certain style. However, some shoppers may wish to purchase a piece of jewellery based on its appearance rather than the time period. The metal and stones used to make the necklaces and the pendants vary depending on the time period and if it is a piece of fine jewellery or costume jewellery. These materials also affect the price of the necklace. The length of the necklace and style of the pendant affect the appearance and how well the piece goes along with the wearer's personal style.
Pendant and Necklace Materials
The metal used to craft a vintage necklace varies by time period. Shoppers can select from precious metals like white or yellow gold, Sterling silver, and titanium or other metals such as alloys, stainless steel, copper, and pewter. The materials used to craft pendants consist of more than just metals. Pendants can be made from ceramic, enamel, beads, glass, precious and semi-precious stones, wood, and more.
Pendant Stones
Precious and semi-precious stones are commonly seen in vintage pendants through all time periods, but some stones were more popular during certain phases than others. For example, diamonds are a timeless classic that have been popular throughout all eras while the Aurora Borealis stone was, for the most part, only popular in jewellery and pendants worn during the 1950s.
Necklace Length
Choosing the length of the necklace is as important as choosing the materials, stones, and design of the piece of jewellery. The length not only affects the style, but the comfort of the wearer. If the person has a wide neck and the length of the necklace is too short, then it might fit too tightly. Additionally, if the necklace is too long, then it can affect the style or look that the wearer is going for. In general, a necklace that is being worn with a pendant fits well when it is 60 cm in length. However, some vintage styles attach pendants to necklaces that are as short as 40 cm. Again, it is important to shop for the size that fits most comfortably on the wearer.
Vintage Necklace and Pendant Styles
The final option to consider when shopping for a vintage necklace and pendant is the style. Because vintage items cover such a wide range of time periods, the styles of vintage jewellery are equally as numerous. There are several ways that a shopper can go about choosing the style for their jewellery. First, a shopper can choose the time period that they're interested in and sort through the styles that were popular during that era to find one that best suits their tastes. Additionally, a shopper can sort through vintage necklace and pendant styles based on a specific theme or symbol. Finally, shoppers can ignore period fashion and symbolism altogether and simply shop for the jewellery that they find most attractive based on the materials and design.
Vintage Jewellery Considerations
Because true vintage jewellery is not new, there are a few things that shoppers must take into consideration before making a large investment. These are the prices of the pieces as well as their condition. Taking these factors into consideration ensures that the shopper is investing in a piece of jewellery that is truly worthy.
Price
The older a vintage necklace and pendant are, the more expensive they are as well. Vintage styles are always in high demand, so the prices for these pieces tend to move upward and rarely, if ever, downward. This does not mean that shoppers have to invest a lot of money in the jewellery. Shoppers should compare prices of vintage necklaces and pendants with other similar pieces of jewellery from the same era and made from the same materials. If the price is much higher, then the shopper knows to move on and look for another piece to purchase.
Condition
If the price is much lower than other similar necklaces and pendants from the era, then shoppers need to take the time to evaluate the condition. While vintage jewellery does show signs of aging and slight wear and tear, it should not show signs of significant damage. Shoppers shouldn't invest a lot of money into pieces that are damaged. The prices for these pieces should be lowered to reflect their condition. On the other hand, people who appreciate the character of a flawed piece of jewellery can find several inexpensive vintage necklaces and pendants that show significant signs of wear and tear or damage
How to Buy Vintage Necklaces and Pendants on eBay
If you want to purchase vintage necklaces and pendants but don't know where to look, then turn to eBay to find a huge selection of jewellery from sellers located all across the U.K. and the world. Because the jewellery is sold by private sellers rather than a retail shop, you often come across better prices than you might find somewhere else. The strategy for finding the best deals on vintage jewellery on eBay involves knowing how to search the listings productively.
Searching for Vintage Jewellery
You should use the basic keyword search as a starting point in your search for the perfect vintage necklace and pendant. Type keywords that describe the jewellery you are looking for into the search box. This box is located on each page, so you can search or start a new search from anywhere on the site. Select words that adequately describe the necklace without being too vague or too detailed. For example, a search for 'necklace' is too broad, while a search for 'gold 1940s retro vintage necklace' is too specific to yield a useful amount of results. Instead, start with a search such as 'retro vintage necklace', then narrow down the results by selecting different options. When you have a manageable amount of listings to work with, begin reading the descriptions of each item and evaluate the conditions and the prices to find the best deal.
Conclusion
Vintage jewellery can be used to accessorise both modern and vintage outfits alike. Since the term 'vintage' covers such a wide range of styles, shoppers are sure to find a necklace and pendant to go along with any occasion. The downside to having so many options is that locating the perfect piece of jewellery or the best deal can seem like an immense undertaking. Fortunately, with a little bit of research and the proper resources, shoppers can quickly and easily locate vintage necklaces and pendants that suit their personal styles as well as fit within their budgets.
The key to finding the best deals is knowing what to look for while shopping. To do this, shoppers should have a basic understanding of vintage jewellery styles and materials used in each era, as well as be have an idea of a style, theme, symbol, or design they want before shopping. Utilising sites like eBay allow shoppers to scour a wide selection of vintage necklaces and pendants from all over the country without having to leave the comfort of their own homes.