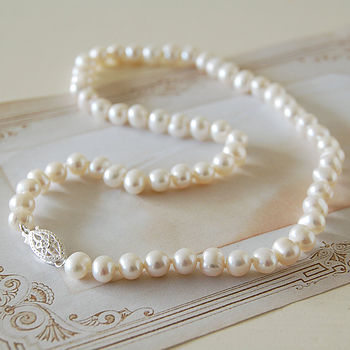 Pearl necklaces are not only sophisticated, but add a touch of classiness to any woman's outfit. Pearls have long been used to add simple elegance and loveliness to many styles, whether it is a casual blouse or an upscale evening gown. The great thing about pearl necklaces is that they never go out of style, and vintage pearl necklaces have a retro and classic look to them which is still stylish and beautiful with today's styles.
Vintage pearl necklaces are an investment for jewellery collectors and for lovers of antique accessories, and they come in a variety of styles and even colours. Pearls are timeless and make a stunning statement, and they seamlessly integrate into any woman's wardrobe. For consumers buying vintage pearl necklaces, there are many choices to think about when it comes to the style of the necklaces, such as the colour and size of the pearls and the quality of the pearls.
Types of Vintage Pearl Necklaces
Vintage pearl necklaces are not just single strands of pearls, though they do come that way. They also come in a variety of styles, such as triple strand pearl necklaces or single pearls accented with diamonds or other stones. They also come with a variety of coloured pearls, and are made of imitation or real pearls. Of course, real pearls cost more, but quality pearl necklaces are investments that last for years.
Single Strand
The most common type of vintage pearl necklace is the single strand of pearls. This style has pearls all around the necklace, and it comes in a variety of sizes. The necklace style can be a choker, a standard sized necklace, or a long pearl necklace. The longer vintage pearl necklace is sometimes called an opera necklace or flapper style necklace, which is made up of one or two long strands of pearls.
Vintage single strand pearl necklaces have different types of clasps. Some vintage pearl necklaces have push-in style clasps, as opposed to the lobster clasps, which most necklaces today have. Some vintage necklaces also have twist clasps, and some of the newer, more modern necklaces have traditional lobster clasps.
Double/Triple Strands
Another popular type of vintage pearl necklace is a necklace which includes two or more strands of pearls in one necklace. This can be a choker style or longer. A vintage pearl necklace with two or more strands sometimes has other embellishments such as dangling pearls, stones, beads, or even adjustable strands so the length of the strands can be altered.
A double and triple pearl necklace comes in variety of colours and oftentimes has different types of clasps. There is also a type of double or triple strand pearl necklace called a lariat or rope necklace. This type fastens around the neck through an open clasp and the pearls are pulled through. The effect looks like a rope. Pearl strands can also be twisted, which is called a twisted bead necklace or pearl twist necklace. Several strands are twisted together to create a unique look.
Pearl Accents
Some pearl necklaces offer a range of pearl accents from one single pearl to several pearls, or charms that are embellished with the pearl necklaces. These necklaces range from simple to very elaborate. Some have hearts with pearls inside, single pearls dangling from charms, or chains with only a few pearls strung on them.
For a buyer who does not want a traditional string of pearls, there are many other alternatives in this category. An Art Deco vintage pearl necklace includes a geometric shaped charm with a single pearl or two decorating it. Also available is a vintage pearl locket which has pearls decorating the outside of the locket charm.
Pearls with Gemstones
Pearls surrounded by diamonds or other gemstones are popular types of vintage pearl necklaces. They are as classic as a single pearl studded with diamonds, or as colourful as emeralds surrounding imitation green pearls. Edwardian pearl necklaces offer intricate filigree designs which offer pearls and stones such as peridots or amethysts. These are antique and beautiful.
Sometimes merely the clasps have stones on them, which adds a beautiful touch to pearl necklaces. These gemstone clasps are frequently seen on vintage pearl necklaces from the 1940s and 1950s. The clasps are sometimes shaped and studded with stones, such as bow shaped clasps or a flower shaped clasps. This adds to the elegance of the clasps.
Choosing a Vintage Pearl Necklace
When a consumer is choosing the perfect vintage pearl necklace, there are some factors to consider. Most vintage pearl necklaces are costume jewellery, but there are a handful of options that are fine jewellery. The buyer should search the option that is appealing when looking for the perfect vintage pearl necklace.
Pearl Quality
When the buyer is selecting a vintage pearl necklace, the quality of the pearls is something to consider before purchasing. For antique and vintage pieces, the buyer should check that the pearls are not discoloured and that they are still in beautiful shape. Pearls range in shape, so it is really up to the buyer's personal preference which shape is chosen. The standard shape for pearls is completely round, though the buyer may find a vintage pearl necklace which is embellished with teardrop or oval shaped pearls.
Pearls should be stain-free, not scratched or broken, and all the same colour. A shopper should check with the seller for additional photos, or if the buyer has questions about the quality of the pearls, he or she should ask those questions before purchasing the necklace.
Pearl Colour
Pearl necklaces range in colour. Most vintage pearls are either white or off-white, but they vary. There are vintage pink pearl necklaces from the 1950s and black and white flapper pearl necklaces. Pearls are multicoloured as well. For buyers who want more traditional looking vintage pearl necklaces, standard white or cream coloured pearl necklaces are appropriate, but fun, coloured pearl necklaces are a unique addition to any look.
Different colours of pearls mixed together is a lovely look as well, such as pink and white pearls or grey and white pearls. Grey pearls were popular in the 1950s and are often found alongside white pearls for an elegant look.. In the 1960s, various colours of white and cream were placed together in necklaces. The colour of pearls in necklaces are oftentimes a big factor when buying. Fine vintage pearl necklaces also come in a variety of colours.
Necklace Style
When it comes to vintage pearl necklaces, the styles vary greatly. There are the classic pearl necklaces, pearl-embellished necklaces, pearl necklaces with charms, twisted bead necklaces, pearl lockets, and many other types and styles of necklaces. Buyers can either select standard strands of pearls, double strands, or a vintage pearl necklaces which offer a lot of embellishments such as stones or filigree charms.
Victorian pearl necklaces look more feminine and understated, while 1980s vintage pearl necklaces are a bit chunkier and colourful. For buyers who know what era they prefer purchasing pearl necklaces from, this is a convenient way to select the right style of necklace.
Pearl Size
Pearls range from quite small, called seed pearls, to large, oversized pearls. No matter what style of necklace the buyer chooses, there are usually several different sizes of pearls to choose from. Small pearls are generally about 5 millimetres in size, and larger pearls go up to 13 millimetres or even larger.
Some vintage pearl necklaces offer differently sized pearls all together, with larger pearls in the centre of the necklaces and smaller ones going out away from the centre in graduated sizes. There is not really a standard size when it comes to pearls due to the fact that there is such a wide variety of sizes and shapes.
Necklace Condition
The overall condition of the vintage pearl necklace may tip the buyer's preferences when he or she is shopping. A Victorian pearl necklace which is in perfect condition may be more appealing than a newer vintage necklace which is slightly discoloured or flawed in some way. If the pearl necklace is made of real pearls and not imitation pearls and it is in mint condition, it may cost more than an imitation necklace, but may be a worthwhile investment for a lover of vintage and antique jewellery.
How to Buy a Vintage Pearl Necklace on eBay
Finding a lovely vintage pearl necklace on eBay is easy and a lot of fun. Search with general keywords such as "pearl necklace" to begin seeing options. Narrow the search to vintage necklaces, or you can narrow the options to 1950s vintage pearl necklace, for more relevant, exact results. Purchase a vintage pearl necklace from a merchant on eBay who is a Top-rated seller, and check his or her feedback from other buyers to make sure it is excellent. Ask the seller any questions you may have about the necklace, and if you need to see additional photos, ask for them.
Check for a seller who is local to your area, then perhaps you can alleviate shipping fees and pick up your vintage pearl necklace in person. This creates a personalised shopping experience which is convenient and enjoyable for you and the seller both. Find out if there are any other items that can be bundled with your vintage pearl necklace for a discounted shipping rate, such as a jewellery box or matching pearl accessories.
Conclusion
Pearl necklaces add simple elegance to any look, and the timeliness of vintage pearl necklaces is undeniable. Pearl necklaces look beautiful with every type of outfit, and some of the vintage necklaces which have adorned clasps, added stones, or filigree details add pizzazz to party dresses or cocktail gowns. Simple, single strands of pearls even dress up T-shirts and jeans or blouses and trousers.
Whether it is made of costume pearls or real ones, a vintage pearl necklace is a fun addition to any woman's wardrobe, whether she is a lover of antique jewellery or simply wants a one-of-a-kind piece that nobody else has.
A vintage pearl necklace also makes a great gift. Even a woman who has everything may not have a vintage pearl necklace. Perhaps the buyer can even find some matching pearl earrings to make a matching set. Vintage pearls are a great find, and no matter what, they never go out of style.