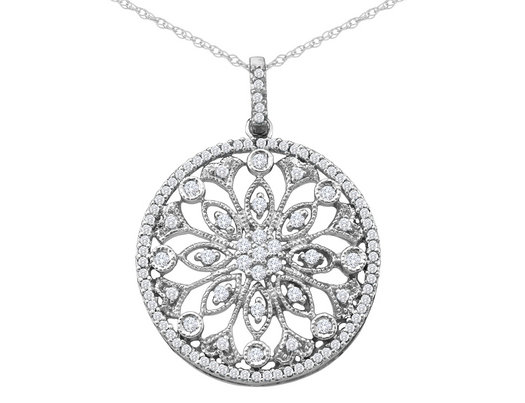 Vintage clothing, accessories, and jewellery are part of a style trend that remains consistently popular as the years go by. Because the demand for vintage items is almost always high, so are the prices, and for vintage jewellery enthusiasts, the hunt for authentic pieces can prove challenging. The process for finding vintage jewellery becomes increasingly difficult when the shopper does not know what to look for or where to search in order to find high quality pieces to accessorise a wardrobe.
Pendants are simple pieces of jewellery that have evolved and changed throughout the decades. Many shoppers look for vintage pendants that are representative of their favourite fashion eras or that can accent their modern style. Actually, finding the right vintage pendants to complement a look is another matter altogether. To find quality and attractive vintage pendants, shoppers need to familiarise themselves with vintage fashion from each era, know what qualities and characteristics to look for in a pendant, and learn how to examine and compare the prices and conditions of different vintage pieces. The shopping process is much simpler and more successful when shoppers browse the ever-changing selection of vintage pendants on eBay.
What Is Vintage Jewellery?
Vintage jewellery refers to the necklaces, rings, bracelets, pendants, and other pieces that were made and worn in past decades. These styles are often organised by decade for easy reference, but they tend to overlap each other. Generally speaking, the term 'vintage jewellery' includes antique pieces as well. More specifically, the term 'vintage' is applied to jewellery that was made and worn in the decades between the 1940s and the 1980s.
Pendants hold a special place in vintage jewellery fashions. As the styles of clothing and accessories evolved throughout the years, so did the styles and appearance of pendants. Because pendants often have a distinct look, they are easier to match with certain time periods than some other pieces of jewellery. Some decades featured small and conservative pendants while others touted large, bold pendants that completely went against the fashions of previous years.
Vintage vs. Vintage Reproduction
Vintage jewellery, by definition, is never new. Even though the piece may not have been worn previously, it was still made several decades ago. However, finding a piece of vintage jewellery that has never been worn is rare. Because vintage pieces are no longer in production, their prices are much higher than other similar pieces of jewellery that were manufactured more recently. Vintage reproduction jewellery is manufactured to match a vintage style but was made in recent years. These new pieces may use materials that were commonly used in jewellery during a certain time period, or they may use modern materials. In either case, vintage reproduction jewellery offers the same styles for a lower cost. Additionally, vintage reproduction pieces are often easier to locate than authentic vintage jewellery.
About Pendants
The pendant is one of the earliest forms of jewellery known to man. It is a piece of jewellery that is worn around the neck suspended from a necklace. The earliest pendants were made from rocks or shells, and the materials used and the styles have continued to evolve since. Pendants are often sold as single pieces of jewellery without a chain or necklace. This gives the shopper maximum flexibility when it comes to putting together the jewellery ensemble. If the pendant is sold with a chain, the entirety is simply referred to as a necklace. Online shoppers should widen their searches to include both pendants and necklaces so that no deals or attractive pieces of jewellery are missed.
Parts of a Pendant
A pendant must have an opening of some sort in order to hang from a necklace. Pendants can have either a bail or a slide. The bail is an open loop that is usually located on the top of the pendant. However, it can also be placed on the back of the pendant to keep it out of sight while being worn. Pendants may also be attached to a necklace with a slide. Rather than being a separate loop attached to the pendant, the slide is a hole that is in the pendant itself. The slide is often incorporated into the design of the pendant.
Choosing a Vintage Pendant
Choosing a vintage pendant does not have to be difficult. Shoppers who are familiar with vintage styles may have an easier time choosing a pendant. These shoppers know the materials used in certain eras and can locate authentic pieces that can go along with period-specific outfits. Shoppers who are new to vintage fashion may have a bit more difficulty identifying jewellery from certain eras. However, this is not a problem if a shopper is looking for a pendant based on its appearance rather than the time period it hails from. When choosing a vintage pendant, either based on appearance or specific to a certain era, shoppers have to take the time to consider the materials used, the type of pendant, and theme. These characteristics influence the appearance, authenticity, and the personal meaning that the wearer attaches to a pendant.
Materials
The materials used to make pendants number almost as much as the amount of vintage pieces of jewellery in existence. Shoppers who have a preference for certain precious metals, stones, or other materials can find a vintage pendant to match those preferences. A shopper who has an affinity for clothing and accessories from a particular era must be familiar with the popular materials from that time. This ensures that their outfits remain authentic and truly reflect the fashion from that decade.
While some materials, such as gold and diamonds, have been used to make pendants in just about every decade, others are limited to a shorter amount of time. For example, cameo pendants carved from shells, stones, like agate or onyx, or Bakelite were predominantly worn in the 1940s. A shoppers looking for a pendant to wear with a 1970s outfit would not want a pendant made from these materials, but rather a simple piece crafted from wood or other natural materials commonly used in jewellery of that decade.
Style
Choosing the style, shape, or design of a pendant is entirely up to the shoppers and their personal preferences. Each vintage era featured a wide array of designs from which to choose. Vintage pendants that are classified as fine jewellery may feature a single precious gemstone cut and set according the popular choices of the time. Vintage pendants that are considered costume jewellery can feature a funky or tasteful design crafted from semi-precious gemstones or other materials consistent with the era. Still, shoppers may also opt for an engraved locket to store pictures of loved ones or fill with vintage-looking photos. While some vintage styles are better left in the past, there are many that deserve a place in current fashion. No matter which era a shopper chooses a pendant from, the styles are seemingly endless.
Theme or Symbol
Finally, when shopping for a pendant, people may wish to focus on a theme or symbol that has personal meaning. They might also look for pendants that bestow good luck, good fortune, or other values and characteristics upon themselves. Shoppers looking for these types of pendants need to research different images, objects, animals, or stones to find their symbolism. For example, an owl is often featured in jewellery to represent that the wearer has wisdom or to bring wisdom to the wearer. Some precious and semi-precious gemstones represent birth months and astrological signs. Pendants featuring these stones represent the wearer and any characteristics associated with her astrological sign.
Shopping for Vintage Pendants
Shopping for vintage pendants requires a bit more time than shopping for new jewellery. In addition to choosing the correct materials and style for a particular time period, a shopper also has to take the time to examine the condition and the price of the pendant. Vintage pieces are at least 20 years old, and some have stood the test of time better than others. For this reason, it is important for shoppers to select vintage pendants that have prices on par with the condition of the item.
Evaluate the Condition
Vintage pendants do show signs of their age and may also show some signs of wear and tear, depending on how much they were worn or how well they were cared for. However, they should not show signs of significant damage. Vintage pendants that are purchased for wearing should be in relatively good condition. Shoppers who are looking for collectible or antique pendants may choose pieces that have suffered some damage. Because of their rarity, shoppers cannot always find collectibles that are in excellent shape.
Compare Prices
The prices for vintage pendants should reflect the amount of damage that is evident. Additionally, the prices should be consistent with other similar pendants from the same era. Shoppers should look for lower prices on pendants that show more damage and higher prices for pendants that are nearly perfect in condition. Comparing prices is an effective way for shoppers to avoid paying too much for a pendant that is not worth the investment.
How to Buy Vintage Pendants on eBay
eBay is known for its huge selection of vintage, collectible, and rare items. People from across the UK and the globe come together to buy and sell their precious items in one large online marketplace. Because of the size of eBay's online marketplace, you can locate a large selection of vintage pendants and other jewellery without having to shop around. Additionally, since the marketplace is made up of private buyers and sellers, you can often snag great deals on just about any type of vintage pendant you are looking for. The key to finding these great deals is knowing how to navigate the site and search for the pendant you want.
Searching for Vintage Pendants
Vintage pendants, like other vintage items, are popular amongst all sorts of collectors and fashionistas. For the most part, vintage pendants can be located in one section of eBay. However, some are spread out in various parts of the site. In order to search the entire site so that nothing is missed, perform a basic keyword search that covers all categories. Do this by entering keywords to describe the type of vintage pendant you want in the search box. Avoid being overly specific, and instead select options to refine the results after performing the initial search. When you are comfortable with the amount of listings to sort, go through and read item descriptions and compare prices to find the one you wish to purchase.
Conclusion
Pendants are simple pieces of jewellery that are worn hanging from necklaces. This type of jewellery has been around for many years, and the materials, designs, and styles have changed considerably during that time. Trend-setters, vintage fashionistas, and collectors search for vintage pendants that represent their favourite eras, fashions, and styles. With so many choices from throughout the decades, deciding on one to purchase can be difficult.
Locating quality and authentic vintage pendants can be equally as difficult for shoppers who don't know what they should look for or where they should begin their search. By understanding a bit about vintage fashion and history, shoppers are able to identify pieces from particular eras. By knowing what to look for in a pendant, shoppers are able to choose pendants that reflect the styles they love, as well as find the types of pendants that fit within their budgets. This process is made even simpler by taking the search to eBay, where thousands of vintage and vintage reproduction pendants are available at any given time.