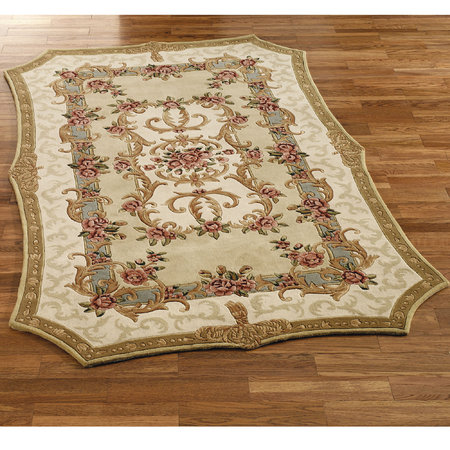 The vintage trend has seeped into the styling of everything from clothes to home decor, defining a popular subculture. Most often used to represent a past style, there is no true definition of what qualifies as vintage. Vintage home decor can span from the reuse of an older style in a new way or it can be a new recreation designed to emulate another era of design. It is important, particularly when shopping for home decor, not to confuse antique with vintage.
Vintage rugs cover a variety of styles that cannot be lumped together with antique rugs. While an antique rug can be considered vintage, a vintage rug is not necessarily an antique. Vintage rugs emulate a particular style rather than being a particular age. While some vintage rugs can be from another decade, it is most likely that a vintage rug is classified as such because of its design or appearance.
When shopping for a vintage rug, retail stores may not offer a vintage rug section. Online purchasing helps to provide a much easier and smooth order process. But remember with any vintage rug purchase there are a few things that every consumer must consider. It's important to take into account details such as colour, materials, and style, rather than moving forward with a purchase blindly.
What to Consider Before Buying a Vintage Rug
A rug made in vintage style may not be the same as a vintage time period, so its important to discern the difference. Buying a vintage rug is not the same as buying an antique rug. When shopping for antiques, the buyer is interested in specific decades, eras, or years in which the item was made. A modern replication, although similar in appearance, is not an antique.
Decorating in a vintage style is not so different than decorating with antiques, although dates are less important. In home decor, the term vintage, typically refers to a certain look or appearance emulating a style rather than a specific dated year or era. The term is used very loosely in rug design, therefore, there is no such thing as purchasing an authentic vintage rug. It is more important to focus on the authenticity of the rug design rather than the authenticity of age. For example, certain vintage style rugs are the result of a specific weaving technique, such as hand loomed. If it is the specific style and technique that is preferred, don't buy rug that mimics the technique, search for the real thing. There may be rugs that appear to be a certain style, but are not actually handmade or hand woven. It is always important to inquire about the details of the rug manufacturing before making a purchase.
Styles of Vintage Rugs
There are a few different styles of vintage rugs to consider when making a purchase. It can come in handy to know the styles of rugs beforehand, so that when shopping the choice is more clear and easily made.
The vintage style, when used to describe a rug, is essentially any type of rug that creates a certain look. Often, because vintage can entertain a broad notion of types of style, a home that is decorated with a vintage style can be an eclectic combination. This same rule applies to vintage rugs. Designers and sellers have varying opinions on the look of a vintage rug, therefore, when searching for vintage rugs, it is possible that the collection is very eclectic. From mid-century modern to 1970s chic, to overdyed Persian designs, the vintage label encompasses great variety.
Mid-Century Modern Vintage Rugs
The revival of this specific design style is often associated with the word vintage. Mid-century modern rugs offer a unique look and feel, that help to add personality to any room. The variety of design styles that surfaced in the twentieth century continually resurface in home decor, which results in your mid-century modern. Reviving a style that is associated with a certain period in time or that was defined within a certain era can often be referred to as vintage.
Overdyed Persian Rugs
The process of overdying rugs has become associated with a vintage appearance. Although an overdyed rug may not be specifically associated with a time period, they give the appearance of a certain design style. An overdyed rug is the result of a Turkish tradition. Essentially older rugs are first neutralised of all previous colours, with a faint dark pattern still left on the rug, and then dyed again with vibrant, bold colours.
These rugs are typically classified as a vintage style because the process combines a traditional medallion design, faded due to neutralisation, with the vibrancy of a modern colour palette. The neutralisation process creates a distressed appearance, seemingly aging the rug, and the dying process saturates the rug with a bright shade. The bright colours over a the distressed appearance of the rug pattern is one of the reasons this particular style has been grouped into the vintage design category.
Shabby Chic
The shabby chic design style is often grouped into the vintage category. Because of the distressed appearance of both styles, the two types are often lumped together in the same category. The shabby chic decorating style lends itself to the appearance of age and distress from use, while being updated in a modern home. A cosy, cottage, french country style decor, showing off with unique wear and tear, is essential to the shabby chic appearance. Even new pieces of furniture can be painted and then sanded to emulate the shabby chic style.
Shabby chic rugs often combine a floral, very feminine design with a pastel colour palette. The rugs often emulate a victorian era floweriness that is paired with very ornate furniture with an antique appeal. A design that emulates an older design era, paired with a worn appearance, results in the shabby chic design style being included in the vintage category.
Patchwork Rugs
Based on the same Turkish tradition of overdying, the patchwork rug combines multiple rug designs and colour patterns. These various pieces of rugs are patched together, neutralised and then dyed one bright vibrant colour. Other patchwork designs include various pieces of brightly coloured rugs that are patched together, in the same way as a quilt. These pieces are then patched together resembling a patchwork tapestry.
Because this process incorporates an eclectic combination of materials, patterns, and colours, and the overdying process fades the original colours and patterns, the patchwork rug is popular in the vintage category. A rug design that incorporates older patterns or styles into a new vibrant rug, enhances the new use of an older, retired pattern. Reinvention is often a key characteristic in defining vintage.
Watch Out for Imposters
Because there is no true definition of vintage rugs, it is possible that a manufacturer or seller has assessed a label that is covers broad terms or because very few details are known about the specific piece. For a home decorator with very discerning taste, always inquire about the origin and manufacturing process of the rug. Because the term vintage has a broad scope, without defined limitations, a rug may be assessed with the vintage label. Often, if a rug is of a certain appearance or age, but little is known about the origins, it can receive the vintage label.
Always inquire why the vintage label has been assessed to a particular rug. In a retail store that specialises in rug inventory, the vintage label is often associated with a vintage appearance, rather than the age of the item. When shopping in an open marketplace online, for example, the vintage label could be associated with appearance, actual age, manufacturing type, design style, as simply an attractive buzzword, or all of the above. If any of these specific labels is particularly significant to the the decision, be sure to inquire about the rug details including origin, condition, age, and type.
How to Buy Vintage Rugs on eBay
To find vintage rugs on eBay, you can first begin with a very general search initiated from the homepage such as vintage rug. A general search exposes you to the various types of rugs qualified as vintage. Once you peruse these listings, you may have a better idea of the types of vintage rugs available. The more details you add to your search, the more narrow the listings produced. A search such as black rectangle rug or blue square rug is more detailed listings geared toward your particular tastes.
Rug shopping in general, requires that you envision how the rug fits in with your other decor. The benefit of shopping vintage, is that vintage decor is often an eclectic combination of styles. Should you find a vintage rug that appeals to your taste, but you are unsure how it works in your space, you want to find a seller who quickly responds to your questions. If a return policy is not listed, inquire about the policy, before making the purchase.
Conclusion
Choosing a vintage rug for the home begins with a consideration of your own definition of vintage. Vintage can be defined by age, style, or even manufacturing process. Once you have determined how to classify the type of rug for which you are searching, you have more options available when perusing online listings or rug retailers. Be aware when searching for older aged rugs, that some of these rugs can qualify as antique, or can hold value due to the age. Obtain as many details as possible about the rug before purchase, to ensure that you are getting a fair deal.
Remember that all rug retailers and sellers use varying terminology and qualifications when classifying a rug as vintage. Be prepared to search for rugs by type of style, manufacturer, or colour to find the vintage rug that best fits your vintage decor. When shopping in an online marketplace such as eBay, choose a seller that can accurately respond to questions and that offers a return should your rug not fit with your vintage ideal.