With a vintage silver charm bracelet, the fun of guessing the meaning of the charms supplements the beauty. An enamelled shield of Venezia protects tiny symbols of favourite hobbies, family histories, and more. A horse could commemorate a past or present hobby, and an engagement ring symbolises a marriage. The real 'charm' of silver charm bracelets is the carefully crafted miniature sterling silver icons that represent some of life's greatest moments.
Key to the Heart

British-made vintage silver charm bracelets from the 1970s and 1980s often feature heart padlocks as their closures. These locks symbolise that the woman who receives the bracelet holds the key to the giver's heart. Older sterling silver charm bracelets are more likely to close with simple spring rings. Newer bracelets, especially those from America, may have ring and toggle clasps. Charm bracelets generally include curb chains that lie flat against the wrists. Even when the chain is heavy, the links are relatively small, and each charm has its own link. A double curb chain provides even more room for charms. Belcher and other chain types are relatively uncommon. Silver charms attach with jump rings, which jewellers can solder for added security.
The Marks of Sterling
UK-made vintage sterling silver charm bracelets should bear two marks. One mark indicates it is sterling silver, and the other mark identifies the UK maker. Sterling has a lion passant with a lion rampant if the silver is from Glasgow, a thistle if it is from Edinburgh, and a harp if it is from Dublin. The many city marks include a leopard's head for London, an anchor for Birmingham, a crown for Sheffield, and a castle for Edinburgh. Newer American sterling contains a '925' stamp to indicate the percentage of silver in the alloy, and older pieces have a 'Sterling' or 'Sterling Silver' stamp. A 925 silver charm bracelet is of American origin. Jewellers classify 925 items as solid silver charm bracelets because unalloyed, 100 per cent silver is too soft to form into jewellery.
Charming Charms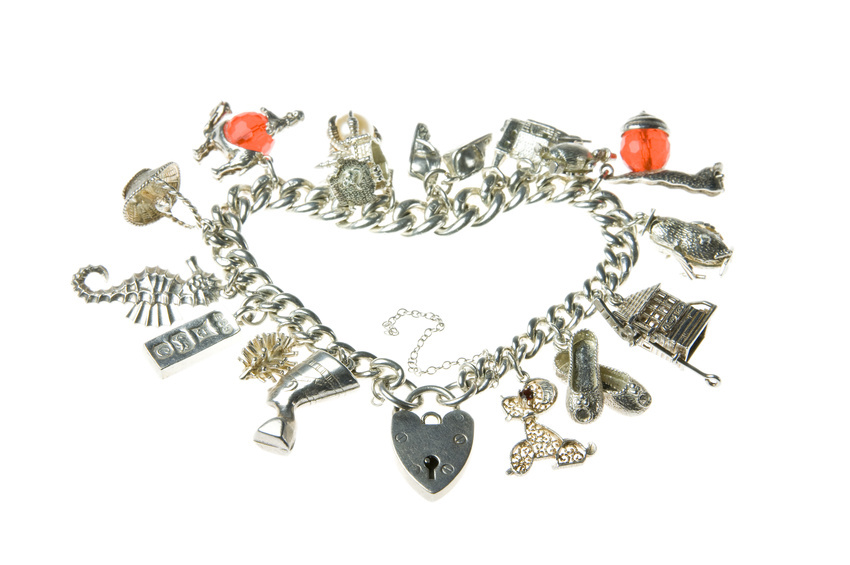 A vintage silver charm bracelet with charms contains charms based on the original owner's interests. The value of vintage sterling silver charms depends in part on their complexity. Three-dimensional charms are generally more desirable than flat charms. Charms that open to reveal a surprise or have moving parts are less common than charms that are single pieces. Unusual silver 'reveal' charms might include a church that opens to show a couple being married or a swan that opens to reveal a ballerina. Movement charms include windmills with rotating blades, teapots with hinged lids, adding machines with cranks, and caravans with turning wheels. Locket charms include the conventional heart and book charms, particularly Bibles.