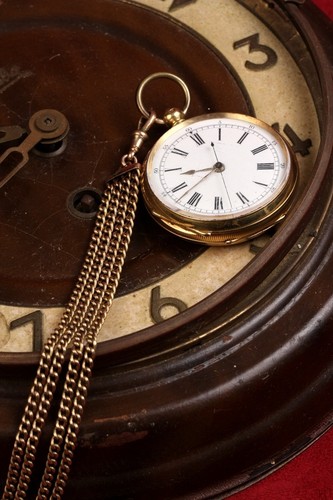 Pocket watches are stylish but they can look even more so with the addition of a decorative fob on a watch chain. There are many different types of fobs available on the market, from antique European pieces to vintage American pieces. This guide offers advice for finding vintage watch fobs on and provides a list of manufacturers that produced them. It also includes tips for buying watch fobs from online retailers. Review the shopping guide and the history of this vintage jewellery and learning how to identify the characteristic features of watch fobs.
History of Vintage Watch Fobs
Watch fobs became fashionable shortly after the pocket watch was invented in the sixteenth century. The pocket watch was small so that it would fit in a pocket. A chain attached to the watch led out of the pocket and was usually attached to a buttonhole on a man's waistcoat or at the waistband. During the late seventeenth century in England, it was common for upper class gentlemen to wear the chain draped over the lower chest. Eventually, small decorative items were attached to the end of the chain. The items were often emblems of gentlemen's private clubs or associations or could be practical items, such as a cigar cutter or watch winding key. Another type of fob that developed in America during the nineteenth century was a jewellery-like advertisement similar to the lapel pins often worn today. Companies would create small pendant-like pieces that displayed the company name, image, and slogan. These fobs were distributed at fairs and company picnics to employees and friends. The fobs were worn so that they could be noticed by other attendees, and thus promote the company. These vintage watch fobs are unique and are considered to be collectables today.
Discover Vintage Watch Fobs
Watch fobs that were manufactured 35 to 75 years ago are regarded as vintage. They are usually categorized within the 'Jewellery and Watches' section of most retailers and auction sites. A fob can refer to either the chain attached to the pocket watch or the pendant at the end of the chain. Fobs are sought-after collectables – there are even fob collector clubs. A wide choice of fobs is available on eBay.
Parts/Materials/Components of Vintage Watch Fobs
Vintage watch fobs were made from several materials including sterling silver, gold, and brass.
| Material | Description |
| --- | --- |
| Gold | Gold fobs are very valuable. They are usually bright yellow but some made of rose gold have a soft pinkish hue. |
| Sterling Silver | Sterling Silver fobs consist of 92.5% silver and 7.5% of another metal, usually copper. Many fobs offered online are silver reproductions that contain a lot less silver |
| Brass | Brass fobs are made of an alloy composed of copper and zinc. They usually have a bright yellowish colour |
| Bone or Pearl Inserts | Pieces of bone and pearl were used to decorate fobs |
| Precious Jewels | Pieces of bone and pearl were used to decorate fobs |
| Celluloid | Celluloid pieces are made from a type of plastic composed of nitrocellulose and camphor |
Types of Vintage Watch Fobs
There are three types of vintage watch fobs: decorative, advertising, and practical.
Type

Description

Advantages

Considerations

Decorative

Decorative fobs were fashionable during the 17th century in Europe. It was an accessory that was attached to the pocket watch chain. The fob was a stylish addition to the wardrobe. Most of the fobs produced during the Art Deco period and later decades were pendants featuring carved metals and gemstones.

· Easy to grasp and pull the pocketwatch out of a pocket.

· Decorative fobs need to be maintained to keep a shiny luster and elegant appearance.

Practical

Practical fobs are items that are frequently used for mundane things, such as winding the pocket watch or cutting the tip of a cigar. These were common when the pocket watch was first invented. In addition to keys and cigar cutters, fobs might be match cases, magnifying glasses, or other practical items.

· These fobs would weigh down the chain or strap attached to the pocket watch, so that the chain or strap would rest against the body.

· Original fobs with gadget-like functions are very expensive.

Advertising

Advertising watch fobs were popular in America during the mid-19th century to the early 20th century. These fobs were flat pieces of metal, usually consisting of sterling silver, featuring the name, image, and logo of a company. Some advertising fobs featured unique designs and carvings that represented the company's products or philosophy.

· Advertising fobs are collectible items that have a lot of historical significance.

· The pictorial representations on advertising fobs were easily recognized, which was important during the time because many people couldn't read or write.

· Advertising fobs were sometimes reproduced with similar designs for collectors – known as Fantasy fobs. These might be missing key details such as dealer name or manufacturer name.
Factors to Consider When Buying Vintage Watch Fob
There are several things to consider when buying vintage watch fobs.
Authenticity - The price of a fob depends on its authenticity and rarity. Gold and silver fobs were often ornate and beautifully detailed. Jewels could be valuable, increasing the price of a vintage piece. Original advertising fobs were created from an original die for a specific company and featured the name of the dealer or manufacturer and usually have a high price at auction. If the fob doesn't have a dealer or manufacturer name on it, it is most likely a fake or reproduction that has much lesser value. Another type of fob to look for is one made from the original die, but by another manufacturer. These are authentic but produced at a later time. This occurred when one manufacturer was purchased by another who then used the original die to restrike a fob. Sometimes these restrikes would have been made with a lesser quality metal.

Appearance/Meaning - Another factor to consider is the look and feel of the fob. Some designs represent ideas or themes that a buyer relates to for some reason. Since fobs are a bit of a fashion statement, choose one that fits your preferred style.
Type of Metal - One more factor to consider while shopping for vintage watch fobs is the type of metal it is made from. Most original fobs are made from sterling silver, which is 92.5% pure. These will have a hallmark embedded in the piece. Reproductions are often made from lesser quality silver. Gold watch fobs are very valuable and usually receive high bids at auction.
Typical Features of Vintage Watch Fob
Vintage watch fobs come in a vast variety of styles. Those produced in the United Kingdom might have initials of the original owner, a badge or logo of a gentlemen's club, or a symbol that meant something to him, such as a fish, a dog, a horse, etc. Women also wore small pocket watches so some more feminine pieces can also be found but they are not as common and usually more decorative. American fobs with advertising elements were produced on thin sheet metal with a ring or hole for attaching to a chain. Look for those that include the name of the company represented. They will usually have a picture of the product the company manufactured.
How to Care for Vintage Watch Fob
Vintage watch fobs are valuable watch accessories that should be stored and cleaned properly. Fobs made of sterling silver should be stored in tarnish-prevention cloths that reduce the risk of scratches and slow down the tarnishing process. It is best to store it in a cool, dry area. It is recommended to use polishing cloths to clean sterling silver fobs. Fobs made from gold should be washed with warm, soapy water, dried, and stored in a plastic bag.
Popular Vintage Watch Fob Manufacturers and Dealers
William Hair Haseler
Herbert Bushell
Metal Arts Co.
Tom Sawyer Waistcoats
Greenwich Pocket Watch Company
Antiques Avenue Co.
Argos
Tesco
Accessories and Add-ons for Vintage Watch Fob
Consider buying the following items to complement the vintage watch fob:
Watch Chain
Watch Band
Pocket Watch Holder
Cufflinks
Bracelets
Finding Vintage Watch Fob on eBay
After determining the type of vintage watch fob to purchase, visit the Jewellery & Watches Category portal on eBay, click on 'Vintage & Antique Jewellery', then click 'Vintage Fine Jewellery' and start searching item listings. The Categories list on the left-hand side of the eBay page helps to narrow the search.
Searching forVintage Watch Fob on eBay
Search eBay listing titles for specific words when shopping for vintage watch fob. For example, to find a Victorian watch fob, type Victorian watch fob into the search box, and then click the Advanced button to customise the results. Also visit eBay's Search Tipsppage for more advice on searching for vintage fine jewellery with keywords. Can't find a specific vintage watch fob? Try shopping eBay Stores..
Conclusion
There are several types of vintage watch fobs available. Decorative fobs were common in Europe for several hundred years, while advertising fobs originated in the mid-nineteenth century in America. There are several fob designs available on the market. After finding the right one, review the details on the product listing page on eBay. It contains valuable information including the price, shipping details, and product description. Know exactly what the seller is offering before making a purchase. After collecting this information, you can buy vintage watch fob safely and securely on eBay.