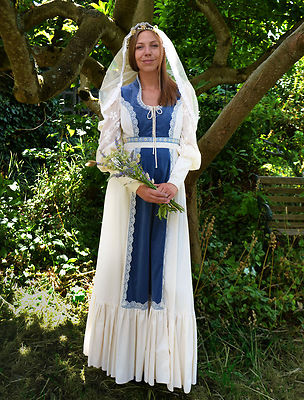 Vintage Wedding Dresses

Being a second hand rose need not be nightmare.
Start with the foundation and wear the right shape underwear. For styles from the twenties to early thirties go for something soft and supporting, for the forties to the sixties pointy and perky is the way to go. A long-line bra like the Doreen by Triumph will comfortably nip a couple of inches off your waist too and it won't bust your budget!
Choose a gown or veil that has already been professionally cleaned. Buying a bargain that 'smells musty from storage' or 'only has a few stains that will probably come out with cleaning' could be taking a big gamble. Restoration costs can be expensive but if you want to have a go yourself, get some specialist advice first. Cleaning aged textiles can result in disaster for the item and may even be a risk your health.
Don't be shy. Any reputable vintage shop owner like Real Green Dress will be happy to answer your questions and offer advice on altering a gown or accessories to suit your plans. A lace wedding dress could be reinforced for energetic dancing or a vintage head dress adapted to suit a windy outdoor ceremony. Ask about the seam allowance as gowns can often be let out as well as taken in for a perfect fit.
For before and after your big day The Institute of Conservation has a useful leaflet on their website for the Care and Conservation of Textiles.
Sweet dreams!