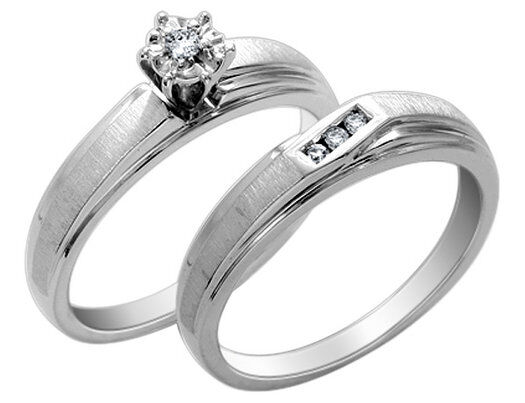 Vintage wedding rings are considered as a symbol of a married couple's eternal love. The rings are often exchanged during wedding ceremonies and are designed to be worn on the third finger of the left hand. The shape of the ring, an endless circle, represents wholeness and everlasting love. Vintage wedding rings were traditionally worn only by women. However, during the twentieth century, wedding rings became customary for both men and women. By the 1940s, double ring ceremonies made up for 80 percent of all weddings, as opposed to 15 percent before the 1930s. So, finding vintage men's wedding rings from earlier eras may be difficult. Wedding rings were traditionally made of yellow gold, but platinum and white gold grew in popularity and were appreciated by many for their style and beauty.
Older vintage wedding rings are simple in their design, whereas more modern rings contain intricate detailing and precious gemstones. Vintage wedding rings are available in an array of styles, sizes, and metals. When purchasing a vintage wedding ring, buyers should bear in mind the ring's style and learn how to resize a ring properly should any modifications need to be made. Vintage wedding rings are available from antiques dealers and online retailers, such as eBay.
Style of Vintage Wedding Ring
Vintage wedding ring styles changed over time because of advances in technology, fashion, and the availability of materials. In the 1920s, jewellers discovered new ways of working with platinum. This allowed for the creation of very precise, detailed decorative themes. New diamond cuts, such as the marquise, emerald, and pear cuts, also came into fashion in that era.
Art Deco Vintage Wedding Rings
Art Deco style vintage wedding rings were in vogue from 1920 until 1940. These rings are characterised by their bold geometric shapes and large sizes. Square and triangular cut stones were popular at the time as they created strong patterns. Coloured stones became fashionable, especially as accents around a larger diamond. The gemstones are often set in a white gold or platinum band.
1950s Vintage Wedding Rings
With the end of the simple 1940s wartime weddings, traditional wedding ceremonies once again took centre stage in the 1950s. Beautiful gowns, luxurious decorations, and intricately designed wedding rings were meant to exhibit the groom's financial status and ability to provide for his new wife. The yellow gold rings of wartime brides were replaced with platinum bands, which remained the metal of choice during the 1950s. During the 1950s, rhodium plating was first used on a massive commercial scale, which allowed for the growth in the production of silver or white gold rings.
Wedding band styles for both the bride and groom in the 1950s included curvaceous thick lines, braided designs, and twisted rope style bands. The bride's wedding ring often exemplified a distinctive feminine quality with butterfly, flowers, leaves, bees, and star shaped patterns. So, the 1950s are characterised by their ornate wedding bands and large diamonds, which are often surrounded by baguettes, or clusters of smaller diamonds. Other gemstones may also be used as an adornment.
1960s Vintage Wedding Rings
During the first half of the 1960s, wedding rings had a classic and simple focus on design. Brides commonly wore three stone wedding rings. These rings often had one large centre stone with two smaller stones of the same size on either side. The wedding band was popularly worn with the engagement ring. The bands of both the bride and groom matched, although the bride's version was designed to be slightly thinner and more feminine looking. Towards the middle part of the decade, solitaire wedding rings emerged. These rings may have been worn with or without an accompanying wedding band.
As the 1960s came to an end, the hippie era had a large influence on all of the fashion world, including wedding rings. Wedding bands changed in design from a thin gold band to a much wider style. Many bands during this time had engraved details, typically in an asymmetrical design. Women often abandoned the diamond solitaire altogether, instead wearing a simple wide wedding band that matched the style of the man's. A popular wedding band during the late 1960s was the cluster. The cluster ring was made up of a number of small stones clustered together at the centre of the wedding ring. The clusters were often formed of diamonds, but some were made with other gemstones. Vintage cluster rings were worn both with and without an accompanying wedding band.
Vintage Wedding Ring Size Chart
When searching for the perfect vintage wedding ring, it is important to consider the ring size. In order to find the proper size, wearers should measure around their left ring finger at the widest point, which is usually the knuckle. Ring sizes and their corresponding finger measurements are given in the table below.
| Ring Size | Finger Measurement (mm) |
| --- | --- |
| F | 14.1 |
| G | 14.5 |
| H | 14.9 |
| I | 15.3 |
| J | 15.5 |
| K | 15.9 |
| L | 16.3 |
| M | 16.7 |
| N | 17.1 |
| O | 17.5 |
| P | 17.9 |
| Q | 18.3 |
| R | 18.8 |
| S | 19.2 |
| T | 19.6 |
| U | 20 |
| V | 20.4 |
| W | 20.8 |
| X | 21.2 |
| Y | 21.6 |
| Z | 21.8 |
Finger measurements refer to the diameter of the vintage wedding ring. In order to find an accurate size, the ring finger should be measured with exact precision. Some vintage wedding rings may be available in half sizes to accommodate those who are in between sizes. Size charts may vary slightly by manufacturer. It is important to discuss sizing with the seller before buying a vintage wedding ring.
Resizing a Vintage Wedding Ring
When buying a vintage wedding ring, buyers should pay close attention to the size of the ring. It is possible to buy the wrong size as sizing may differ slightly given many years of wear and tear. If the wedding band does not fit properly, it may cause discomfort or fall off and be lost. As vintage wedding rings are not easily replaceable items of jewellery, buyers should familiarise themselves with how to resize the ring.
Buyers should first determine if cutting the ring is necessary for resizing. If the ring is too large, a jeweller may cut a portion of the band and fuse the ends back together again so that no indication of resizing is visible. However, this is not recommended for rings that contain intricate designs or have been engraved. Buyers should always save the extracted piece of metal in the event that the ring will need to be made larger in the future.
Buyers should also bear in mind the composition of the vintage wedding ring. Rings made of gold, platinum, or titanium can be stretched using a ring sizer or stretcher. If the ring is too small, the jeweller may also be able to add a bridge. If increasing the size by more than one or two sizes, the ring must be cut and an additional piece of the band soldered in. This is because simply stretching the ring will make the metal too thin.
How to Buy a Vintage Wedding Ring on eBay
There are many different vintage wedding rings on eBay. Buyers can begin their search on the eBay homepage by using the keywords "vintage wedding ring", and then narrow down the results using the eBay filters. Alternatively, buyers can use eBay's advanced search feature to restrict the results by price or item condition. This is good option for buyers who have a general idea about the type of vintage wedding ring that they are looking for.
Buyers should look carefully at the condition of the vintage wedding ring before purchasing, and if they have any unanswered questions or need further clarification, they can contact the seller. If the vintage wedding ring is being sold close by, then buyers can ask the seller if they can view the wedding ring to check the condition before making a purchase. This gives buyers the opportunity to try on the vintage wedding ring and check whether or not it will be a good fit.
Conclusion
Choosing the perfect vintage wedding ring is an important decision. These rings are likely to be worn for the rest of the wearer's life, so should be chosen with much thought. Vintage wedding rings tend to vary in style depending on the era that they were manufactured in. Wedding rings from the Art Deco period are often large and made up of geometrical shapes. The 1950s brought with it rhodium plated white gold wedding rings, while the wedding rings from the 1960s returned to a simple style. The couple's wedding rings should complement each other in style, but they do not have to be identical. When choosing a vintage wedding ring, buyers should consider the sizing of the ring. Although it is often possible to resize a ring to make it a better fit, resizing is not recommended for vintage wedding rings with intricate designs or engravings. Rings should also not be resized more than two sizes as the metal tends to wear thin. eBay has a selection of vintage wedding rings to give some classic style to the big day and many years to come.