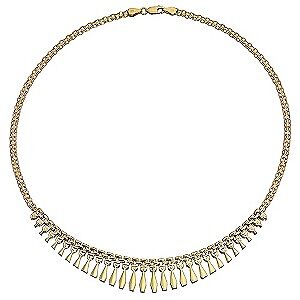 The gold chain or necklace has been a symbol representing the wealth and prestige of civilisations and cultures since ancient times. Gold necklaces have been worn since the 7th century BC and are the most popular form of yellow gold jewellery worn today. Gold necklaces are usually fashioned from substantial amounts of gold because of their size, so naturally they are one of the most expensive items of jewellery available. Vintage yellow gold necklaces are a special form of gold jewellery because they are usually very unique from contemporary jewellery and create a sense of rustic charm along with their beautiful brilliance.
Buyers who are interested in purchasing vintage yellow gold necklaces have a large collection of examples to choose from if they search in the right places. The key for buyer is to understand the various features of a vintage gold necklace, know how to determine the purity of its gold, determine the type of necklace that will best suit their personality, and how to find and purchase a vintage yellow gold necklace on eBay.
Features of a Vintage Necklace
There are several elements that make a yellow gold necklace a vintage piece of jewellery. Yellow gold has a timeless appeal to it that links modern jewellery with ancient times when gold was the symbol of status. Vintage gold necklaces take advantage of designs that speak of an older time period where old money and status were represented by the yellow gold jewellery worn at gatherings and events. Many people are moving toward white or coloured gold in today's market place, which makes vintage yellow gold necklaces rare keepsakes of a bygone era filled with beauty and class. Vintage yellow gold necklaces will feature designs that maintain an antique appeal along with warmth and timeless style.
Determining the Purity of Gold
The purity of gold depends upon the percentages of other metals that are mixed in with it. The more metals that are mixed, the stronger the gold alloy will be but the less purity it will have. The larger the number, the higher the purity of gold in the alloy. The United States and Europe have different methods of determining the purity of gold. The United States measures purity in karats while Europe measures it in percentages.
| American Karat | European Percentage | Common Uses |
| --- | --- | --- |
| | 375 | Not used in America; very popular in Ireland and the UK; minimum percentage to be considered gold in Canada; good all around alloy for necklaces that are worn constantly |
| | 417 | Minimum percentage to be considered gold in the United States; similar to 9K as a good all around strong alloy |
| | 585 | Most popular percentage in United States; good mix of strength and beauty; commonly found in everyday wear necklaces |
| | 750 | High percentage of gold to other metals; good alloy choice for higher end necklaces that are still strong enough to wear constantly |
| | 916 | Very high gold percentage; higher end of value; used in necklaces for special occasions; not strong enough for constant use |
| | 1000 | Highest gold percentage; most expensive value of all gold; used in only the highest end necklaces that are worn only on special occasions |
Although the methods of measuring purity of gold are different, they are both based on a world standard of percentages, where 10K gold will always be 41.7% pure and 14K will be 58.5% pure and so on. 24K gold has no added metals in it, which means it is pure gold and gives it the European designation of 1000.
Types of Vintage Gold Necklaces
The various types of gold necklaces available have changed little over the years. The styles of gold necklaces that were popular many years ago are still popular today. There are many different types of necklaces for the buyer to choose from and the following are a few of the variations.
Rope
A rope style vintage yellow gold necklace gets its name from the rope like appearance of the chain. rope necklaces have the same braided appearance as rope but in a thin and delicate strand. Rope chains are unique because they are one long chain rather than a series of links that are connected together. These are popular with both men and women.
Link
Link gold necklaces are the most common type of chain. They consist of a series of links that have the same appearance as a length of chain, only much smaller and more refined. Link necklaces can have one strand or many strands depending on the taste of the buyer. Link necklaces are popular with both women and men.
Box
Box gold necklaces are made from a series of links that have the appearance of many little boxes joined together to create the chain. Box necklaces can also take on a similar appearance to a bicycle chain or be a series of connected rectangle shapes. Box necklaces are very popular with women.
Bead
As the name suggests, bead gold necklaces are constructed of a series of beads connected together via a small cable or wire. Bead gold necklaces can vary in appearance and can be pearl-like with symmetrical round beads or contain fewer beads spaced out further and connected with tiny gold links. Bead gold necklaces can be both elaborate or fairly reserved in appearance, but regardless of their style, bead necklaces create a very elegant look that is popular with women.
Omega
The omega gold necklace is a very simple necklace that features elegant styling that can be worn in both casual and formal occasions. Omega necklaces have a nearly seamless appearance where the links are connected tightly together to form what appears to be a solid band when seen from far away. The omega can be flat, graduated, round, or domed in appearance and are worn by women either alone or with an attached pendant.
Mesh
Mesh gold necklaces come in many different variations and can be crafted in small and narrow braided mesh necklaces or elaborate golden mesh bibs that drape around a woman's neck. Mesh necklaces are constructed much like small scale versions of chainmail worn by English knights in medieval times. Mesh necklaces can be take on nearly any type of shape or style as long as the gold is connected in a manner to form a mesh pattern.
Cuban
The Cuban gold necklace is very popular with men due to its heavy and symmetrical link appearance. Cuban necklaces feature flat and thick links that are usually all the same size and tightly connected. Cuban necklaces use a large amount of gold and are usually some of the most expensive necklaces available.
Mariner
Mariner gold necklaces have links that have the appearance of anchor chains. Usually, each link will be round in nature and feature a cross piece that travels through the centre of link from one side to the other. The links are usually flat to allow the chain to sit flat when worn. The mariner is popular with men due to its nautical styling.
Figaro
The Figaro gold necklace is a series of links that usually feature three smaller links connected to one larger link, and then the sequence starts over again. The Figaro is commonly worn by men and can vary in size from small to very large links.
How to Buy a Vintage Yellow Gold Necklace on eBay
After you have decided to purchase a vintage yellow gold necklace, it is important to take advantage of the powerful search tools available to you on eBay. Start by navigating to the eBay home page and entering a keyword such as "vintage yellow gold necklace" into the search box. A list of available products are be displayed that relate to that search term. At this point you can browse through the listings until you find a necklace that you like, or you can narrow the search field by choosing various categories and subcategories that will refine the number of products listed.
Understanding Feedback
Feedback is how the eBay community rates each seller according to how they perform throughout the transaction. Buyers leave a rating and feedback for a seller after they have completed the transaction and received their item. If the transaction was positive, a positive rating and comments are left for the seller. It is important to make sure the seller you select has positive feedback.
Conclusion
Vintage yellow gold necklaces are a wonderful item to add to any jewellery collection. Vintage necklaces add a sense of timelessness to a collection and give the wearer an air of classical appeal. Vintage necklaces are a great way to accent formal attire because of the manner in which they reference the prestige and worldliness of a bygone era of fashion and old money. Women who choose to wear vintage yellow gold necklaces will enjoy the beautiful lustre of gold, but also the prestige that comes with a timeless piece of jewellery.
Buyers interested in vintage yellow gold jewellery should make sure to research the various styles and types of necklaces available in the jewellery shops around them. If they cannot find what they are looking for locally, buyers should not hesitate to take advantage of the many deals and the large variety of vintage yellow gold necklaces available on various websites such as eBay.