Make your car stand out from the crowd!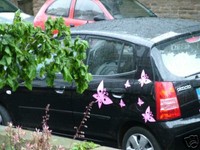 I purchased a set of Butterfly car stickers from ebay seller autographmicar - see link below.
They really are fantastic as you can see from my pic and also very easy to apply - I have been through the car wash too and they dont budge. So if you wish to decorate your pride and joy or simply advertise your website - they do url stickers too at a very reasonable price - then visit them today !
Here is the link: http://stores.ebay.co.uk/Unique-Graphics
urban-pixie - a very happy and satisfied customer