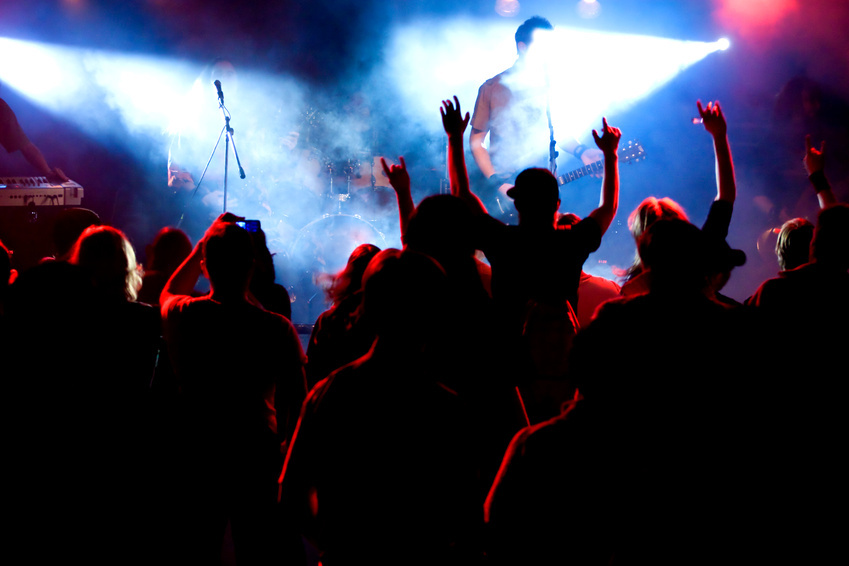 The Tennent's Vital Festival is a two-day summer music event held in Northern Ireland. Since its inception in 2002, it has taken place at event grounds, like the Botanic Gardens and Ormeau Park, both located in Belfast. The quality of its lineup of headliners, which has included The White Stripes, Franz Ferdinand, Kaiser Chiefs, and the Foo Fighters, has swelled attendance to about 40,000 fans per festival. In 2013, the Vital Festival was moved to Belfast's Boucher Road Playing Fields, and includes Kings of Leon as headliners.
Getting tickets to the Vital Festival can be challenging because of its popularity. To purchase tickets, fans can use online ticket vendors or websites like eBay. Although it is best to try to purchase tickets as soon as they are available, fans determined to go to the Vital Festival should continue their search even if the concert is sold out. In some cases, fans who have tickets may need to change their plans because of unforeseen circumstances, and are able to offer their tickets to others. Attending the Vital Festival can require some logistical planning, especially for fans located outside the Belfast metropolitan area. It is, therefore, necessary for festival attendees to know about the festival's admissions details and which travel and accommodation options they have before purchasing tickets.
Vital Festival Admissions
Because the Vital Festival features a main stage and additional attractions, all tickets are for general admission. General admission tickets allow concertgoers to customise their experiences easily and choose where they want to be at any given time throughout the event. Before purchasing a ticket, however, fans should understand some of the restrictions that festival coordinators have placed on attendance.
Vital Festival Age Restrictions
The Vital Festival is an event for fans 16 years of age and over. In special cases, attendees younger than 16 years old can attend the event, but must be accompanied by a parent who is aged 25 years old or older. Parents attending the festival with children are limited to taking two children per parent. All attendees must show identification with their date of birth listed clearly. Parents attending with children need to sign a consent form before entering the festival as well.
Ticket Duration
Although the Vital Festival is a two-day event, each ticket that is purchased is valid for only one day. Attendees who want to attend the festival for the entirety of its duration must purchase two separate tickets for each day of the festival. Since attending the full festival may be costly for some attendees, they should check out the main stage schedule to determine which day they prefer to attend before purchasing a one-day ticket.
Camping Restrictions
Although some music festivals allow attendees to camp on festival grounds during an event, the Vital Festival does not allow any camping. This can complicate attending the event for ticket holders who live outside of the Belfast area.
Clothing Restrictions
To avoid any conflicts between fans based on team rivalries, the Vital Festival prohibits attendees from wearing clothing associated with any football clubs or teams who play for the Gaelic Athletic Association. If a ticket holder is dressed in team-affiliated clothing, he or she is prohibited from entering the festival.
Accommodations Near the Vital Festival
Vital Festival attendees who are travelling a long distance have a lot of options when choosing accommodations near the festival's grounds. Which type of accommodation is preferable relies on the preferences and budget of each individual festival participant.
Hotels
The most obvious choice of accommodation for Vital Festival attendees is to stay in a hotel when travelling to or from the festival. Hotel rooms in the Belfast area are convenient because of their proximity to the festival, but may be more expensive than hotels located in smaller cities. If concertgoers are travelling a long distance in a car, it may be a better idea to choose a hotel that is located between their point of origin and the Belfast area. This allows festival fans to break up their driving time into manageable chunks and helps to avoid driver fatigue.
Longer Stay Options
Hotels are very convenient for concertgoers who are travelling expressly to attend the Vital Festival, but attendees who are incorporating a visit to the festival into a long holiday may prefer accommodations with longer stay periods. For these attendees, checking out various types of accommodations may be preferable to hotels to make the most of their vacations in Northern Ireland.
| Longer Stay Accommodation Options | Description |
| --- | --- |
| Static caravans | Large, single unit accommodations that include multiple bedrooms, living areas, and kitchens |
| Rental cottages and bungalows | Accommodations that can be single units or part of a multiplex that include sleeping areas and kitchens |
| Short-term flat rentals | Accommodations in multi-unit buildings that include bedrooms, living areas, and kitchens |
Caravans, cottages, and bungalows are most often located near holiday areas, like the Antrim coast, and can be a great option to stay for travellers who want to experience the natural beauty of Northern Ireland. On the other hand, short-term flat rentals can be in vacation areas or in bustling metropolitan centres, like Belfast. For Vital Festival attendees who want to experience the historical and cultural attractions of Belfast, opting to rent a flat is often a more economical choice than staying in a Belfast hotel for a week or more.
Travelling to the Vital Festival
Because the Vital Festival is located in the Belfast metropolitan area, coordinating travel to and from the festival is easier than arranging travel plans for similar music festivals that are held in rural areas. The Boucher Road Playing Field, site of the Vital Festival 2013, is connected to both Belfast bus and train networks, for example, so attendees can conveniently use public transportation once they are in Belfast. To get to Belfast, concertgoers from distant areas have a number of travel options.
Land Travel Options
Vital Festival attendees throughout Northern Ireland and Ireland can rely singularly on land travel to attend the festival. Because of this, they can opt to take trains or buses to Belfast or go by car. Travellers arriving to the Vital Festival by car should be aware of parking fees, however, which can be quite expensive. Although the festival has numerous parking lots available, these can reach capacity quickly, causing late-arriving attendees problems. All Vital Festival event sites offer parking options for disabled attendees in accordance with United Kingdom and European Union laws.
Air Travel Options
Vital Festival attendees who must travel great distances to attend the event can reserve flight tickets and fly into Belfast International Airport or another airport located close to Belfast. Belfast International Airport has bus options that link to Northern Ireland's intercountry public transportation system. For travellers who prefer private travel options, taxi service is available to and from the airport.
Ferry Options
Another way Vital Festival attendees from Scotland, England, or Wales can travel to the Belfast area is via ferry that crosses the Irish Sea. Many of these ferries allow riders to travel with their cars so festival-goers who plan to rely on their own cars to reach the festival should look for ferries that provide car transport.
Vital Festival Conditions
The Vital Festival is an open air festival, so attendees should be prepared for any weather conditions. Throughout the festival, concession stands selling food and beverages are available. Attendees are prohibited from bringing their own food and must purchase any food items from the festival's caterers. Although no seating is provided throughout the festival, attendees cannot bring fold up or blow up chairs with them onto the event grounds. The event does not provide storage for any prohibited items so any items that do not meet the festival's regulations are confiscated at the festival's gates.
Buying Vital Tickets on eBay
Music fans can utilise the festival ticket offerings on eBay in their search for tickets to the Vital Festival. When shopping for tickets, buyers can use keywords to locate any available tickets quickly. Once tickets are found, buyers should be certain to check the details in the eBay product listing to make sure they know how many Vital Festival tickets are included in a sale. Additionally, buyers should check the dates on the available tickets to determine which day of the festival the ticket covers.
Buyers can also use eBay to prepare for their trips to the Vital Festival once tickets to the festival are found. eBay supplies buyers with many travel and accommodation purchasing options as well as practical items that can make attending the festival easier. Buyers can look for adaptable, concert-friendly clothing, for example, which can meet the challenges of any weather conditions fans may find the day of the event.
Conclusion
Since 2002, the Vital Festival has drawn thousands of music fans to Belfast in the summer. Because of the popularity of the event, however, accessing tickets can be a problem for fans. Once tickets are released to the public, they sell out quickly, so fans should stay current on ticket sale dates. Once tickets sell out, fans may be able to purchase tickets from ticket holders who cannot attend the event. Before purchasing tickets to the Vital Festival, buyers should know which types of restrictions are applied to entrance admissions so they can avoid any costly last minute obstructions to entering the festival.
Most Vital Festival attendees who live outside of Belfast need to determine travel plans as part of their festival preparations. Depending on an attendee's point of origin, travel plans can include land, water, or air travel. In some cases, attendees can combine a trip to the Vital Festival into a longer holiday in Northern Ireland and can reserve accommodations to enjoy their time in the country. To help prepare for a trip to the Vital Festival, music fans can use eBay as a resource for finding tickets, arranging transportation and accommodations, and purchasing practical items that can help concertgoers meet the challenges of the festival's weather conditions.