The
VW Scirocco
was designed to plug the gap between the straight-laced Golf and the sister company's Audi TT. Reviving the name used for the Golf-based coupé in the 1970s and 1980s, Volkswagen launched its sexy coupé model in 2008. Just like its forbears, the
Scirocco
was based on the Golf — in this case the Mk5 — with a wider front and rear track and re-worked suspension for more sporty handling. Matthew Hayward from Evo magazine goes into more detail.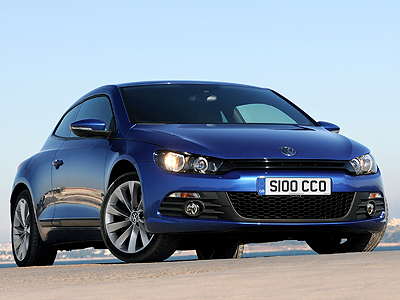 VW Scirocco background information
As the
Scirocco
shares its underpinnings with the more humble Golf, it has access to a wide range of engines from the Volkswagen Group. It was initially launched with a 2.0 TSI engine that produced 197bhp, although this rose to 207bhp after 2009. Performance is acceptably quick, with 0–62mph in 6.9 seconds and a claimed 149mph top speed.
VW also offered the sporty Scirocco Coupe with a smaller 1.4TSI engine, producing 158bhp. Able to complete the 0–62mph sprint in 8.0 seconds flat, it's hardly slow, and the supercharged and turbocharged engine offers improvements in response and economy. Only the one-inch-smaller alloy wheels give it away, meaning it offers the same great looks as its more powerful 2.0-litre brother.
If you're looking for economy though, you'll really want to look at the TDI versions. The
Scirocco
was originally launched in 138bhp 2.0TDI form, however later versions could be bought in the more powerful 168bhp spec and VW claims 53.3mpg. If you're looking for an exciting drive however, you're better off going for a petrol version.
The most rapid Scirocco R model was launched in 2010, which featured an older, but more powerful, 261bhp version of the Golf Mk5's EA113 engine. Unlike the Golf R, however, the
Scirocco
was never offered with the Haldex four-wheel drive system. To help the coupe get its power down, VW fitted an electronic front differential, and a new Active Chassis Control system on the lowered and stiffened suspension. All this adds up to a car that will accelerate from 0–62mph in 6.3 seconds and go onto an electronically limited top speed of 155mph.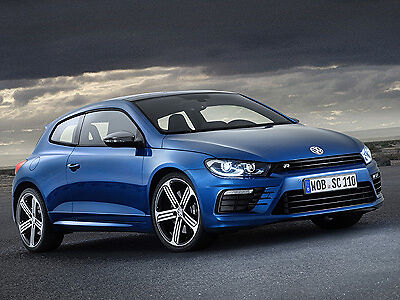 Buying tips
Despite Volkswagen's perceived build quality being high, there will always be certain things to look out for when buying a used Scirocco. Once you have figured out which model you want, then it's important to research the possible problem areas to avoid any unexpected expenses.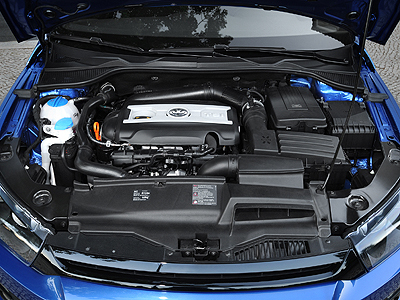 Engine and transmission
The good news is that the 2.0-litre petrol engines in the TSI are generally strong, and rarely go wrong. So long as servicing is all done on time, then there is little to worry about — although the older R engine requires a cam belt change every five years. The TDI models are also pretty rugged and can cover huge mileages with ease.
The smaller 1.4 TSI engine features both a supercharger and a turbocharger, which is quite an unusual arrangement. Generally, this engine is reliable, but there have been cases of cars with misfire problems and high oil consumption, so it is best to check if the car has been given a clean bill of health from a specialist.
Manual gearboxes, either five or six-speed, are all generally reliable, but as always, check for any issues when selecting gears. The DSG automatic gearbox, while generally offering bulletproof performance, does need its oil changing every 40,000 miles. There have been a few recalls from VW for DSG 'boxes, so it's best to err on the side of caution and make sure these have been carried out.
Suspension and brakes
Most Sciroccos will come with VW's Active Chassis Control, which allows the driver to select from three modes. When out on a test drive, it's key to make sure this system is functioning exactly as it should and a visual check for leaks on the dampers is recommended. The brakes are considered to be perfectly adequate for road use, although some people like to upgrade the discs and pads if going on the track.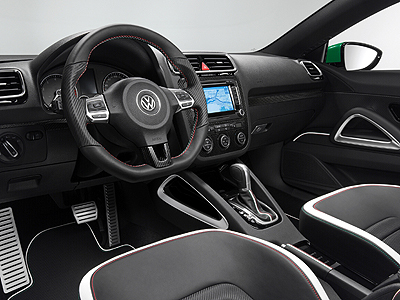 Interior and bodywork
Check the alloy wheels for signs of damage, as this can point to abuse from a previous owner that could be expensive to fix. Rust shouldn't be an issue unless the car has been in an accident. Poorly matching paint could suggest accident damage, too. Electrics are reliable, although check the front and rear light units for signs of condensation, as this can cause problems.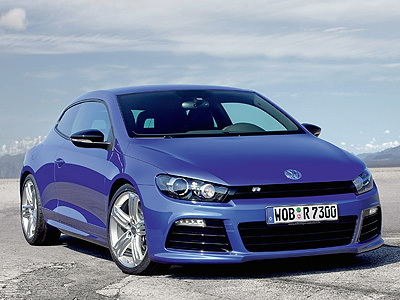 How much should I pay?
More than five years since the
Scirocco
first went on sale in the UK, the desirable coupe is holding its value very well. Early high-mileage petrol models start from around £8,000, with the diesels starting from £9,500. As the Scirocco is still in production, prices are likely to remain firm for some time. Top-of-the-line Scirocco R models still fetch more than £18,000, with newer lower mileage versions around the £25k mark.