Be very careful when buying supposedly authentic Jimmy Choo shoes on eBay - the MAJORITY of shoes on here are FAKE!!

Please don't let the cheats make a fool of you. Let's drive them out by refusing to buy their rubbish!
Just because the shoes have a box and a dust bag does not mean they are genuine - you can buy a fake dust bag on here as well!

I have been researching the best way to identify the genuine article and it comes down to this -
Look at the label!
If the Jimmy Choo label in the insole does not have a row of stitching at the top and bottom (see picture) they are not genuine.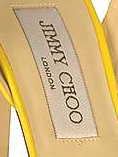 In the fakes the label is just inserted into a slit in the insole and often you can see the raised edge of the end of the label under the insole.
Look carefully in the pictures at the way the sole is attached to the shoe. If it looks quite rough or untidy they are not genuine - Jimmy Choo's are immaculate, that's why they cost so much!
Check the Jimmy Choo name imprinted on the instep. The 'OO' in Choo should be upright and circular, not 'OO'.

The words 'VERO CUOIO' should almost fill the leather shield shape on the sole, not be small and central inside the shape and the word 'London' should be much smaller than the JIMMY CHOO name.

Finally, if you want to see the real thing to compare, go to Net-a-Porter.com where you can zoom right in on the images and see what the real thing looks like. In a lot of cases you can get the shoes there cheaper than they are on eBay - especially if the sale is on! You will also find the model names there to compare with the ones shown on Ebay. On the Jimmy Choo.com website you can see the current models and compare them with the listings which claim to have current season items.
Good luck!