http://shop.ebay.co.uk/gnut6211/m.html?_nkw=&_armrs=1&_from=&_ipg=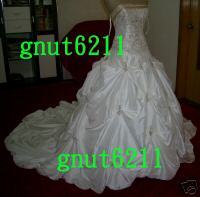 I bought 2 wedding dresses from an abay seller ((( gnut6211 ))) I won them in auctions for $400 for both..then I received RUBBISH !!!!
the tow dresses were made of material like PLASTIC and not at all like the pictures.. everything on them was wrong ang sucks !!! I tried many times to contact the seller and finally they told me to ship it back to Hong kong -( it was written that there location is USA )-, and they will refund my money back or replace them..that is what I did, then they ignored my emails and 45 days were already passed so I lost my right to open a case for them or to complain!!!!
tried many times to report this to ebay safety center and paypal but nobody done anything for me..
I couldnt even leave a negative feedback to send warning to the other poor buyers who are feeling so happy to win these scam auctions!!!
I tried to bid again in there dresses to put very high prices and sure will never pay , just away to revange, I found that they blocked me from bidding in there items..!!!!
BEWARE !!!!...THIS SELLER (( gnut6211 )) IS A SCAM.....ITS THE BRIDES NIGHTMARE !!!!
and this happened to many of the buyers, I contacted them from the feed back of this seller..