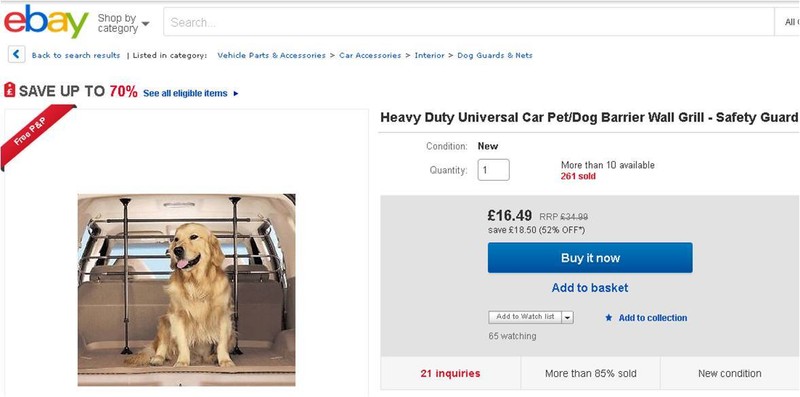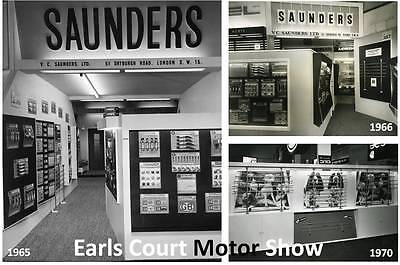 Universal AND pole fixing!
I'd like to start by saying our first ever dog guard was a pole & pressure pad system. The idea of a car dog guard was invented by Saunders & this was THE first ever dog guard, shown by us at the 1965 London Motor Show. You can just make it out in the picture on the left.
Back in the 1960's & 70's cars roof linings were made from stronger stuff. There was enough strength in them to allow for a secure fixing using a screw down pressure pad system. Today however, roof linings are much thinner & don't provide a secure fixing point. We recognised this a good number of years ago & upgraded our range to the current headrest mounted system with a strong W shaped boot support leg. After all, most cars today have head rests with very strong support stalks.
Around the same time we rationalised the range to just four sizes of frame in either Tubular or Wire Mesh style. This gave us a fitting range of between 17cm to over 41cm ie Mini size to 4 x 4 size.
The materials used in manufacturing are still the same high quality, heavy guage steel & aluminium. We still made each guard by hand right here in Wimbledon & are proud of the quality we produce.
What we aren't so proud of is other people selling right here on ebay, firstly 'universal' guards which simply cannot cover effectively & safely all car sizes. But perhaps worse still are the pole pressure pad systems that have been copied from our original but today, don't offer the sort of secure fixing you need to travel safely with your pet & family.
It's a cliche but buy the original & get what you pay for. It's not worth saving £40 when it's your life, your families life, your dogs life & other road users life's at risk.
Divide the cost of the dog guard over the number of years you expect to have your car & spending even £85 doesn't seem a lot to be safe when traveling with your dog, even just to the shops or the local park.