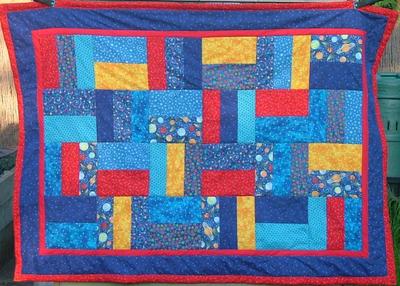 WHAT IS A FAT QUARTER?
A FAT QUARTER, or FQ as it is often abbreviated, is a term used in patchwork and sewing. It is a way of cutting a yard of traditional quilting cotton fabric in 4.
If you cut a quarter of a yard from a length of material you will get a strip 9 inches by 44 or 45 inches. Which is OK, but limited in ways that you can use it.
A fat quarter is cut in a different way. You cut half a yard of fabric and then cut this piece in half across the length. This gives you a piece of fabric approximately 18 inches by 22 inches (45.5cm by 56cm in metric). It is far more versatile for lots of projects and makes it possible to buy 4 different fabrics rather than a single yard of one design for the same cost .

The trouble with buying fat quarters is that is can become addictive and in time you may have a collection that you love too much to ever use. I call these fabrics my 'gloating over' ones and the box of them is always growing. Then when I feel sad or down I can just get them out and they brighten my day!

FQs make an ideal way to build up a collection of favourite colours or themes for that project that we all plan to do one day. Any collection of fabric is called a 'stash' and everyone's stash is different. But it is good to know that if you have an urgent need to make a quick quilt or a little project then you will have something to hand in your stash. Fabric is increasingly expensive and it does make sense to buy fabric you like but may not have a project in mind for, when you see it and can afford it. Most designs of fabric are only ever printed once and chances of finding a fabric you once saw ever again are rare, although sometimes you can find out of print designs on Ebay (which is one of the reasons why we all love searching for fabric here).
There are an increasing number of books and individual patterns to buy that are specifically for fat quarters but another source is a quick search on the internet. There are some very good free patterns out there and you can even find outlines of quilt patterns to use as colouring in sheets for children or to plan your own quilt.
If you haven't made a Fat Quarter quilt then see my guide to making your first quilt - like the one on a stars and planet theme in the photo at the top of this guide which I made for grandson Tom.

Happy Sewing!
I always give the dimensions of a fat quarter in my listings but my favourite of all buyers' queries was one from a lady in the US who wanted to know if a fat quarter would be big enough to make curtains for a window 6 foot by 12 foot!