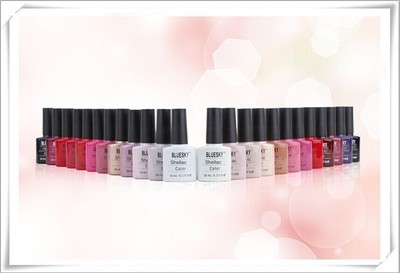 Bluesky Gel Polish is a brand of hybrid Gel Polish nail coating that goes on as easily as nail polish and yet remains flawless for a minimum of 14 days with the correct application. Bluesky Gel Polish is manufactured under strict conditions and all colours are European and British safety standards approved. MSDS sheets are available on request. Bluesky Gel Polish like all Gel Polish products requires a specific process for optimum efficiency. If you have any questions, please do not hesitate to contact us.

Gel Polish Nails requires the use of Base Coat and Top Coat. BLUESKY Gel Polish REQUIRES THE USE OF A 35V UV LAMP OR LED LAMP TO CURE THE GEL. THE PRODUCT WILL NOT WORK WITHOUT THIS PROCESS.

Directions
Step 1: Prep and push back cuticles.
Step 2: Apply Bluesky Base coat (sold separately), and cure under UV lamp (sold separately) for 10 seconds.
Step 3: Apply colour in a thin application. Cure under UV lamp for 2 minutes.
Step 4: Apply a second coat, then cure under UV lamp for 2 minutes.
Step 5: Apply Bluesky Top coat (sold separately) and cure under lamp for 2 mins
Step 6: Wipe of sticky layer with a Bluesky World Shine Wipe (sold separately).
Step 7: Enjoy your 14 Day Manicure!

Do you want to know more? Contact us! We'll be happy to help.
Remember to check out our eBay shop for customized kits and subscribe to our newsletter to access exclusive promotions and collection launches.