WW1 British Campaign Medal Guide
A wide veriaty of campaign medals were issued to British servicemen including interesting foreign awards. This guide deals with the standard issue medals awarded to servicemen of the First World War, the ways in which their named, how to wear them, the history behind the medals and the prices most commonly paid for them.
1914 Star Silver Rosette
This rosette donates that the soldier was intitled to wear the clasp (5th Aug - 22nd Nov 1914) on the 1914 Star. Rosettes are never worn with the 1914 Star itself, only on the uniform over the appropriate ribbon. All rosettes are made of silver and were attached by a fastener, later examples and repros have holes and are stitched to ribbons.
1914 Star Clasp (5th Aug - 22nd Nov)
When the 1914 Star was instituted in 1917 authorization was given for the creation of a clasp. The clasp took the form of an ornate plaque bearing the dates 5th Aug - 22nd Nov. The clasp was sewn onto the 1914 Stars ribbon and only issued to service personel who served during the allotted time frame and came under enemy fire. Most of the recipients of the clasp served at Mons or were involved in the retreat from Mons though other actions fought at this time counted. The clasps design was copied and simular clasps were issued during World War Two for service.
1914 Star Medal
Instituted in 1917 for recognition of campaign service during 1914. This medal was awarded mainly to british recipients mostly commissioned officers a total of 400,000 medals were issued. The medal was cast in bronze and measures high 50mm, width 45mm and is accompanied by a watered silk ribbon in red white and blue. All medals are impressed named on the reverse to the recipient. The obverse is a crowned star made up of two swords and star points. The design is superimposed with a reef and the kings monogram (cipher) at bottom. The center of the medal has three banners the top with Aug the center banner with the date 1914 and the bottom banner with Nov. This medal is sometimes called (unofficially) the Mons Star. An offical unnamed miniature medal was produced.
1914 - 15 Star Medal
Instituted in 1918 for recognition of Campaign service during 1914 through to 1915. This medal was awarded to British and Commonwealth forces totaling 2,350,000 awards. These medals were always issued named in impressed lettering to British forces. Issuing of the 1914 Star voided intitlement to this medal. A red, white and blue ribbon the same as the 1914 Star was issued with this medal, original ribbons are made from watered silk. These Medals were only issued in bronze and had no intitlement to a clasp. Medal dimensions are height 50mm and width 45mm, the design is the same as the 1914 Star with only one central banner and the dates 1914 -15. Miniature versions of this medal were also issued.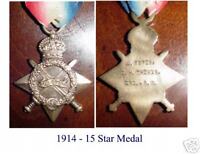 British War Medal (Silver Issue)
One of the last medals to be awarded to British service personnel, only instituted in 1919. The British War Medal was awarded for operational service during the period 1914 - 1920 to British and Commonwealth Forces. The medal is 36mm and cast in silver these medals are always impressed named to recipient, however I have seen offical samples of these medals unnamed, and others with specimen (produced for collectors) marked on the rim both types are believed to be produced in Australia. In total 6,500,000 medals were awarded. Originally this medal was supposed to have been issued with campaign clasps this idea was rejected as being to expensive, seven clasps were issued for Naval actions but it is believed that they were never produced for the full size medal. However miniatures can be found with campaign clasp but these are connected with the Navy and considered rare. The ribbon produced for this medal is gold with white, black and blue edge stripes. Obverse is the bust of king George V enclosed with Georgivs V Britt. Omn: Rex Et Ind: Imp: the reverse shows naked man with sword riding a horse over the carnage of the trenches. Miniature versions of this medal have been created which are unnamed.
British War Medal (Bronze Issue)
Also instituted in 1919 this medal confirms to the Silver specification only issued in bronze. There were no clasps for this medal and it was only awarded to the Labor Battalions and Engineers. This medal is extremely scarce being awarded only 110,000 times.
Territorial Force War Medal
Out of all the British awards for campaign service during World War One this rates as the rarest only being issued 34,000 times. Instituted in 1919 this award also had the tightest criteria for being awarded. To qualify the recipient had to serve at least four years with the Territorial Force before the outbreak of the war and be ineligible for the 1914 or 1914 15 Star. Awards were only granted when the recipient returned from overseas service between the 4th August 1914 and the 11th November 1918. Medals were awarded to Nursing Sisters and Royal Flying Corps (RFC) as well but these awards can be considered the rarest. Obverse shows the bust of king George V enclosed with Georgivs V Britt. Omn: Rex Et Ind: Imp: the reverse has the inscription For Voluntary Service Overseas 1914 - 19 enclosed with a laurel leaf and the inscription Territorial Force War Medal. This medal has a gold ribbon with two slim central green stripes. All medals were issued in bronze and impressed named, miniatures were also produced these are unnamed.
Mercantile Marine War Medal
Awarded by the Board of Trade in 1919 to members of the Merchant Navy. To qualify for this medal recipients had to participate in one sucsseful voyage to danger zone designated by the Board of Trade. In some exceptional cases these medals were awarded to military personnel who were attached to the Merchant Navy. These medals were cast in bronze totalling 133,000 awards all medals are impressed named and 36mm in size. A miniature version was also created these are unnamed Obverse shows the bust of king George V enclosed with Georgivs V Britt. Omn: Rex Et Ind: Imp:. Reverse shows a Merchant Vessel in a storm being shadowed by a German submarine. Ribbon is green and red with a central white stripe.
Victory Medal (British Type)
Instituted in 1919 the Victory Medal celebrated the successful conclusion of the First World War. This medal was issued in bronze, 36mm in size and issued with a rainbow coloured ribbon. All British Victory Medals were issued with impressed named, these medals were also issued to commonwealth forces (except south african). The South African government produced its own version being the same as the British medal in style only with and English / Dutch reverse. Many other countries produced styled versions of this medal these include Italy, France, Belgium, Poland and the USA which issued its medal with campaign clasps the British version no clasps were authorized. The obverse of the British medal shows Victory as an angel and the obverse has the inscription The Great War For Civilisation inclosed in a wreath. Unnamed miniature versions have been produced, including a error variety with the spelling Civilization.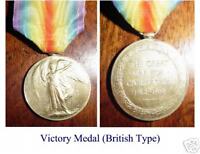 Mention in Despatches 1914 - 20
The mention in despatches emblem for the First World War takes the form of a Spray of Oak leaves cast in bronze. Emblems (medium size) were normal worn over the Victory Medal ribbon in bar form when attached to a uniform. When they were worn with medals the emblem (large size) is worn with the Victory Medal. In the event of the Victory Medal not being issued the emblem is attached directly to the uniform. There were also small size emblems produced to be worn with miniature medals. Mention in Despatches were issued to recognize minor achievements in gallantry or distinguished services which did not warrant a Decoration, Meritorious Service Medal or Knighthood. Most awards will have a citation or recommendation to them which is traceable at the National Archives (Public Record Office PRO). All awards will be listed in the London Gazette these are sort through a good reference library or the Internet.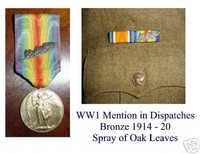 Silver Wound Badge (SWB)
A special decoration was introduced in 1919 and awarded to British Service Personnel who were wounded durning the course of there service. The badge is cast in silver and takes the form of a circular 33mm broach. The centre of this decoration is voided with the king monogram and incircled with the inscription For King And Empire For Services Rendered. The reverse is blank except for an impressed issue number which is traceable via the public record office.
Memorial Plaque
A large bronze plaque measuring 120mm was commissioned to be awarded to the next of kin of service personnel who died during the war. Plaques were issued to personnel who were killed in action, killed in accidents, died of disease or were missing in action and presumed killed (no body recovered). All plaques were specially cast with the full name of the casualty appearing in raised letters. Two versions exist the first inscribed with he died for freedom and honor awarded to male casualty totalling 1,355,000 awards. And a second version inscribed she died for freedom and honor awarded to female casualty totaling 600 awards. Two distinct styles of inscription exist on the plaques the letter H in "He" is thin denoting a Naval award. If the H in He is an equal size to the H in Honor then it donates an Army or Royal Flying Corps (RFC) / Royal Air Force (RAF) award. The obverse of the medal shows Britannia holding a reef superimposed by a lion with dolphins in the background. The reverse is blank but will normally carry a minters mark in the center. Buyers should be extremely carful when purchasing plaques, recently I have seen engraved forgeries circulating. Potential buyers should always check plaque details with the War Graves Registry to determine intitlement. An unnamed miniature version of this medal has been produced, but again these are probable a modern creation as I have never been able to find proof that these were officially produced during the war. A award slip from Buckingham Palace with a facsimile signature of George V accompanies the plaque this is not named to the recipient.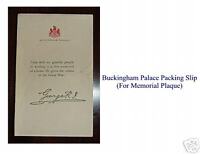 Parchment Scroll
A parchment scroll was produced to accompany plaques these were named to the recipient and in most cases show the recipients regiment or corps. Scrolls to female recipients are extremely rare. Again care should be taken when purchased scrolls as modern reproductions are being produced.
WW1 British Medal Naming Styles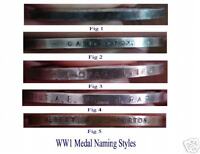 Fig 1) 4113 PTE. E. A. KEIGHLEY. MIDD'X R. (Private in the Middlesex Regiment)
Fig 2) CAPT. W. FOX. (Commissioned Officer, Captain)
Fig 3) J.19105 C. H. THOMAS. L. TEL. R.N. (Leading Telephonist in the Royal Navy)
Fig 4) 2/LIEUT. A. E. TURTON. R.A.F. (Commissioned Officer, Second Lieutenant in the Royal Air Force)
Fig 5) ALBERT. E. J. TURTON. (Civilian)
All First World War campaign medals issued by the British Authorities and Government are officially named. Naming on these medals takes the form of impressing. Impressing means that each letter, number or character of the naming is punched into the metal. It is easy to tell impressed naming because it appears to be deep seated on the medal rim (See WW1 Medal Naming Styles picture). Engraved medals the naming appears on the surface of the medal rim and looks like scratch marks. If you think your medals are engraved look for other tell tail signs of renaming on the rim such as deep file marks, light scratching from machine erasure, a roundness to the rim (edges of rim are not flat), abnormal flan shape, narrowing of the medals borders and ghost naming (letters not properly removed leaving a shadow in the form of a letter). There are simple styles of naming to these as follows, Fig 1 is a typical Army naming style to the ranks found on practically all medals. Fig 2 is the naming of a commissioned officer in the Army this style is found mostly on the British War Medal, Victory Medal and Territorial Force War Medal. Fig 3 is a typical Naval style naming found on all naval medals except for the Mercantile Marine War Medal and Territorial Force War Medal. Fig 4 is the more traditional form of officer naming commonly found on Army 1914 Stars, 1914 - 15, Royal Flying Corps / Royal Air Force Medals, Naval medals and Mercantile Marine War Medal. Fig 5 is a standard civilian style naming found mainly on Mercantile Marine War Medals to the ranks. There are also official corrections to impressed named medals made by the issuing authorities. This is when a new letter is impressed over the old wrong character, the new letter will look thick and there will be discoloration to the metal directly behind it forced by impact stress on the naming machine.
Order For Mounting
When First World War Medals are worn they are only allowed to be worn in a set order which is laid out by the UK Government and issuing authorities. The order is thus 1914 Star and with Bar if issued, 1914 - 15 Star, British War Medal (silver), British War Medal (bronze), Mercantile Marine War Medal, Victory Medal and Territorial War Medal. Silver Wound Badge is worn as a lapel insignia. Medals are worn normally in swing style which is the older more traditional way (free floating) or court mounted (secured at the back) which is now the most common way these medals are worn.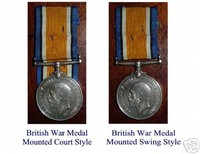 Price Guide (In GBP British Pounds)
This price guide is a very general veiw to the prices normally paid, low end prices are taken from common corps e.g. Army Service Corps (ASC) and Royal Artillery, the higher figure from common infantry regiments like the Suffolk or East Kent Regiments. Prices for rare medals such as Royal Flying Corps, Yeomanry, Cavalry, and Nursing Services will command much higher prices. 1914 Star £50.00 to £65.00, 1914 - 15 Star £25.00 to £45.00, British War Medal £10.00 to £15.00, Victory Medal (British Type) £10.00 to £15.00, Mercantile Marine War Medal £35.00 to £45.00, Territorial Force War Medal £70.00 to £120.00. Silver Wounds Badge £5.00 to £10.00, Plaque £45.00 to £65.00, Mention in Despatches 1914 - 20 (with provenance) £70.00 to £100.00, Parchment Scroll £15.00 to £25.00, 1914 Star Clasp (5th Aug - 22nd Nov) £25.00 to £35.00, 1914 Star Silver Rosette (original issue) £6.00 to £10.00. British War Medal and Victory Pair £30.00 Trio £45.00 to £65.00, British War Medal and Victory Pair plus plaque to casualty £120.00 to £150.00, Trio plus plaque to casualty £280.00 +.