WW2 Cigarette Cards (Collectables)
I've been collecting and selling trade cards, cigarette cards and related collectables for over twenty years. Before you read this guide please subscribe to my card collecting newsletters for updates on rare cards and tips on buying by Clicking Here, thank you.
The cigarette card was adept at tuning into the interests and moods of the ordinary people. Many military related topics were issued prior to World War Two, as if they were anticipating its commencement.

An interesting tale surrounds Player's Modern Naval Craft cigarette card set. It was rumoured that these cards were so accurate that Hitler secretly obtained large quantities of them and issued them to his U-boats so that they knew what they were firing at. In retrospect, the British military probably wished they'd censored them, especially since they revealed details about the battleships etc of their allies.

Due to severe paper rationing, the cigarette card was an inadvertent casualty of WWII and never fully recovered.

I've listed a small selection of military cigarette cards that were issued prior to and at the start of World War 2. I've provided scans of a sample card from each set and I've tried to list as many card titles as possible.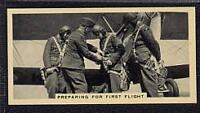 Name Of Set: Life in the Services (Adhesive)
Manufacturer: Ardath
Issue Year: 1938
Card Number: 50
Card Titles: Royal Navy Recruiting, RN Volunteer Reserve, Physical Training Ashore, Royal Navy Educational Class, Technical Instructions, Rope Splicing Class, Gunnery Practice, Taking Sights, Torpedo Preparation, General Routine, Physical Training - Afloat, Aboard An Aircraft Carrier, Overseas Service, Vocational Training, On Leave, Recreation, Sports Day, Army Recruiting, Air Defence, Physical Training, Educational Class, Health,Technical Training, Tank Instruction Class, Portable Field Wireless, Artillery Practice, Manoeuvres, Bridge Construction, Guard Duty, Trooping The Colour, Overseas Service, Under Canvas, Boxing Class, Recreation, Royal Air Force Recruiting, Auxiliary Air Force, Physical Training, Electrical Instruction, Practical Instruction, Gunnery Instruction, Parachute Training, Preparing for First Flight, Overhauling Aircraft, Preparing a Bomber, Air Excercises, Coast Defence, General Reconnaissance, Overseas Service, Annual Display, and Recreation.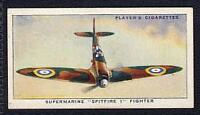 Name Of Set: Aircraft Of The Royal Air Force
Manufacturer: John Player and Sons
Issue Year: 1938
Card Number: 50
Card Titles: Airspeed Unmaned Radio-Controlled Target Aircraft, DH Queen Bee Radio-Controlled Target Aircraft, Airspeed Oxfor Advanced Training Aircraft, Avro Perfect Navigational Training Aircraft, Avro Tutor Training Aircraft, DH Tiger Moth Training Aircraft, Miles Magister Training Aircraft, Miles Unnamed Training Aircraft, Vickers Virginia Parachute Training Aircraft, Vickers Ventia Troop Carrier, Short Sunderland Flying Boat, Supermarine Scapa Flying Boat, Supermarine Stranraer Reconnaisance Flying Boat, Supermarine Walrus Amphibian, Vickers Vincent General Purpose Aircraft, Vickers Wellesley General Purpose Aircraft, Westland Wapiti General Purpose Fighter Plane, Avro Anson General Reconnaissance Aircraft, Fairey Swordfish Torpedo Spotter Reconnaissance Aircraft, Hawker Osprey IV Torpedo Spotter Reconnaissance Aircraft, Gloster Gauntlet Fighter, Gloster Gladiator Fighter, Gloster Unnamed Fighter, Hawker Demon Fighter, Hawker Demon I Turret Fighter, Hawker Fury Fighter, Hawker Hurricane Fighter, Supermarine Spitfire I Fighter, Saro London Flying Boat, Short Singapore III Flying Boat, Fairey Battle Bomber, Fairey Gordon Bomber, Fairey Hendon Bomber, Fairey Unnamed Bomber, Handley Page Hampden Bomber, Handley Page Harrow Bomber, Handley Page Heyford Bomber,Hawker Hind Bomber, Vickers Vildebeest Torpedo Bomber, Vickers Wellington I Bomber, The Airspeed Envoy of The King's Flight, Avro Rota Army Co-operation Autogiro Aircraft, Hawker Audax Army Aircraft, Hawker Hector Army Cooperation Aircraft, and Westland Lysander Army Cooperation Aircraft.
Name Of Set: Air-Raid Precautions
Manufacturer: WA & AC Churchman
Issue Year: 1938
Card Number: 48
Card Titles: Choosing your Refuge Room, Rendering Your Refuge Room Gas-Proof, Making a Door Gas-Proof, Window Protection, Window Protection Agains Blast, Types of Splinter-Proof Wall, Protecting Your Windows - A Sandbag Defence, Equipping your Refuge Room, Equipping Your Refuge Room, A Garden Dug-Out, Incendiary Bomb and its Effect, Incendiary Bomb Cooling Down, Control Of Incendiary Bomb, Removal of Incendiary Bomb with Scoop and Hoe, Extinction of Incendiary Bomb, The Stirrup Hand Pump, Two-Men Portable Manual Fire-Pump in Action, A Chain of Buckets, Light Trailer Fire-Pump, Medium Trailer Fire-Pump, Medium Trailer Fire-Pump in Action, Emergency Heavy Pump Unit, Hose-Laying Lorry, The Civilian Respirator, How to Adjust It, How To Remove It, The Civilian Duty Gas Mask, The Service Gas Mask, A Heavy Anti-Gas Suit,Rubber Clothing, Air Raid Wardens and Civilian Volunteer Despatch-Rider, Volunteer Mobile Corps Owner Drivers, A First Aid Party, Supply Depot For Gas Masks, Mobile Gas Vans, Civilian Anti-Gas School, Testing For Gas Contamination, Decontamination Workers in Training, Air Raid Precautions Badge, Representation of Air Defence Control Room, Pilots Running To Machines Interceptor Fighters Take Off, Gloster Gauntlet Interceptor Fighters, Representation of Baloon Barrage for Defence of London , Anti-Aircraft Searchlight, Anti-Aircraft Sound Locator, Height Finder, and Anti-Aircraft Gun.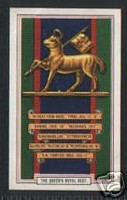 Name Of Set: Army Badges
Manufacturer: Gallaher
Issue Year: 1939
Card Number: 48
Card Titles: The King's Own Royal Regiment, The Royal Sussex, The Buffs, The Queen's Own Royal West Kent Regiment, The Life Guards, Coldstream Guards, The Gloucestershire Regiment, Queen's Royal Regiment, The Welsh Regiment, The Border Regiment, The East Lancashire Regiment, The Lancashire Fusiliers, The Loyal Regiment, The Rifle Brigade, The Black Watch, The Highland Light Infantry, The Oxfordshire and Buckinghamshire Light Infantry, The Royal Scots Greys, York and Lancaster Regiment, King's Own Yorkshire Light Infantry, The Royal Dragoons, Seaforth Highlanders, Grenadier Guards, Scots Guards, Royal Ulser Rifles, The Royal Scots, Sherwood Foresters, The Royal Warwickshire Regiment, The Royal Fusiliers, The South Staffordshire Regiment, The Green Howards, Royal Tank Corps, Royal Engineers, The West Yorkshire Regiment, Royal Artillery, The Bedfordshire and Hertfordshire Regiment, The Northamptonshire Regiment, Leicestershire Regiment, Wiltshire Regiment, The Northumberland Fusiliers, The King's Regiment, 10th Royal Hussars, The East Yorkshire Regiment, The Lincolnshire Regiment, 3rd Carabiniers, and King's Royal Rifle Corps.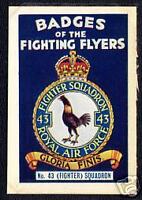 Name Of Set: Badges of the Fighter Flyers
Manufacturer: DC Thomson
Issue Year: 1939
Card Number: 16
Card Titles: No. 1 (Observation) Squadron United States Air Force, No. 4 (Army Co-Operation) Squadron, No. 5 (Observation) Squadron United States Air Force, No. 18 (Bomber) Squadron, No. 23 (Bomber) Squadron United States Air Force, No. 25 (Bomber) Squadron US Air Force, No. 43 (Fighter) Squadron, No. 44 (Observation) Squadron United States Air Force, No. 49 (Bomber) Squadron United States Air Force, No. 55 (Bomber) Squadron, No. 73 (Pursuit) Squadron United States Air Force, No. 88 (Observation) Squadron United States Air Force, No. 201 (Flying Boat) Squadron, No. 216 (Bomber-Transport) Squadron, No. 604 (Fighter) Squadron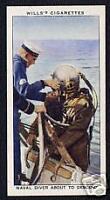 Name Of Set: Life in the Royal Navy
Manufacturer: WD and HO Wills
Issue Year: 1939
Card Number: 50
Card Titles: bridge of HMS Warspite, flag signal hoisted, semaphore signalling, signalling with hand flags, marine signalling with searchlight, hoisting the ensign, marine guard of honour, weighing anchor, piping the side, manning cutter from lower boom, painting ship, manning sea boat in a destroyer, range finder, naval diver about to descend, seaman gunner polishing breech of 15 inch gun, anti aircraft gun practice, gun's crew loading a 5.5 inch gun, naval kite, anti aircraft pom pom, firing a broadside, naval target, launching torpedo into tube, adjustment of torpedo gear, torpedo firing practice, watching depth gauge in submarine, depth charge exploding, hoisting in paravane, hawker Nimrod landing on flight deck, fairey swordfish being man handled into position, fairey swordfish going down in lift, catapulting a supermarine Walrus amphibian, cruiser hoisting a supermarine Walrus amphibian, rating pilots donning flying kit, meteorological device, in the stokehold, starting platform of cruisers engine roomartificers at work, telegraphists, ship's butcher, ship's baker,r um issue ,make and mend, naval schoolmaster, physical training, seamanship training class, hands to bathe, pulling race liberty men going ashore, ship opened to visitors, and home again.
Name Of Set: Modern Naval Craft
Manufacturer: John Player and Sons
Issue Year: 1939
Card Number: 50
Card Titles: HMS Nelson, HMS Warspite,HMS Revenge, HMS Hood, HMS Repulse, HMS Exeter, HMS Norfolk, HMS Southampton, HMS Curlew, HMS Adventure, HMS Greenville, HMS Afridi, HMS Severn, HMS Narwhal, HMS Sunfish, HMS Ark Royal, HM Torpedo Boat 102, Dunkerque, Algerie, La Galissonniere, Mogador, Surcouf, Bearn, Admiral Graf Spee, Nurnberg, Georg Thiele, U16, Conte DI Cavour, Bolzano, Giuseppe Garibadi, Libeccio, Giuseppe Finzi, Nagato, ISE, Atago, Kumano, Samidare, I21, Akagi, California, Colorado, Quincy, Brooklyn, Gridley, Perch, Oahu, Enterprise, Saratoga, Leningrad, and Revolutioner.
Name Of Set: It All Depends On Me
Manufacturer: Ardath
Issue Year: 1940
Card Number: 24
Card Titles: Making Munitions, Medical Front, Management Front, Newspaper Front, Office Front, Police Front, Post Office Front, Public Utilities Front, Railway Front, School Front, Seven Seas Front, Shipbuilding Front, Shop Front, Transport Front, Voluntary Front, Foundary Front, Fisherman's Front, Food Front, Fire Fighting Front, Building Front, Dockland Front, Coal Front, Farm Front, and Home Front.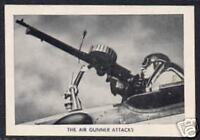 Name Of Set: The R.A.F. At War (Plain Back)
Manufacturer: Amalgamated Press
Issue Year: 1940
Card Number: 16
Card Titles: Bombing a U-Boat, Inside a Giant Flying Boat, The Air Gunner Attacks, Hauling in a Barrage Balloon, Raid Over Heligoland, Bristol Blenheim Fighter-Bomber, Dressed For Action, 360 mph Spitfire, Testing an Aerial Camera ,Loading a Spitfire's Machine-Gun, Folded Plane, On Board a Cruiser, The Tail With a Sting In It, Refuelling A Flying Boat, A Lesson In The Flying School, Submarine-Hunting With A Destroyer, and Spitfires Attacking Nazi Seaplane.
*
More Card Guides & Newsletters
If you are interested in rare and unusual cigarette cards please consider reading my other guides and joining my newsletters.