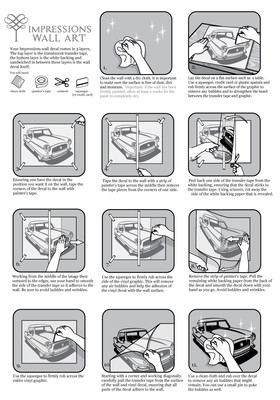 Welcome to Impressions Wall Art - the online shop for wall stickers, wall murals, and deco letters. Wall decals are one of the most exciting new trends in interior decoration. Easy to apply and easy to remove, high-quality wall stickers decorate your room in a very creative way. A new look in just a couple of minutes? Yes, it´s that easy!
We develop our own decal designs in order to live up to your expectations. Our wall stickers have been tested extensively to guarantee you the best quality. Due to the thin material the stickers apply to many surfaces like wood, glass, tiles, metal, and more. But you can affix the wall stickers also to furniture, plastered walls, and wallpapers. You can also watch our video manual to learn how to install a wall sticker easily.
Also check our wall stickers for children. We offer a large variety for the nursery and kids´ rooms. You will find lots of wall art for all ages. The Land Before Time dinosaurs, cars, elves, peries, and unicorns, and much more decoration for your child - from infants to teenagers.