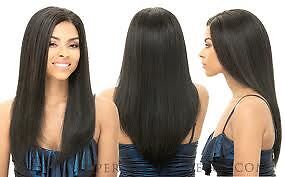 The hair industry is huge, with a variety of celeb influences often influencing how we style our hair, Rihanna, Beyoncé, Kim K and many more. They often demonstrate unique stylish hairstyles which we see and attempt to style our hair much alike them. Also some of us may have our own individual styles where we are trying to set a new trend or be in coordination with our dress sense. it is all about what is right for us at the end of the day and how good we feel in our own hair!

There are various looks:

* Straight - the easiest type to identify, straight hair lies flat against the skull when grown out. Straight hair tends to be oiliness and requires frequent washing.

* Wavy - covering waves from a loose 'S' shape through to flowing wavy curls, wavy hair has a tendency to frizz and can be hard to straighten depending on thickness.

* Curly - with a tighter and more well-defined curl pattern than wavy hair, curly hair may be anything from loose curls to tighter ringlets. Much like wavy hair, it is vulnerable to humidity and has a tendency to frizz.

* Kinky - Very tightly curled hair, kinky hair covers the range from loose and springy to coiled ringlets. Kinky hair is very fragile and tends towards dryness.

Condition

* Normal - the easiest hair to care for, normal hair is shiny without being oily or dry.

* Dry - dry hair will look dull and have split ends, and the scalp will feel dry and itchy - dandruff is a frequent side effect of dry hair.

* Oily - oily hair will look greasy and will become lank soon after each wash.

* Combination - a mix of dry and oily, often where the scalp is oily but the ends are dry. This type of hair requires separate attention for scalp and ends.

* Damaged - damaged hair will most frequently look like dry, and is most often caused by chemical treatments or exposure to heat.

Types of Hair Product

There are many types of hair care products available, and a brief overview should assist buyers in identifying which product is ideal for their hair and the effect they want to achieve.

* Shampoo/Conditioner - the easiest way to care for hair, many manufacturers produce shampoos to care for particular hair types or conditions.

* Styling - including waxes,gels and hairsprays, these products are used to shape and hold hair in a certain style. The look and strength of waxes and gels varies from product to product, and buyers should consider what effect they want to achieve.

* Colourants - boxed dyes are very popular to achieve a quick change in style, and can be bought in permanent, semi-permanent or one-wash types.

* Protection and Repairs - including repairingserums and mousses, these are used to protect hair from damage or repair damage that has already been done - such as from heat or chemicals.

* Heat - hairdryers,straighteners and curling tongs use heat to style hair and can be used to lend buoyancy to hair as well as achieve anything from pin-straight hair to thick ringlets.

Choosing Products by Hair Type

Now that the main products available for hair have been described, buyers should consider not only the effect and look they want to achieve from their hair, but also what products would best suit their hairstyle.

Straight Hair

Given the tendency of straight hair towards oiliness, buyers should consider hair shampoos and conditioners that are focused on oily hair.

Wavy Hair

Wavy hair tends to frizz easily, and there are not only shampoos but also shampoos devoted to wavy hair but also serums that combat frizzy hair, such as John Frieda's Frizz-Ease.

Curly Hair

Much like wavy hair, curly hair can be treated with serums to ease frizz, and also be cared for with shampoos and conditioners devoted to curly hair.

Kinky Hair

Kinky hair is most common in people of African descent, and there are many products designed to treat this type of hair.Natural and sulphate-free shampoos and conditioners are popular as they limit damage to already delicate hair. Hair relaxer is also a popular product, and is used to 'relax' hair so that it can be easily straightened.

All hair types are still vulnerable to the same conditions, such as being prone to breakages when using heat styling. Heat protection products are a vital tool in preserving the health of hair, whether straightening curly hair or curling straight hair.

Styling products such as waxes and gels vary in strength and look, and the ideal product is entirely dependent on the personal taste of the buyer. With both wet and dry looks available, the buyer should search for products that will help them achieve the perfect style.

Choosing Products by Hair Condition

There are shampoos and conditioners designed to be able to treatdry,oily,damaged and normal hair, along with serums and mousses that can be used to combat problems such as split-ends or dry scalps.

Buyers should make sure to correctly identify their hair condition, as using the incorrect product may have no effect on their hair, or even make the problem worse.

Hair Product Bundles

Many sellers on eBay sell hair products as bundles or sets, with the advantage to the buyer being able to buy large sets, items and accessories or complimentary items (e.g. shampoo and conditioner) quickly and easily. When buying bundles, the buyer should check:

* The Bundle - what is included should be clear from the photograph or description, however if they buyer is uncertain about what is for sale they should check with the seller.

* Type - if buying bundles of care products for certain hair types, the buyer should check that the items all compliment the style they want to treat.

Many sellers sell bundle products when they no longer need the item and its accessories - such as when buying a new hair dryer - so bundles are frequently far more competitively priced then they would be in brick and mortar stores.

How to Buy Hair Products on eBay

Along with all this advice, there is a huge range of products and brands to choose from. Buying on eBay is a great way to find the ideal product, and with the various search preferences and options available buyers can tailor their choices to pick out exactly what is needed. When searching, buyers should consider:

* Type - this will be the main factor that will affect the buyer's choice. What type or condition of hair they want to care for is important, as using the wrong treatment may have no effect or even make any damage worse.

* Product - there are many products available on eBay, and choosing what is appropriate is entirely dependent on the buyer.

* Price - prices are dependent on the type of product being sold, and will vary depending on condition, shipping and amount. The buyer should decide how much they are willing to spend and then their search can be adjusted through the search preferences bar. Many products are available at Auction or Buy It Now, allowing for a great deal of flexibility while purchasing.

* Condition - items are available new and used, and condition will have a big effect on the price of the product.

* Local Sellers - finding a local seller is an ideal way to keep the costs down, as it saves the buyer paying for shipping fees from abroad.

For extra advice on searching eBay, buyers should refer to eBay's Search Tips page for even more guidance on how to get the perfect search result. If buyers have any extra questions about any of the products they see advertised, they should not hesitate to ask the seller

Conclusion

Selecting the perfect hair care product from the huge range available can be a daunting task, especially if the buyer is uncertain of their hair type or condition. With the aid of this guide buyers should be able to identify their hair type and condition, along learning how to search for the ideal product at the ideal price.