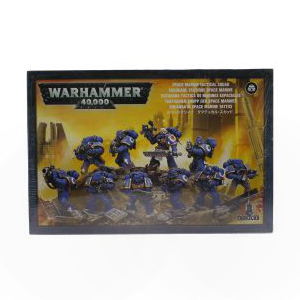 Warhammer 40,000 (commonly known as Warhammer 40K) is considered the most popular tabletop game in the world. Created by Games Workshop back in 1987, this strategy game has garnered a loyal following.
It is set in the fictional 41st millennium and has core elements of aliens, demons, technology, war and superstition. In order to play there are a variety of parts required, these include traditional board game elements like dice and cards. Before playing a game of Warhammer 40K the player must own an army.
Selecting an army comes down to personal choice as units range in both look and attributes. There is a large variety to choose from but in this guide Space Marines will be the focus. eBay provides potential players with all the tools needed to both build and further a Space Marine army at an affordable price.
Warhammer Infantry
In order to get started buyers will need to obtain the basics and become knowledgeable of the game itself. This includes buying the official Warhammer Space Marine Army guide. The information found in this guide is invaluable; as it will help users learn the history of Space Marines and the role they play in the Warhammer 40K universe. Once familiar with the attributes and potential of a Space Marine army it is time to build a base foundation of troops. Infantry are the backbone of any Warhammer 40K army and are arguably the most versatile form of attack. They are made up of the following:
Tactical Squad
Combat Squad
Scouts
Sergeants
Sergeant Tellon
All of the above are crucial to the success of a Space Marine army with some offering more potency in attack than others. Their versatility comes into play when it comes to weaponry. They're able to hold almost all weapons and such versatility can be make or break an army in a combat environment. The weapons available to Space Marine infantry include:
Multi-Melta
Lascannon
Heavy Bolter
Sniper Rifle
Building a core base of foot soldiers is as key in Warhammer 40K as it is in any other war based tabletop strategy game. eBay has become the go to resource for those new to Warhammer 40K. Buyers will be sure to find foot soldiers like the aforementioned in both painted and unpainted form.
Space Marine Warhammer Transport
Owning the right infantry is important but not being able to move them around the battlefield can leave them aimless. Acquiring suitable transport for troops is a necessary investment, as without it the lines of defense can become stretched. There are several options for Space Marine owners when it comes to transport.
Each of the above has different credentials in terms of how they transport soldiers. They also carry a different number of troops per vehicle. Warhammer 40K battlefields can be vast areas where moving troops quickly and efficiently is regularly required.
Warhammer 40K Elites
Power is pivotal to achieving victory and nothing provides that extra power in battle better than the elites. They are highly skilled units and carry weapons that are built for destruction. Considered the absolute best that a Space Marine army has to offer and can dispose of weaker opposition with ease. Among the range of elite units for sale on eBay shoppers will find the following:
Warrior Ancients
Dreadnaughts (Regular, Ironclad and Venerable)
Terminators (Regular and Close Combat)
Sternguard Veteran
Techmarine
Damned Troops (Sergeant and Legionnaires)
Veteran Troops
Ultramarine Troops
Elites are the most expensive form of infantry available but they add something special to an army in both design and firepower. Most users consider them upgrades on basic units but a hybrid of both helps utilise elites to the best of their abilities. Due to their RRP, eBay is the best place to locate them at an affordable price and will allow users to add elites to their arsenal on a budget.
Tanks and Cannons
If foot soldiers are the base of any army then tanks and cannons are the firepower. They can obliterate the opposition and have a higher degree of impact than any other form of attack; this includes having a large blast radius. The downside of using them is that they are the slowest moving models on the battlefield. Tanks and cannons can be expensive but all Warhammer 40K players will tell you that they are worth the investment. The types of tanks and cannons in the Space Marine range include:
Thunderfire Cannon
Whirlwind
Predator
Vindicator
Land Raider (Crusade and Redeemer)
Each type of tank brings something different to the table. The issue with buying tanks from an online auction site is that they come in kit form. Purchasing a tank in unassembled form means that it may be missing parts and there is nothing more frustrating than an incomplete model. Tanks can be incredibly useful on the battlefield but when buying used pay more care and attention during the shopping process.
Painting the Space Marine Army
Acquiring a Space Marine army is only part of the process, as when purchased users will be required to paint them. Those new to this may find it daunting as it is an intricate process but there isn't a feeling quite like seeing a model that you've painted yourself. Speed painting will come in time but in the beginning the following steps will aid Warhammer 40K players during the painting process.
Assemble models using quality plastic cement. Using this melts the plastic joints together creating a stronger bond than just using glue adhesive. Don't rush this process and give the glue at least four hours to dry.
Don't paint directly on to the plastic and always use a primer prior to painting. Most units that require painting will end up being either a dark or light colour so use a primer that is suitable.
When adding a basecoat make sure it is thin, a thick basecoat can present a problem when it comes to adding details to a model.
Further coats will obviously be required but be careful not to get carried away. Urgency can create problems and continuously applying thin coats until you get the finish you require is recommended. Don't apply a thick coat; it won't get you a finished model any quicker.
Use ink in order to create shadow. It is more effective than paint and enters the crevices of a model easier.
It should go without saying but make sure you have a wide array of brushes at your disposal as there is no one size fits all option for Warhammer 40K models. Patience is key as details are small and require a steady hand to paint properly. Paints and brushes are available on eBay and their trusted sellers will be happy to offer advice with regards to the painting process.
How to Buy Warhammer 40K Space Marines on eBay
In the world of Warhammer 40K, Space Marines are a dominant force. Their popularity in the world of tabletop strategy games means that there are plenty of opportunities for shoppers to pick up affordable models on eBay.
The world's leading online auction site has become a tremendous resource for both novice and experience Warhammer 40K players. In order to browse what Space Marine models are listed for sale locate the toys and games section. From there select wargames and role playing, Warhammer, Warhammer 40K and finally Space Marines. This will bring up all live auctions. If buyers have a particular piece in mind they should use the search function located at the top of the page.
eBay Shops
eBay shops are individual stores that are set up by sellers to sell their stock exclusively. With such a dedicated fan base Warhammer 40K players have taken to eBay to sell old stock so buyers will find these stores popping up once in a while. In order to find eBay shops use the eBay shops link found at the bottom of the home page.
Making a Purchase
To buy an item shoppers will have to do one of the following when on an item listing.
Place a Bid
Make a Best Offer
Buy it Now
When you have decided on an item complete the transaction through PayPal. Doing so will mean that the transaction is covered by their buyer protection program which can be important should problems arise with an order.
Conclusion
Warhammer 40K has a huge worldwide following and is the most played tabletop strategy game in the world. Models come straight from Memphis, Tennessee and reach stores in England, America, Japan and Australia among others. Space Marines are the perfect range to use whether you are a beginner or experienced tabletop game player.
Getting started may seem tricky but in time the game and its parts will become second nature. Buyers will be looking to build a strong army and that involves investing time and money into the Warhammer 40K franchise. This guide along with eBay's array of buying options will help shoppers create a Space Marine army that is ready for battle in no time.