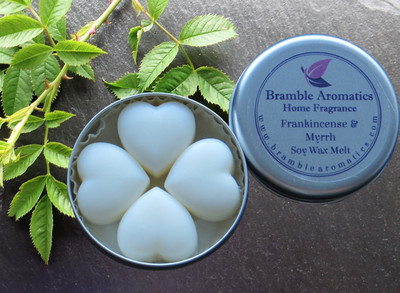 Our melts
Wax melts are an ideal way to create home fragrance, whether its room filling or a more subtle background scent and are a perfect alternative to candles. Wax melts are normally made of either soy wax, paraffin wax or a para-soy blend. Bramble Aromatics only uses soy wax to make our melts, as it is a cleaner burning vegetable based wax - better for the environment and better for you. There are no harmful hydrocarbons as there are in paraffin wax. We don't add anything other than fragrance oil and sometimes colour to our melts.

All wax melts are easy to use, you just need a suitable burner and an unscented t-light or one of the newer electric warmers. Simply place a melt in to the bowl of your warmer, do NOT add water, then simply sit back while the wax melts, releasing its lovely long lasting fragrance. Always place your melters on a heat safe surface and away from draughts and soft furnishings.

Some of the stronger fragrances will last for hours and hours, just keep burning the same melt until you can no longer get any scent from it, then dispose of the wax. Unlike candles, wax melts do not burn away as there is no wick and direct flame. When you need to change the fragrance simply let the wax harden and pop it out of the bowl. If is proves to be stubborn just place the burner in the fridge for a short time and it should pop out easier. Always remember to let the burner or bowl return to room temperature before heating it up again as a sudden change of temperature may cause your melter to crack.

Do not use 8 hour t-lights in small burners as they will get too hot and may crack and also the hotter the wax gets, the faster the fragrance will burn off. Always keep your melters away from children and pets.

A word about CLP. The EU Regulation (EC) No 1272/2008 on Classification, Labelling and Packaging (CLP) entered into force on 20 January 2009. Scented candles and melts are classed as mixtures, along with any perfumed or scented products (perfumes, deodorants, washing powders, fabric softeners etc.) this also applies to essential oils and therefore must have the appropriate labelling depending on which chemicals the fragrances contain and what hazards, if any, could be caused by the 'mixture' and what precautions are advised. All of our wax products are correctly labelled with their appropriate CLP. Safety Data Sheets are available on request.