We all know that February and Xmas are the times of year when many romantic/randy couples give and receive sexy/sensual lingerie. Receiving lingerie of all kinds is a wonderful gift, of course, but what about if you're spending this years Valentine's / Xmas Day alone? Just you, a box of chocolates, and a few romantic comedy dvd's? Well, you deserve some sexy lingerie too! I hear you protest, "No one's gonna see it, so what's the point?" And to that I would always reply with "lingerie is never about him. It's always about you."
Here are my three reasons for why all ladies, should go for the sexy knickers.
1) Wearing something sexy will make you feel sexy. That's great in itself, but feeling sexy also improves your confidence and with that improved confidence usually comes better success, in all aspects of your life. People know when you're confident. Sexy lingerie (whatever sexy means to you) is an easy, inconspicuous
way of adding confidence.
2) Gorgeous lingerie puts you back in touch with your sensuality. Your sight, your touch, your scent, these are all reminders that you are a sensual sexy being with great erotic potential, even if that potential isn't currently being put to good use because maybe your single. But being single should not stop you feeling great, as I wear my lingerie all around the house, while lounging or doing the dishes or even doing the weekly shop. It is also very easy with time, to lapse into feeling some kind of low sexual attraction when you're in a long term relationship. So sexy lingerie is my way of keeping those erotic embers burning hot, sometimes so hot I end up feelin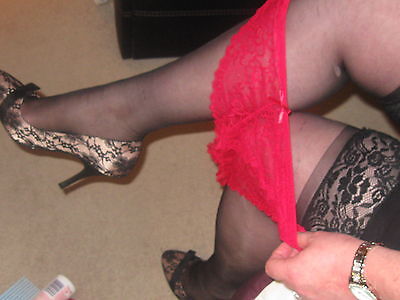 g like I am on fire.
3) Because you just never know. It may sound really cliched, but it's true. Today might be the day…not for the love of your life, necessarily, but for a pleasant flirtation or romp between the sheets. Do you really want to have your faded stretched out floral cotton knickers on when that happens? Whatever you're wearing underneath it should be at least as nice as what you're wearing on top. Why spend good money just on the outer layers when the foundations they are placed upon are weak. Oh, and remember what your Mum used to say about always wearing nice underwear in case you have go into hospital? See….that's a good reason too.
I'm not saying you have to bust out the fringed g-string and leather bustier for a quiet evening at home (What? You don't own one?). What I am saying is that it's okay sometimes to spend and treat yourself. To quote the legendary Dita von Teese, "Lingerie is not about seducing men, it's about embracing womanhood." Truer words have never been spoken.