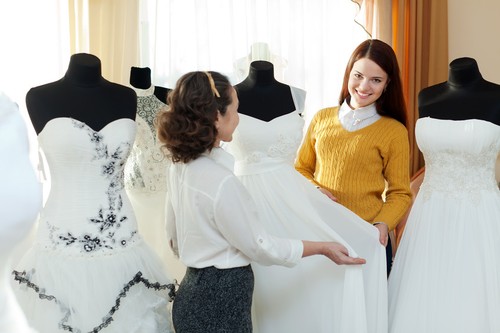 As a bride walks down the aisle on her big day, all eyes are riveted on her, taking in the glow on her face, the spring in her step, and the bridal gown swaying gracefully as she walks. Indeed, the bridal gown is as much the centre of attention as is the bride.
Wedding gowns are made from a wide variety of fabrics, each with its own unique features that, when used to best advantage, can create stunning looks. The fabric alone, with the flow and drape that certain fabrics impart, plays a large part in bringing to life every pattern and style of these special gowns.
Brides-to-be start scouting for the perfect bridal dress fabric months in advance, as the gown has top priority in the list of things to do. One can shop for bridal fabrics at stores that specialise in selling all fabric types or at reputed online stores, such as eBay, that have a vast inventory of bridal and fashion fabrics. This bridal fabric buying guide educates the reader about the categories of fabrics for the gown itself and for the overlay, as well as the features of each fabric.
Wedding Dress Fabrics Available
There is great variety in texture amongst fabrics, making bridal gowns of similar style, cut, and pattern appear very different in look and feel according to one's fabric choice. The fabric affects the appearance of the wearer as well, with some fabrics following the curves of the body while others hold the shape of the gown itself. Silks, chiffons, and georgettes are so lightweight and flowy as to nearly form a second skin. These more expensive fabrics are selected to create grand, figure-hugging wedding dresses. With the wider availability of less expensive, silk-blended fabrics, the options have widened for buyers. Blended fabrics created from raw silk yarn or inferior-quality spun silk yarns blended with others yarns create fabrics that have the lustre and sheen of silk along with the unique features of the other yarns. While synthetic fabrics such as polyester, rayon, and nylon may also be used, the rustle and swish of silk and its sheen, softness, and elegance overshadow all other choices, making silk the most sought-after fabric for that special day.
Categories of Wedding Dress Fabrics
Every woman wants the best when it comes to her wedding gown. In keeping with this, natural, manmade, and synthetic fabrics are used, separately or in combination, to create bridal gowns that are lustrous and free-flowing. Silk, wool, cotton, linen, and cashmere are natural fabrics, while rayon, acetate, and lyocell are manufactured from cellulose and and polyester, nylon, and spandex are fabrics made from synthetic fibres. Fabric blends using natural, manmade, and synthetic yarns in different proportions enhance the quality and look of fabrics while retaining the best features of each fibre. Therefore, knowing the fabric is essential to selecting the one best suited to create the wedding dress. While some fabrics are ideal for the dress itself, others, such as sheer fabrics and net, are used as the train or to decorate the dress as top layers, inserts, edgings, bows, ribbons, and fringes.
Test the Authenticity of Silk
For the layperson, it is difficult to tell the difference between silk and synthetic fibres. Generally the label on the dress should list the composition of the fabric. One way of ensuring the authenticity of the fabric is by burning a small swatch or a few threads of fabric. Silk threads will immediately extinguish when the fire is put out, while threads that melt are either polyester or nylon, and rayon burns down to soft, chalky ash and silk turns to black, crispy ash.
Types of Silk Fabrics
There are a number of lustrous, rich-looking fabrics that are made using silk threads and, as such, are expensive. Below is a list of wedding gown silks that are created using silk in differing proportions while weaving the fabric. As the proportions of the yarns vary, so do the characteristics of the resulting fabrics; therefore, several other factors influence bridal gown fabric selection. Amongst these, in the order of priority, are the body shape of the wearer, the drape and look of the fabric, the season, and the wedding venue, which may be outdoors or indoors.
Brocade
Thick and textured, brocades have raised designs woven within the fabric, usually using threads of the same colour as the fabric but sometimes in various other colours. Highlighting the designs using fine gold or silver threads makes silk or satin brocade makes for an extravagant and opulent fabric. Brocade bridal gowns are ideal for winter weddings.
Crepe Georgette
Crepe georgettes are light-textured and bouncy with the distinctive crinkly look of crepe but lacking the shine of crepe de chines.
Crepe de Chine
Crinkled fabric with a lustre, crepe de chine has a pebbly look because some of its fibres are twisted clockwise and others anti-clockwise and woven tight. Wrinkle-free and strong, crepe de chine fabrics have an excellent drape quality.
Silk Charmeuse
Glossy in appearance and soft to the touch, silk charmeuse has a smooth satin finish and, being lightweight, a graceful drape. A perfect fabric for that ball gown-style wedding dress, this luxurious fabric takes embellishments extremely well, highlighting them without losing its own lustre.
Chiffon Silk
Another soft fabric that drapes well is chiffon silk, which is categorised as a sheer fabric. Exquisitely designed wedding gowns are created using silk chiffon; these gowns are as lovely when embellished with beads, sequins, crystals, and rhinestones as they are when the fabric is plain.
Habotai Silk
Also known as China silk, this fabric is a sheer, plain-weave fabric that is ideally suited to line wedding gowns. Texture and colours in habotai silk easily match those of charmeuse silks; therefore, the combination is often used in wedding gowns.
Damask
Damask is a lighter version of brocade with the same raised woven designs. The design on the fabric is sometimes reversible, giving the user two fabrics in one.
Shantung Silk
This fabric, also referred to as raw silk, has plain weave and is of medium weight. The coarse and nubby textured Shantung silk fabric exudes a natural lustre and is well suited to a number of wedding gown styles because it drapes well. It is one of the most popular wedding dress fabrics.
Dupioni Silk
Though similar in texture to Shantung silk, dupioni silk fabric is lighter and stiffer. The fabric is characterised by shiny streaks that run across it. Creases hold well on this crisp fabric.
Peau De Soie
Also called duchess satin, this fabric is a blend of silk with polyester, rayon, or cotton woven in to give a satin finish. The fabric has a grainy texture, fine ribs, and dull lustre, but is soft and free-flowing all the same. Duchess satin wedding gowns should are ideal for a winter or spring wedding.
Organdy/Organza
Organdy is a translucent fabric that has plain weave, where fibres of silk and cotton are criss-crossed. The fabric is stiff to touch and thus prone to wrinkles. Organza, on the other hand, is synthetic, with polyester or nylon fibres blended with silk or cotton.
Silk Taffeta
Taffeta is made from woven silk, cotton, nylon, and other synthetic fibres. This is a fabric for which stiffness is a mark of quality: the stiffer the taffeta, the better is its quality. A luxurious, shiny, and voluminous fabric, taffeta is often a good choice for elaborate gowns.
Moire Taffeta
Moire taffeta is a more luxurious variant of the plain taffeta and is characterised by its watermark finish, fine ribbed appearance, and dull sheen.
Velvet Silk
This is a soft, plush, thick fabric with a felt-like texture and plain reverse. Velvet drapes well, especially for A-line and other figure-hugging gowns and trains. Gowns made from velvet silk are ideal for winter weddings.
Faille
Faille is a heavy fabric with a ribbed finish. The fabric is tightly woven from silk, cotton, or rayon, and has a lustrous appearance.
Batiste
Soft, lightweight, and opaque, batiste is a plain-weave fabric made from cotton and polyester or other blends of threads. Imperial batiste has cotton and polyester, while plain batiste is a blend of cotton and wool. Satin batiste is a lustrous fabric produced in the satin weave.
Synthetic Wedding Dress Fabrics
Polyester, nylon and rayon are the some of the synthetic fabrics that provide an alternative to natural fibres. Many of these fabrics have the attractive appearance and feel of natural fabrics but do not shrink or wrinkle easily and are easier to wash and clean, and most need no ironing. There is a price difference, too, with the cooler and lighter natural fabrics that provide the incomparable sheen, lustre, and richness being more expensive.
Overlay Fabrics for Wedding Dresses
The beauty of a bridal gown is magnified when decorated by one or more other fabrics. To enhance the perfect cut and pattern, add-ons such as delicate laces, intricate embroidery, sparkling crystals and sequins, and eye-catching embellishments all are geared towards enhancing the gown without overwhelming it. One of the more common materials to be used in this way is lace. The following are often used in creating stunning wedding dresses.
Alençon Lace
An exquisite needlepoint French lace, Alençon lace has numerous types of floral designs created on a sheer net background. White, black, silver, and gold threads may be used to create the floral designs.
Chantilly Lace
This is handmade, bobbin lace from Chantilly in Paris, made famous during the 18th century. The soft, silken threads and intricate detail of the Chantilly laces can transform a simple wedding dress into a one-of-a-kind.
Guipure Lace
Guipure lace, made using cotton threads, is firm and stiff and does not have a net background. The motif in this lace in a continuous pattern is dense and raised.
Bridal Lace Embellishments
Pearl- and sequin-studded bridal lace fabrics and sheer cutout lace appliques adorn and beautify wedding gowns.
Tulle
Tulle is very fine, net-like, gauzy fabric made using silk, rayon, and nylon fibres and is an important component of bridal wear. Besides being used on the gown itself, tulle is also used to make veils and trains. Tulle may be embellished with sequins, rhinestones, beads, and pearls.
How to Buy Wedding Dress Fabrics on eBay
Shoppers desirous of buying wedding dress fabrics on eBay can start a search by typing bridal fabrics in the search bar of the eBay home page. The search results will include dozens of pages of bridal gown fabrics, laces, and embellishments of every conceivable type.
Buyers are encouraged to read reviews and feedback about sellers before buying, or to shop the stores of top-rated sellers. Top rated sellers are easy to spot on eBay, as they have a badge of excellence earned for timely dispatch of items and for consistently receiving high ratings from buyers regarding communication and product quality. After selecting the goods, payment can be made almost immediately using one of the several payment options available on eBay. eBay offers secure payment modes, with multiple choices available to allow buyers the payment method most suited for them. Goods that qualify for free shipping fetch sizable savings for shoppers, while participating in the auctions is another way of getting items at reasonable rates.
Conclusion
Since eBay has a vast variety of bridal gown fabrics, shoppers have the freedom to select the best from amongst them. Expensive fabrics such as silks, satin, velvet, and chiffons are easily available, as are the various other cheaper, synthetic-blend fabrics and fabrics that serve to embellish and decorate the wedding dress. The first and foremost consideration in a wedding gown is its fabric, with the bride selecting the fabric that is suited to her body type and personal preference. Those women who do not favour lustrous, shiny fabrics could opt for Shantung silk, organza, or taffeta, while those who love flowy, figure-hugging gowns can choose charmeuse, silk chiffons, or velvet silk.
While brocades, velvet, and taffeta are heavier fabrics and ideal for winter weddings, pure silks, chiffons, georgette, and satin fabrics may be used for wedding held during spring, summer, or autumn. Also amongst these fabrics are the delicate Shantung silks and chiffons, which are more suited for indoor weddings, and satin, dupioni silk, faille, and duchess satin, all of which would be well suited for the outdoors. In a nutshell, to select the perfect gown, brides-to-be should choose fabric that suits the body shape, the wedding venue, and the season in which the wedding will be held.