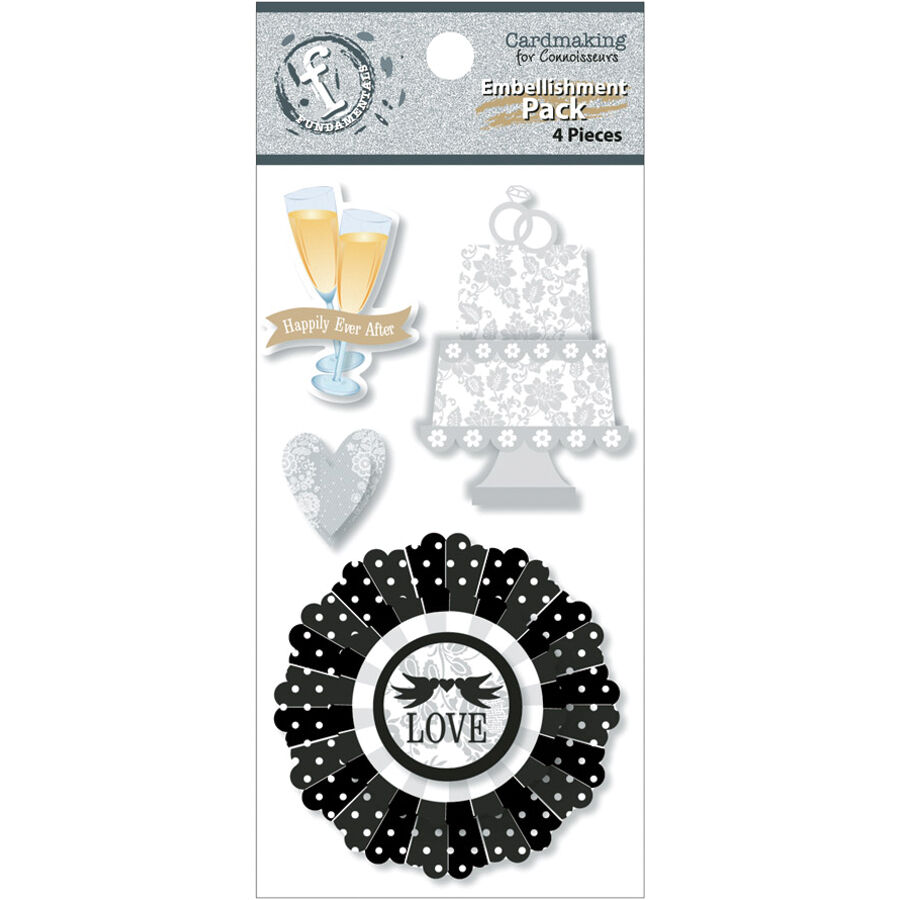 Adding an extra personal touch to greeting cards and scrapbooks is a great way to show others that they are important. Doing so shows that another person took the time to put some extra thought and caring into an item that they gave to someone else. Although embellishments for cards and scrapbooks are great to do all throughout the year, including that personal touch is really valued during special occasions, such as weddings, and seems to add that extra special touch that shows a couple that another thinks that they are special.
Many times, adding a personal touch with embellishments can be a lot less expensive than buying a product with embellishments already included; therefore, they can be a great way to save a little bit of money and make a gift that much more special. Embellishments for weddings can be located at bridal shops, craft stores, and online on eBay. It is helpful to know some information about the wedding couple so that embellished items given as a gift can help tie in with their wedding theme. Colours often play an important part in weddings, and it is also useful to know what types of creative uses are available to make a special day treasured even more with embellished cards and scrapbooks.
Get to Know the Couple
Unless one of the people getting married is a relative or very close friend, chances are high that a little additional background information on what is special to them is necessary. Even then, there is the other member of the couple that additional information may need to be gleaned from. Colours play a big part in embellishing items for a wedding, and often certain colours have special meaning to the party involved. Taking time to become familiar with important details, such as colour and flower choices, can help make any card or scrapbooking embellishment more appreciated by those receiving it.
Colours
It is important to find out as a couple what types of colours are to be used in the wedding and if those colours represent any special sentiment. Behind many colours there is a meaning, so it is often useful to decorate a card or scrapbook in colours using the special meanings behind them. Listed below in the table are popular colours used in weddings and the meaning behind each colour as well.
Colour

Meaning

Red is often the colour that symbolises love, especially when roses are chosen

Symbolic of love at first sight by the person giving them

Used to represent desire

Symbolic of love and friendship between two people

Shows feelings of appreciation and gratitude

Expresses hope and unconditional romantic love

Implies humility and reverence

Often used to express feelings of remorse
Although the meanings in this list are considered to be standard feelings that are represented behind various colour choices for flowers, people often choose to use those same colours to represent feelings that are important to them in a relationship and want to use them in weddings. For example, even though yellow does not imply romantic feelings, it can have a special meaning between a couple who are very good friends as well.
Flowers
Besides there being a traditional symbolic meaning behind colours, there is also a symbolic meaning behind flowers as well. Flowers are a part of most weddings, in one way or another, even if they are only used for a bridal bouquet.
Flowers as decorations are another important embellishment that can be used for cards and scrapbooks for a wedding. The chart below lists the traditional meaning behind certain flowers that can be an important detail when choosing embellishments. Taking the time to find out if the flower choices represent these special meanings to a couple and then incorporating them into the embellishments makes a gift decorated with flowers even more special.
| Type of Flower | Meaning |
| --- | --- |
| Ambrosia | Love is reciprocated |
| Caladium | Wondrous delight and joy |
| Daffodil | Respect; also signifies sentiment of one and only |
| Daisy | Loyal love and innocence |
| Dandelion | Faithful and happy |
| Gloxinia | Love at first sight |
| Primrose | Unable to live without |
| Rose | True lasting love |
There are many more flowers that represent various meanings besides the ones that are listed here. One thing to remember is that the meaning of some flowers changes depending on the colour. For example, a red rose symbolises true love, while the symbolic meaning behind a yellow rose is the exact opposite. The traditional meaning behind a yellow rose is jealousy and waning love.
It is important to know the difference in meaning behind flower choices and how colours relate to them. To avoid any embarrassment, it is a good idea to know if the couple has chosen flower types and meanings for the symbolisation behind them for their wedding before embellishing wedding items.
Creative Uses for Embellishments
Creating wedding embellishments can be so much fun when a person possesses some great ideas and has the right tools to complete the task. Cards are one item that is often heavily used for weddings, so there are plenty of opportunities to practise wedding embellishment skills. Some of the most common types of wedding cards that are available for embellishment are given below and come with a variety of features.
Handmade Wedding Cards
Handmade wedding cards are a great choice for embellishment purposes because they start as a blank slate. They can be used for just about any purpose related to a wedding and are easily customisable with a variety of themes. They can be tailored to be given to a man or a woman and are also great for giving as anniversary gifts.
Time Savers
Multipack wedding cards are great choices for people who do not have a lot of time to create an embellished card from scratch but still would like to give something with a personal touch. These types of cards come in a variety of different styles that can have messages printed inside, be blank, and are also decorated in various ways on the outside. Choosing simple cards with little decoration is the perfect way to embellish a card with a personal touch and have the rest of the card needs already met.
Scrapbooks
Embellishments for wedding scrapbooks are plentiful. They are fun items to embellish and are special to anyone that they are given to. One of the things that makes scrapbooks so special to give to a couple is the fact that the scrapbook is used to hold cherished memories for years to come. Embellishing scrapbooks and giving them as a gift is a tremendous way to show others that they are special.
Buying Embellishments on eBay
Weddings are a special time in a couple's life and for the friends and family around them. Being able to give embellished items like cards and scrapbooks is easy when you know where to look for these items. eBay is an online marketplace that is enjoyed by a multitude of people because it is very easy for them to find the items that they need all in one convenient location. There are numerous listings and sellers from all over the world, which gives buyers a large selection to choose from.
To find an item to embellish, all you need to do is to go to the eBay homepage and type in descriptive words for the item you are looking for. For example, if you want to peruse through a wide variety of embellishments and items to embellish in order to get some ideas, type "wedding embellishments" in the search query box located at the top of the eBay homepage. This generic search is a great way to start when you do not have a specific idea in mind.
Once you start the search, a wide variety of available items are displayed before you to browse through. If you find a specific category you are interested in, there is also the option to filter out other search results by changing the keywords entered in the search or using the advanced search option feature.
Conclusion
Wedding embellishments are often used for cards, scrapbooks, and other sentimental items, and when people create embellished themselves, it is often much less expensive. Sometimes, it may seem hard to come up with ideas if a person is new to this type of endeavour; however, researching the above materail can provide many different ideas on what can be used, which even that alone can help spark additional ideas.
Whether a person is giving an embellished scrapbook as a gift or sending out embellished cards for a wedding, it is helpful to get to know the reasons behind why a couple chose the colours and flower types that they did. This information is instrumental when deciding on what items to buy and how to best use them. Knowing what is available and how to use embellishments for wedding cards and scrapbooks is not only able to get the brain juices flowing, but it is also a lot of fun as well.