Hip Flasks – New Entrants in the World of Wedding Gifts
Greenfocal Personalised Gifts on EBAY
Celebrations are an inevitable facet of every individual's life. There are many alternatives to mark some special occasions in our life and gifts are undoubtedly an ingenious entity which can aptly glorify the event. The hip flask has been approved as a handy accessory by majority of the male population and is thus a flexible gift for men on any occasion whether it is a birthday party or the wedding of your best friend. The curiosity around these unique accessories has doubled up due to their distinct structure and aesthetic appeal. Let us take a brief synopsis of the different uses and implications of these flasks in order to estimate their legitimacy as a gift.
Hip flasks with engraved messages have been trending recently and the aesthetic charm emanated by them is sufficient to anoint them as prolific
wedding presents
. Women can rarely face any confusion while purchasing a gift for their friends while on the other hand men are always bound by the limitation of choices. Thus flasks are an easy way out for men on special occasions. The distinct designs and different materials used for the manufacture of flasks make them a definite choice for a present to someone special.
A gift derives its charm from its appropriation with a particular occasion. On the wedding day of your best mate, a steel hip flask would be the most apt present. Men love drinking and if your friend loves the same then there would be no other better solution for a wedding present than a personalised flask with a casual or congratulatory message engraved on it. Steel has been adopted as a material for these flasks just because of their resilience and light weight. Now, carrying a flask couldn't be anymore lighter with steel flasks at your disposal.
Colours and different patterned designs are also a defining characteristics of these flasks. Depending on your preference you can select one from the varied assortment of flasks. For example a
black hip flask
with a skull mark engraved on it could be visually fantastic while being complacent with the latest trends. The least concern while purchasing these flasks is the price which can please the budget of a common individual. Moreover, the cost of engravings and other additions are included in the price which in turn removes any chances of hidden costs.
The online space has transformed gradually over the years into a huge market. You can easily find many products for sale at nominal rates. Thus finding a steel hip flask on the internet can barely pose a challenge to many of us. Out of the many traders who have their stores filled with ingenious designs and charismatic models of flasks, you have to make your selection on the basis of some other factors such as the preference of the recipient and the authenticity of the provider. Online review forums and suggestions from previous customers can facilitate adequate assistance for claiming a good present for your best mate on his wedding day.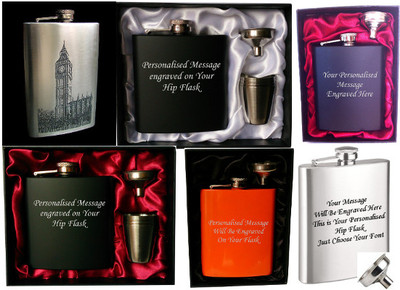 Links to personalised gifts on Ebay: