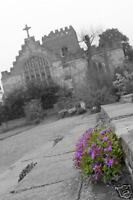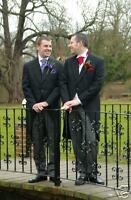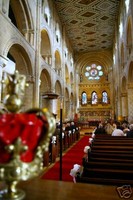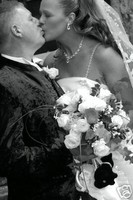 Has this person photographed other weddings?
Have they photographed other civil partnerships?
Do they have examples?
Does he/she do this for a living or for fun?

Are the images they show you, what you would like to see from your own wedding?

Do you want a mixture of black and white or only colour photos?
Is there an extra charge for enhancing digital images?

Is this the photographer that will be photographing your wedding or will they send in whomever is available?
Be certain that you know which photographer is going to be there and that you see HIS/HER work

Is the photographer someone that you can get along with? Is the "chemistry" there?
Speak to & email them as often as you need to they shouldn't mind, or be hard to get hold of.

Ask the photographer how he/she intends to dress. Is this person well groomed?

Is this person within your budget? If not, is he or she worth the price difference?
Make sure you understand what everything costs, including reprints, CDs and albums.

How long does it take to get your proofs back, your finished album, your bridal portrait, etc.?

Whether it's a la carte or a package, do you understand what you are getting? Is there any room for changes and will it cost to do so? Sometimes the packages are fixed, sometimes they can be customized, in any case, ask.

Do you understand the contract/written confirmation. Is it fair? Is everything spelled out? Make sure that you have no doubts. Read it.

What does it say about cancellations and the photographer not being there? If the photographer protests, ask him why? This is one area NOT to take lightly. You could be disappointed for a long time.

A personal reference is always the best. Get a list of references from the photographer and check them out personally. A photographer who doesn't have references or is afraid to give them to you may not be the person that you need to hire.

Have they shot a wedding at my location before?
Do they research the venue for the best places to take photos?

Do they have an assistant / 2nd Photographer?

Do they have back-up equipment and is it the same quality as the primary equipment?

Make sure you know what time will they begin and how long will they stay until?

Do they attend all your venues?

Is there a limit to the amount of photographs they take? If so why?

What if the weather precludes outdoor photos, what will they do and what equipment do they have to make sure the photography is not ruined by bad weather

When will the proofs be ready?

Do you get to keep the proofs?

Do they mark your proofs?

How many proofs do you get? Is there a minimum?

Do you get to keep our negatives? or if digital can you aquire the copyright?
Is the cost of copyright included in the price or an extra?

Do they have tele-photo, wide-angle lenses, tripod, flash gun - pro equipment?

Can they work from a photo checklist that you create?

Do they print their own photos? Make sure the prices are reasonable.

How long do they keep the negatives or image files?

Will they offer a discount for payment in full?
Or if you book well in advance?

How much is the deposit? Is it refundable should you or they cancel?
When do they want the deposit & the balance paid?

Will they use you images for promotion?

Make sure you have a mobile or personal number to contact them on the day if you need to.

Do they supply professional wedding albums?
Can these be added to at a later date for anniversaries etc
If you change your mind about what you want is there a charge?

Can you see the photos online?
Can guests order online or via email?
Hope this helps :)