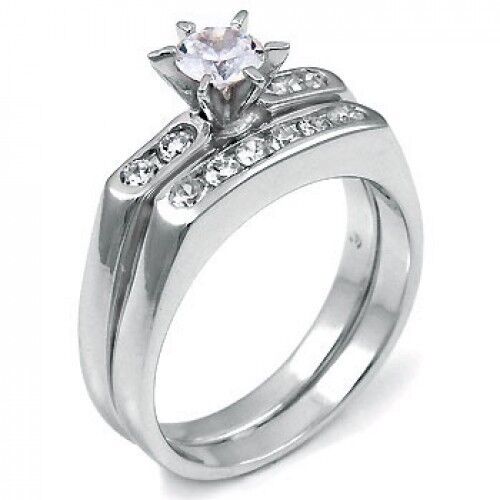 As you will be wearing a wedding band for the rest of your life, you will need to consider various materials and styles.

Gold and diamond are traditional and timeless options that personify glamour, elegance and romance. But have you considered platinum, silver or gold?

Choosing a Wedding Ring
Choose a ring that symbolises your relationship - you may want to opt for a large diamond ring, or something simpler. The style of the ring is important, but so is the fit and comfort level. Try on your rings before selecting them to ensure that they fit well.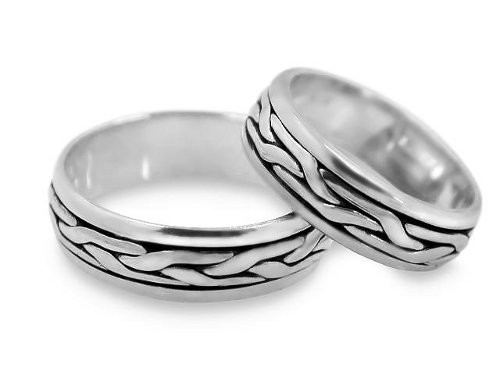 A ring also needs to be practical, especially if going to be worn throughout the day - choose a material that won't wear over the time. Although it will depend on the couple, men's wedding rings tend to have less of a polished finish compared to women's wedding rings, although couples may want to choose
matching wedding rings
that share a similar look and style.
Wedding Ring Styles
Some of the best materials for your wedding band are gold, silver and platinum, although a combination of different materials is another option. You may opt to choose
white gold
as it can blend well with other types of jewellery. Whereas, while platinum is a strong and durable choice of material, its natural silver appearance can dull over time.
Here are some of the most popular choices for you:

Plain Set Ring
A traditional option for many couples, a plain set ring comes in a number of different metal or gold finishes. You will also be able to select the band style and shape of the ring, and can have the ring engraved or with a basic finish.

Shaped Wedding Ring
With more of a curved design, a shaped wedding ring can create a distinctive look for both members of the couple. You can choose from a number of different contemporary styles.

Gold Wedding Rings
These rings are often alloyed with a different metal for durability, and some couples prefer the colour of "less-pure" gold such as 10K. White gold wedding rings feature a distinctive off-white colour. They are plated with another metal such as rhodium for a silver appearance.



Choosing a Diamond Ring
A diamond ring is almost always your best bet, and come with a gold or silver band. The size of the diamond will depend on your preferences, but regardless of size, the
diamond ring
is durable and eye-catching. Diamond rings are so popular because they are resistant to scratching, and can only be scratched by other diamonds.
You will need to consider the colour of the diamond, carat, and clarity when choosing a diamond wedding ring:
Carat, or ct, is a measurement that refers to the size of the diamond, and each carat has 100 points. For example, if someone refers to a ring having a half carat diamond, this is the same as a 0.50 carat diamond, or 50 point carat. A 1ct diamond ring will have 100 points.
Clarity is used to describe the amount of imperfections on a diamond, and the less imperfections a diamond has, the more "sparkle" it will have. The colour of diamonds can vary, although you might consider white as a more appropriate choice for such an event.
A scale is used to grade clarity which ranges from "F1", used to describe a flawless or antique diamond, "VVS1" and "VVS2" for diamonds with minor inclusions, "VS1" and "VS2" for diamonds with very minor inclusions, "I1", "I2", and "I3" for diamonds with imperfections.

Choosing the Size and Width of the Wedding Ring
A
ring sizer
can be used to measure the finger when selecting a wedding ring. Alternatively, use a piece of string to measure the finger and refer to a ring size chart which can give you an estimation of the best ring to choose.
Finger size can change throughout the day - measure the finger during the afternoon or in the early evening as this is the time of the day when your finger will be at its largest. Alternatively, consider having your finger professionally measured, which will ensure a better fit.

Extravagant Wedding Rings
The most expensive
wedding rings
are made with some of the world's most precious gemstones. Here are some wedding rings that evoke elegance and durability.
Vintage Diamond Ring

A

vintage diamond ring

can be a reproduction of an original item, but is a term usually used to describe a genuine ring that was manufactured in a long-gone era. Rings from the Victorian, Edwardian and Art Deco eras use smaller decorative diamonds when compared to more contemporary rings but are of extremely high value.




Platinum Diamond Engagement Ring

More rare than gold, platinum provides a glistening streamlined look, making it the perfect choice for a diamond engagement ring.

18ct Gold Wedding Ring

Made from 18 parts pure gold, an is 75% pure. This ring will not corrode, tarnish or react with the skin, ensuring it will last a lifetime.