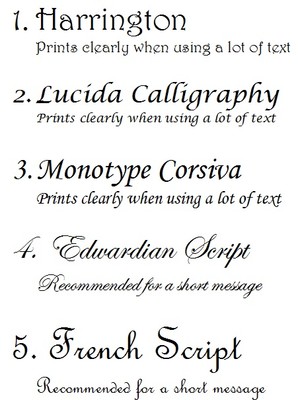 How to Choose a Suitable Font
Welcome to this introductory guide to alternative font choices for your wedding stationery.

When selecting your choice of font, it is important that your text remains clear and readable. To this end, you must consider the size of the printed space, the required text, and print colour.

The table lists briefly the benefits of the selected fonts.

'Harrington', 'Lucida Calligraphy' and 'Monotype Corsiva' fonts are very clear when using light and dark colours, and remain clearly readable when using a lot of text. These fonts are ideal for Invitations, Signage, Place Cards, Menu Cards and Favour Tags containing a short message.

'Edwardian Script' and 'French Script' fonts are slight and very fine. They are best suited when printing a short message in dark colours. These fonts are stylish and striking and draw attention to the stationery.

Using the Fonts in Your Stationery
You may wish to contrast two different fonts on your stationery in order to highlight or differentiate between the text.

For example, you may choose to print a folded invitation outer cover in an ornate elaborate fancy font, whilst the information contained inside on the paper insert may be best suited to a clear easily identifiable font such as 'Arial'.

Your guest's will be attracted to your beautiful invitation, and will easily assimilate the information contained inside.

Contrasting fonts is a simple and effective way to produce beautiful eye-catching wedding stationery.

Tips!
Remember, printing your wedding stationery text in bold or in CAPITAL LETTERS doesn't always make the text more clear - it can often make the text look bulky and indecipherable.