When you receive a wedding dress it is very likely that you have ordered your dress to be delivered with a couple of months to go to the wedding. A lot of dresses come in plastic bags or covers, always take the dress out of the plastic as it will attract dust and store your dress at room temperature in a duvet cover (pull the cover on from the bottom of the dress and use the snap fasteners to secure it at the top) either laid flat or hung and draped over a bed to keep from creasing. If the dress does become slightly creased it is advisable to hang the dress either in a shower for the steam to let the creases fall out or hang it from the banister and have a boiling kettle under it (not touching it), this idea also works for veils and squashed fabric flowers as well. If the creases in your dress are too bad then always press on the wrong side and test the iron on an inconspicuous place first, just in case, and do not use the steam setting on the iron.
Most marks can be removed by wiping with a simple baby wipe, not the ones with added lotion, just the cheapest ones, these also work well on fabric shoes. For lipstick use waterless hand cleanser or other oily or greasy marks, work from the wrong side of the fabric and sprinkle talcum powder over the mark then place a piece on brown paper or kitchen roll under the mark, to stop it spreading to the ironing board, and brown paper or kitchen roll over the talc and press lightly, the talc will soak up the warm oil so brush off and repeat as needed, also WD40 is good at removing lipstick but leaves a slight mark, it is also really good at removing sticky labels
If you cut yourself and get some of your blood on the dress, the best way to get it out is to use your own spit on a white cloth and wipe gently, on some silk or satin fabrics you might still have a mark but it will look better than it did. For red wine stains treat as quickly as possible with white wine.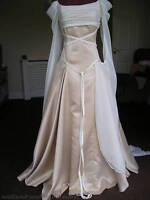 MEDIEVAL PAGAN WEDDING DRESS CHAMPAGNE GOLD WHITE or IVORY MADE TO MEASURE item number 251574845586