Maxine's Emporium offers supreme quality fine original antiques, designer clothes and jewellery.
At Maxine's Emporium we pride ourselves in supplying the finest original antique furniture, sofas, chaise longue's, footstools, sideboards, french beds, chest of drawers, nursing chairs, dressers, armchairs, dining chairs, all restored to their former glory using traditional methods and materials, all items professionally cleaned, waxed, french polished before being sold on. Beautiful designer clothes at knock down prices, and stunning jewellery hand made and designed primarily at Hatton Garden (London's Jewellery Centre). Repeat business is paramount to us along with priding ourselves in offering great customer care and going the extra mile every time. We offer our own Antique Specialist Courier who covers the whole of the UK. All photos taken show every angle with an accurate write up to allow you (the buyer) to see any flaws and normal wear and tear commensurate with age pertaining to original Antique Furniture. We do not sell any reproduction furniture. We have our own unit where you can happily arrange an appointment to view items beforehand, watch us working away and seeing the progress in action.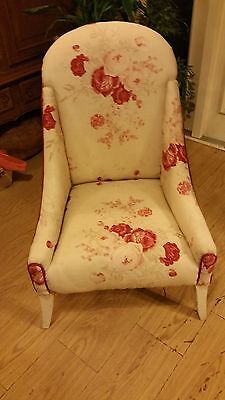 Add a caption
1: Newly upholstered French Victorian Bedroom Chair
Specialist Antique Furniture
This is one of many items completed in our unit using original French Fabric, horsehair, webbing, tacks and padding. Please peruse our eBay shop to appreciate the fine detail and effort put into completing each project. We sell at very competitive prices. Some of the proceeds go to Cancer Research.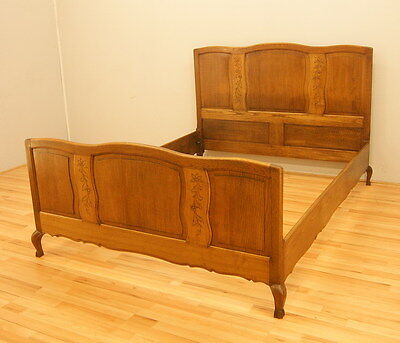 Add a caption
2: Original French Victorian Oak Double Bed with side bars
Original Victorian French Oak Bed
The bed is an original French Victorian double with side bars, newly waxed and ready to go. A solid and stunning piece of joyous craftsmanship. Elegant and very classy.
Add a caption
3: Victorian Oak Original Coal Scuttle Box with coal shovel complete
Victorian Coal Scuttle with Original coal shovel in Oak & Brass Fitments
A beautiful original Victorian Coal Scuttle complete with coal shovel, oak handle and brass fitments. Perfect working order. Ready to go. Newly treated and polished. Very rare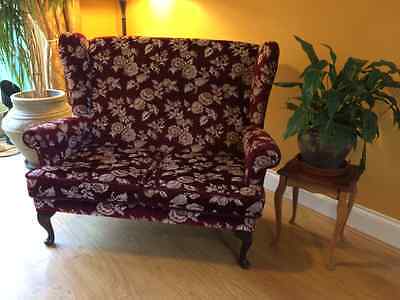 Add a caption
4: Victorian Original 2 seater sofa sitting on oak turned legs
Victorian Original 2 Seater Sofa
A beautiful Victorian Original 2 seater sofa professionally cleaned sitting on gorgeous oak legs. Perfect condition.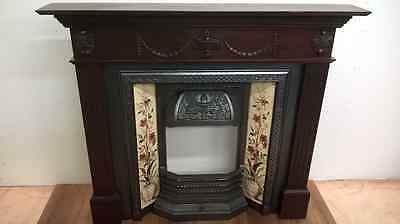 Add a caption
5: Newly restored original Victorian fireplace with oak mantel with basket (Complete)
Victorian Fireplace with Mantel, Original Tiles (Complete with basket)
A really super example of a stunning Original Victorian complete open Fireplace with original tiles, oak mantel, basket. A show stopper of British Craftsmanship. Newly restored.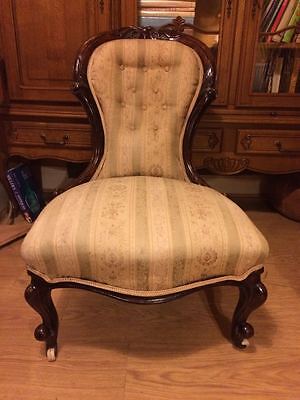 Add a caption
6: Victorian Balloon Back Original Armchair sitting on oak legs with oak frame
Victorian Original Balloon Back Immaculate Chair. Professionally cleaned.
A delightfully elegant Victorian Original Balloon Back deep buttoned armchair, sitting on lovely oak legs and frame, professionally cleaned. Beautifully padded and well sprung.
A few samples of our work and exacting standards, fabrics chosen to suit a modern or period property and enhance any room in a home.
The fabrics and braiding are identical to the materials used years ago, modern technology with old fashioned values. Timeless classics that will last a lifetime.