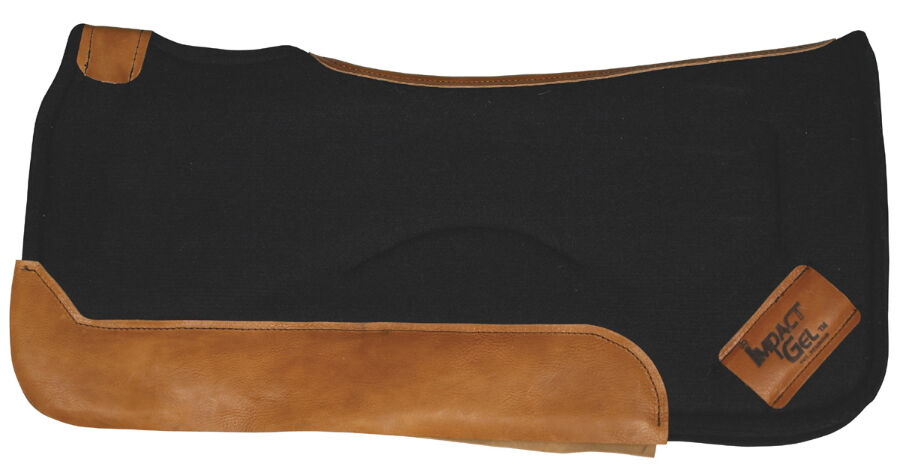 Western Saddle Pads – Built for Comfort
A Western saddle is a decorative saddle suitable for many different types of horse riding. Western saddles are generally made from leather or man-made synthetic materials such as polyurethane.
Western saddle pads are designed to fit between the horse and the saddle to give an extra layer of cushioning and added comfort.
When horses first started being kept by humans for work and pleasure purposes, the saddle pad was the only form of protection for the rider and would have been a basic blanket. In modern times the basic horse blanket has evolved and adapted to fit under different styles of saddle.
For English saddles, the protective pad is known as a numnah.
A Western saddle pad isn't a necessity when riding, but they do make it far less likely that a horse will experience discomfort or injury while out riding.
Western saddle pads come in a wide array of different sizes, styles and colours. They are also manufactured using many different materials which will be explained in more detail later in this buying guide.
Western saddle pads are sometimes referred to as Western saddle blankets and come in many designs on eBay.
The rest of this guide features useful information on areas such as the benefits of Western saddle pads, the materials they're constructed from, and things to consider before buying Western saddle pads on eBay.
Benefits of Western Saddle Pads
Western saddle pads have many benefits for both the horse and its rider as listed below.
A western saddle pad can stop the saddle itself getting dirty or sweaty as a result of direct contact with the horse's back when riding. Leather Western saddles in particular require ongoing care using products such as glycerine soap, so the more protection the saddle has the better.
Having an extra cushioned layer that the Western saddle pad provides can reduce the impact felt by the rider when the going gets bumpy during a ride.
A Western saddle pad makes riding more comfortable for the horse by putting an extra layer between the saddle and its back. A Western saddle blanket can also help a horse keep cool which is important, especially on long rides in hot weather.
A Western saddle pad also helps to keep a saddle firmly in place and stop it slipping. The pad fits into the gap between the saddle and horses back to provide a bit more stability.
Western Saddle Pad Materials
The table below contains information on the various types of material used in the Western saddle pads frequently available on eBay.
| Type of Western Saddle Pad Material | Benefits |
| --- | --- |
| | Heat and shock absorption properties. |
| | Cost effective and soft. |
| Foam (closed cell) | Good shock distribution and doesn't absorb water. |
| Foam (open cell) | Effective weight distribution. |
| | Water resistant and low maintenance. |
Common Western Saddle Pad Manufacturers
Some of the brands of Western saddle pads to be found on eBay include:
These are just a small selection of the brands available. Searching on eBay opens up international listings too and a wider range of Western saddle pad manufacturers.
Common Western Saddle Pad Shapes
The shape of a Western saddle pad is usually one of the following:
Depending on the shape of the horse that's being ridden, a contoured Western saddle pad may be the most comfortable option. The contoured saddle pad is designed to complement any dip in the horse's back to ensure a more pleasant riding experience.
When a saddle has a round skirt as opposed to a square one, then a round Western saddle pad is recommended to ensure proper coverage and that no part of the horse is left unnecessarily exposed to the elements.
Some breeds of horses have flatter back shapes than others which is where the straight Western saddle pad comes into its own. Using a contoured Western saddle pad on a straight-backed horse would prove uncomfortable for the horse and the rider.
For swaybacked horses there is a special shaped Western saddle pad designed to provide a better fit than the other main options. This kind of saddle pad has extra material in the centre.
10 Things to Consider When Buying a Western Saddle Pad
Getting the Right Saddle First
The first step for a rider before buying a Western saddle pad is to make sure they are happy with their saddle. Whether it's a brand new or vintage Western saddle, it's important to make sure it's right for the horse and the riding activities before thinking of buying a saddle pad. There are many Western saddles available to browse and buy on eBay.
Western Saddle Pad Colour
Western saddle pads on eBay come in a variety of patterns and solid colours, including those listed below.
-
Black
-
Blue
-
Brown
-
Red
The choice of colour can depend on the rider's preference, the colour of the horse, or what colour outfit the rider normally wears.
The size of a Western saddle pad is important to get right so the horse has suitable coverage and can be comfortable at all times.
Different types of riding activity will require different Western saddle pads. For example, a saddle pad for racing will require different qualities to one that's just used for leisurely trail rides.
Fleece Western saddle pads are some of the most affordable on eBay. While budget may be an important consideration, the price of a Western saddle pad should never take precedence over the comfort and safety of the rider and of course the horse.
The shape of a horse's back will play a big role in determining which Western saddle and subsequently which saddle pad is most suitable. For example, some breeds of horse have very straight backs while others have a dip in the middle so it's important to find the right fit.
In general, natural Western saddle pad materials keep horses cooler than man-made synthetic fabrics due to their breathability. The material chosen will depend on the type and length of riding being done as well as the climate.
There are new and used Western saddle pads on eBay for riders to browse and buy. Many used pads have only been used a small number of times which means a purchaser can get a nearly new Western saddle pad at an affordable price.
One of the many great things about shopping online with eBay is the ability to read what experiences other have had with a seller. A seller with lots of positive recent reviews will instil more confidence in the buyer when bidding for a Western saddle pad or other piece of horse riding equipment.
For some, the manufacturer of their Western saddle pad is important, while some riders have other priorities such as budget and choice of colour.
A recognised brand name can give the consumer more confidence in the product, but there are lots of lesser-known brands on eBay that provide excellent value for money.
How to Buy a Western Saddle Pad on eBay
Making eBay their first port of call is a wise choice for riders in search of a new or used Western saddle pad.
There are a range of brands, colours, style and sizes of saddle pads available to Bid, Buy Now, or make an offer for.
To ensure inclusion of all relevant items in the search for Western saddle pads, select Saddle Pads from the item sub-type menu followed and there are now various options for padded or synthetic saddle pads or opportunities to filter by price, colour, and condition amongst others.
As well as Western saddle pads, there are many vintage horse saddles and equestrian accessories such as stirrups and saddle horns.
To find out any additional information about an item listed on eBay, there is a useful option to ask the Ask the Sellervia the site to get extra details about the individual product.
Lots of people who use eBay choose to buy using PayPal because of its simplicity and security. Sellers also like PayPal's integration with eBay as they can get instant access to their funds if they have an account.
Conclusion
The most critical factor in choosing a Western saddle pad is comfort. The horse and rider should both be at ease regardless of the type of riding being done.
The main benefits of using a Western saddle pad include keeping the horse cool during riding (particularly with natural materials), protecting the horse and rider when on hard terrain, and keeping any dirt and from the horse away from the rider's clothing.
Western saddle pads can be made from natural or synthetic materials for a wide range of budgets and uses.
Western saddle pads come in a variety of styles including contoured and straight to suit the breed and general shape of the horse's back.
The saddle itself should be considered first before deciding on which Western saddle pad should be purchased via eBay.
eBay is a one-stop shop for riding and equestrian enthusiasts and always features a wide selection on new and used items for sale.