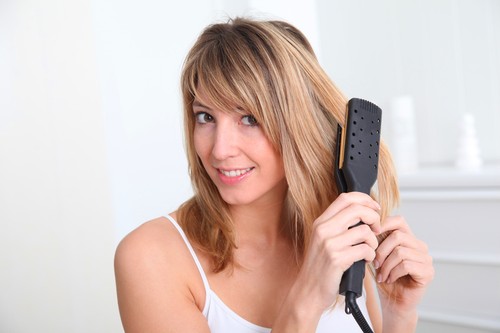 Hair straighteners are tools which allow consumers to straighten their hair at home without a costly visit to the salon. Professional models heat up quickly and give smooth, frizz-free results in seconds. Newer models not only straighten hair, but allow consumers to skip a step in the styling process by drying it too. Before, women had to blow dry hair completely before using hair straighteners, but wet-to-dry straighteners dry and straighten hair at the same time.
This is a time saver that allows women to skip the blow drying and cut right to the styling. There are different brands of wet-to-dry hair straighteners which are made from various materials, such as ceramic or tourmaline. Some plates are larger than others, and some have extra features such as automatic shut off or adjustable temperature controls to deliver just the right amount of heat to hair to create lasting, straight locks, even for women who have very curly hair. Buyers should select a wet-to-dry straightener based on cost, features, type of plates, and brand preferences from the wide variety of straighteners available on eBay.
Wet-to-Dry Hair Straightener Features/Options
When consumers are looking to purchase wet-to-dry hair straighteners, there are a couple of options. Straighteners offer either ceramic or tourmaline plates inside, straighteners have different features such as high heat or automatic shut-off, and straighteners come in various brands which buyers prefer more than other brands of hair styling tools.
Ceramic Plates
Wet-to-dry straighteners with ceramic plates heat evenly, and the ceramic plates reduce hot spots by evenly distributing heat, which can reduce the risk of burns. Ceramic plates are a good option when it comes to smoothing the hair and reducing frizz, and most high-quality hair straighteners are made with ceramic plates, or even a combination of ceramic and tourmaline.
One of the only downsides to ceramic plates is that they are fragile and can break. They must be handled with care. Ceramic wet-to-dry hair straighteners are generally more costly than irons with tourmaline plates. They are known to prevent heat damage to hair, and they have been around for longer than tourmaline straightening irons.
Tourmaline Plates
Tourmaline plates use more negative ions than ceramic plates, which contribute to a shinier, smoother experience. They cost less than ceramic plates, but many consumers believe they perform just as well. They also straighten hair a bit quicker than ceramic plates. There are not as many tourmaline plates to choose from on the market, but they are a reliable option and may keep hair stronger for longer than ceramic plates, though ceramic plates may cause less damage to the hair overall.
When it comes to wet-to-dry hair straighteners, many consumers opt for tourmaline simply due to the fact that the higher number of negative ions usually contributes to drying the hair faster and doing a better job straightening even the most coarse, curly hair. A factor to consider before purchasing a tourmaline wet-to-dry hair straightener is how often the tool is going to be used. Also, the one that causes the least amount of damage should be chosen. Price is another large factor in the buying process as well.
Adjustable Heat Settings
Some wet-to-dry hair straighteners boast high temperatures and adjustable temperature settings. Adjustable temperature settings are a must, because some women may not feel comfortable straightening their hair at extremely high temperatures. This can also cause damage over time.
While some straighteners only go up to 210 degrees, others may go up to 450 degrees or higher. Buyers need to experiment with the temperatures to find out which settings work for their individual needs. A straightener with adjustable temperatures is the best option due to the fact that buyers are not stuck with one temperature setting, which may or may not work. Lower settings are usually better, but an iron which has a wide range is a good option.
Automatic Shut-off
Some wet-to-dry hair straighteners offer an automatic shut-off option. This is a good feature for busy consumers who run out of their houses in the morning wondering whether or not they remembered to turn off hair tools. Consumers are able to make it stress-free by having straightening irons that turn off automatically after an hour or so, relieving stress and saving energy at the same time.
Wet-to-Dry Hair Straightener Brands
There are a few noteworthy brands that make wet-to-dry straightening irons. Some buyers may have a personal brand preference, and some may just be shopping by price and features. Buyers should study all of the brands available before making a purchase if they are not familiar with all of the brands.
Vidal Sassoon
Vidal Sassoon is a popular brand of hair tools that has been around for quite some time and has built a positive reputation. It offers a variety of different types of hair straighteners, many which can be used on wet and dry hair. Ceramic plates heat up quickly, and many of them also have automatic shut-off functions.
The prices vary, according to features. Vidal Sassoon makes straightening tools of various temperature settings, so buyers should check the listings to see that they are getting what they desire. Most of Vidal Sassoon's flat irons are made of ceramic plates. Some straighteners come with a convenient storage bag for the tools.
Kodo
Kodo is another brand that makes wet-to-dry hair straighteners. These are professional quality hair straighteners which are often made of plates that contain both ceramic and tourmaline materials. Kodo straighteners heat up quickly. This brand of straighteners is generally an expensive alternative to higher priced straighteners.
They also come in various colours such as pink. Many of these straighteners also offer curling tools that help create curls, dry, and smooth hair at the same time. Ventilation makes it easy for moisture to be absorbed and released, and tourmaline helps alleviate damage caused by heat styling.
BaByLiss
BaByLiss makes straighteners which can be used on wet or dry hair. Some of these use titanium technology for a high-end straightening experience. These may be more costly than other straightening irons but the results are worthwhile. They create even higher heat settings than tourmaline or ceramic irons, and some of them offer even longer plates for consumers with longer hair.
Glory
Glory is a less expensive brand that makes ceramic wet-to-dry hair straighteners. They are made with tangle-free cords for easy use, and the tip stays cool so consumers do not burn themselves while using the hair tools. They are professional quality hair straighteners at a discounted price which is affordable for consumers on a budget, yet they still do a good job straightening and drying hair at a safe temperature.
How to Buy a Wet-to-Dry Hair Straightener on eBay
When you are looking for the perfect wet-to-dry hair straightener on eBay, you can browse the selection of hair straighteners using the simple eBay search engine, or key in a search for "wet-to-dry hair straighteners" for specific results. You can narrow your search by brand, features, or whether you would like a straightening iron with ceramic or tourmaline plates. Purchase a hair straightener from a merchant who is a Top-rated seller on eBay. Ask questions about straighteners if you need to, and read the seller's listing carefully so you know exactly what you are getting and what other items come with the straightener, such as a storage case.
Find out if the seller is offering any other hair care tools or items that you may be interested in. Some sellers provide a discount for buyers who bundle more than one item together. This can provide less expensive shipping costs for even more items. Always check a seller's feedback before you bid so you are confident that he or she is highly rated. Once you have received your wet-to-dry hair straightener and you are satisfied with your purchase, make sure to go back to the seller's page and add your own feedback. This can be a useful tool for the seller to help optimise the buying process for other consumers, as well as a way to help other buyers make a purchasing decision when they are looking for hair styling tools.
Conclusion
Women are busy enough without having to take hours out of their day for hair styling. Simplify a hair styling routine with an all-in-one product such as the wet-to-dry hair straightener which cuts down on time and is a quick solution for drying as well as straightening and in some cases, styling the hair. Straighteners are made to alleviate damage to hair and provide a smooth, frizz-free, and shiny finish to hair. Straighteners are made with different materials to provide the best experience for each buyer's specific needs and hair type.
For buyers on a budget, there are low-priced hair straighteners that still provide salon quality results without the high cost. Consumers should select wet-to-dry straightening irons based on the features that are most important, as well as how often they are going to use the irons, the best irons for their own hair type, and how much they are willing to spend on wet-to-dry straightening irons. Some irons work on both wet and dry hair; that can be an added bonus as well.