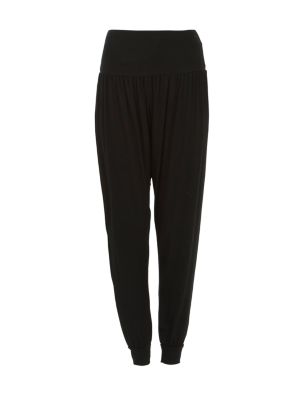 Harem trousers have been around for hundreds of years and worn by a number of societies throughout history, from royalty to peasants in different cultures and eras. It is widely believed that they were originally a Persian design. In the modern era, harem trousers have come an awfully long way since the MC Hammer pants craze of the 1980s. Harem trousers can be found to suit every woman of every height and size. They are available in a variety of lengths, styles, and fabrics. Different lengths and fabrics create trousers appropriate for either formal or casual occasions. The look of a pair of harem trousers is influenced by the other items that it is worn with, including tops and jackets, as well as shoes and accessories. It is more than possible to style a pair of harem trousers to create a fashionable ensemble that flatters and balances the body shape.
Harem trousers are available from women's clothing shops and department stores. Online retailers such as eBay, have everything a shopper needs to create a beautiful harem trouser ensemble.
History of Harem Trousers
Harem trousers are an ancient style of dress, believed to have originated in Persia around the 16th century, or possibly even earlier. Harem trousers were popularised by exotic belly dancers. The trousers have wide, billowing hips, with lots of excess fabric that tapers down to narrow, tight fitting ankle cuffs. In the modern era, these trousers have developed into parachute trousers. While they are still recognisable as harem trousers, they are available in a wider range of fabrics, with different embellishments and styling. Over the years, harem trousers and their variations have been worn by a range of fashionable music celebrities, including Janet Jackson, Kylie Minogue, and Jennifer Lopez, not to mention the infamous MC Hammer of the 1980s.
Length of Harem Trousers
Women have a range of choices when it comes to the length of harem trousers. Choosing the correct length depends on the season, the occasion, and the material from which the trousers are made.
Full Length Harem Trousers
Full length harem trousers reach the ankle and can be worn as day wear or evening wear depending on the fabric and accessories. Full length models in a jersey knit are more appropriate for day wear in cooler weather. Billowing silk or satin full length harem trousers are suited to evening wear or formal occasions.
Capri Length Harem Trousers
Capri length harem trousers taper to the mid calf. They are suited to warmer weather, as they leave much of the lower leg exposed. Trousers of this length, if cleverly accessorised can be worn as semi formal wear or as casual day wear.
Knee Length Harem Trousers
Knee length harem trousers reach just above or below the knee. Harem trousers in this style are a fabulous addition to a stylish summer wardrobe. Trousers of this length are usually made from lightweight, summery fabrics. It is best to style knee length harem trousers as a pair of long shorts, rather than a pair of trousers, and wear them for informal occasions.
Styling Harem Trousers
The voluminous, billowing style of harem trousers adds volume to the hips, thighs, and bottom, yet at the same time hides any unsightly bulges. So, when creating a perfectly, well groomed look for harem trousers, it is necessary to visually balance the design. Harem trousers can be worn with many styles of tops and shoes, so dedicated followers of fashion can always be on trend and stylish.
Tops for Harem Trousers
To create a balanced look it is wise to avoid tops that have volume or that are long enough to drape over the hips because they can make the hips appear even broader. Many women prefer to wear a close fitting top that gives a defined look to the bust and waist. Short tops that end at the top of the hips, or cropped shirts are favoured because they show off the voluminous trousers, while creating a sleek look in the upper body. These tops include printed, graphic t-shirts, which can be worn with plain harem trousers, and blouses or shirts with a tailored waist. Casual tops work well for day wear with capri or knee length harem trousers, and an elegant top is perfect for formal occasions when paired with full length harem trousers.
Jackets for Harem Trousers
The jackets that are favoured for harem trousers follow the same principles as tops: short or cropped, and close fitting to balance the upper and lower body. For casual wear, some women lean toward bright, block coloured jackets to draw the eye to the upper body and take the focus away from the wide hipped trousers. Bolero jackets, which sit on or above the hips, are also a very popular choice to complete a more formal harem trouser ensemble.
Accessories for Harem Trousers
Accessories help to finish any outfit. A brightly coloured, metallic, sequined, or glittery belt, draws the attention to the waist, adds definition, and takes the focus away from the loose fabric around the hips, thighs, and bottom. To draw the eye further up the body, a large necklace can be worn with an appropriate top. This can help to elongate the neck and upper body.
Shoes for Harem Trousers
Both capri and knee length harem trousers can visually cut the legs and make them look disproportionately short, so wearing the right shoes is essential. Choose shoes that flatter the legs by elongating them and balance out the volume of the harem trousers. Gladiator sandals with no heel work well for casual, everyday wear. They complete the outfit because their multiple straps providing an interesting focal point. They usually fit around the ankles and this can accentuate the legs in a flattering way.
For more formal occasions, court shoe heels are very popular with full length harem trousers. Not only do they bring a touch of simple style and flaunt a shapely leg, but the heels elongate the legs gracefully. Wedge heels and platforms can be worn with harem trousers of any length. Peep toes and strappy sandals are a fabulous choice in warmer weather.
Harem Trousers for Body Types
Women of all body types can create a stunning, attractive look with harem trousers. Slimmer women can use harem trousers to give the illusion of curves to the bottom and hips. Curvaceous women can look to traditional belly dancers for inspiration: the vast majority of whom wore satin or silk harem trousers with a gloriously attractive and sensual appearance. As with all clothing, ensure that the harem trousers fit well and that the fabric drapes and does not stretch tight. To reduce a broad upper body, use cropped jackets in block colours, which lengthen the appearance of the torso, producing a slimming effect.
Buying Harem Trousers on eBay
Harem trousers can often be found in high street clothing shops and department stores, along with the accessories to style them. Shoppers can also visit eBay to find everything that they need in one place, at affordable prices, and all from the comfort of their home. Buyers can perform a simple search from the eBay home page to find their ideal pair of harem trousers. Searching for "harem trousers" results in a long list of available items. This allows those looking for inspiration to see a wide range of harem trousers. If a particular pair of harem trousers is desired, then add more specific keywords to the search, such as "black cotton harem trousers". This gives fewer results to browse through and is a perfect solution for those who know exactly what they want.
Buying on eBay is a simple process. To be assured of the best possible service and a top quality product, buyers should check the feedback score of the seller before they commit to purchasing the item. A seller with a high percentage of positive feedback has a reputation for a quick, professional service, and consistently provides products of the highest quality. Feedback shows the opinions left by previous buyers, and includes information on communication, speed of delivery, service, and product quality. This gives the buyer an overview of the reliability and reputation of the seller.
Conclusion
Over the years, many women have loved the elegant, attractive style that can be achieved by voluminous harem trousers. Originating during the 16th century, in the mysterious lands of the Persians, harem trousers are still recognisable today. The trousers continue to be a very popular item, with many contemporary designs available. Harem trousers come in different lengths, fabrics, and patterns. They can be found in full, capri, or knee length. The length determines the seasonal appropriateness of the trousers, and the suitability for different settings. Harem trousers can be found in cotton, jersey, satin, or silk. The range of fabrics makes harem trousers versatile, and styles can be found that are suited to any occasion, whether it be an elegant, formal evening soiree, or a shopping trip with friends.
The fashion conscious will want to pair harem trousers with the right tops, shoes, and accessories to create the most up to date ensemble. Buyers can find everything that they need on eBay to create the perfect harem trouser look.