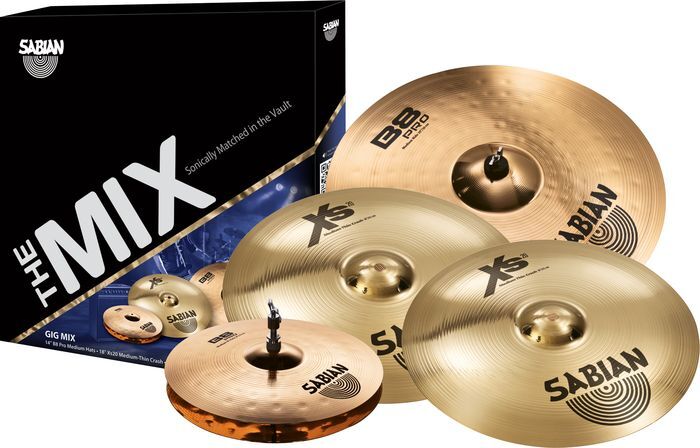 No drum kit would be complete without a set of cymbals. A cymbal is a percussion instrument, a thin, normally round plate of alloy that is capable of making a sound when hit either by a drumstick or by another cymbal. Cymbals are used in many different areas of music, from orchestras to rock bands. There are seven different types of cymbal, all of which are described below.
The Seven Types of Cymbal
| | |
| --- | --- |
| Hi-Hat Cymbals | Ride Cymbals |
| Splash Cymbals | China Cymbal |
| Crash Cymbals | Clash Cymbals |
| Sizzle Cymbals | |
The size, shape and thickness of a cymbal have a great effect on the kind of sound it can produce, and these elements make up the seven different types. More detailed descriptions of each of the seven types of cymbal in turn are below.
Hi-Hat Cymbals
A hi-hat cymbal comprises of two cymbals, mounted one on top of the other on a stand. The two cymbals are held in place by a narrow metal shaft that runs through a hollow tube connecting to a pedal. The top cymbal is attached to the central rod by a clutch. When the foot plate of the pedal is compressed, the top cymbal is brought down swiftly onto the bottom cymbal, making the noise. When the pedal is released, the top cymbal is brought back up to its original position. The lower of the cymbals is fixed into position and is unable to move. Hi-hat cymbals are normally used in contemporary music such as rock, R&B, hip-hop, jazz, and reggae, amongst others.
Ride Cymbals
The ride cymbal is another standard type of cymbal found on most drum kits, and the term 'ride' means 'to ride with the music'. The primary purpose of this type of cymbal is to provide a steady rhythm rather than an accent sound, although they can be modified in order to fulfil other sound requirements. Most drummers keep the Ride Cymbals close to their dominant hand for ease and convenience. In small kits, the ride cymbal is the only suspended cymbal, and on larger kits, it is generally used either as a large crash or a secondary ride. The sound itself is influenced by the size and thickness of the cymbal and the instrument used to hit the cymbal with. Cymbals that are smaller and thinner make more of a steady, shimmering sound than cymbals that are thicker. Hitting this type of cymbal with a wooden drum stick gives out a smooth, quiet sound, whereas a nylon tipped brush will give a sharp tone, and a brush will give out a low, steady beat.
Splash Cymbal
This type of cymbal is used in a drum kit to create special effects and is the smallest accent cymbals. Other names for a splash cymbal include a multi-crash or crescent cymbal, and it is so named as the sound is similar to that of a splash. They have a short, high pitch sound and, in order to make a suitable sound, have to be hit relatively hard. The most common sized splash cymbal has a diameter of 10 inches, and they can be as small as 4 inches or as large as 14 inches. Anything larger is usually called a medium thin crash cymbal. Different types of splash cymbal are used for different categories of music. There are rock splash cymbals, salsa splash, bell cymbals, and more.
China Cymbal
The name of this type of cymbal is due to its history as the china cymbal can be traced back to that of the gong, with which it shares a similar sound and shape. China cymbals are designed to create a dark, crisp, trashy, and explosive tone. These cymbals are distinctive by having a bell that is either cylindrical or conical in its shape, an outer rim that is upside down to other models, as thick at the rim as it is at the bell, and an unpolished area. Not all, but most china cymbals have these characteristics. When in use, this type of cymbal is mounted with the bell downwards. China cymbals are usually 12 inches in diameter, although some manufacturers make bigger ones.
Crash Cymbals
The type of sound provided by this type of cymbal is given away by its name - a loud, sharp 'crash' sound. As this is a loud sound, it is usually used just for the effect of giving an accent noise. Traditionally crash cymbals are used in pairs, and each one is held by a strap in the bell. Different sounds can be produced by various ways of hitting the cymbal. They can be played with a drum stick, mallet, or by hand by rubbing the edges together in a sliding motion, by striking the pair against each other, by softly tapping the body of one cymbal against another, scratching the inside of one from the bell to the edge, or by shutting the two cymbals together. Similar to other types of cymbals, crash cymbals make a different sound according to the size and thickness. Larger crash cymbals are usually used by big bands while on stage to produce a loud sound.
Clash Cymbals
This type of cymbal is simply played in pairs by striking the two of them together by hand. Like other types of cymbal, the sound produced by clash cymbals varies according to the thickness and size of the cymbal. Small and thick cymbals create the highest pitch sound, whereas the larger cymbals create the greatest noise.
Sizzle Cymbal
A sizzle cymbal is a complicated looking cymbal that has rivets, chains, or rattles attached to it to adjust the kind of sound it makes. Rattles, for example, make the sound of the cymbal louder and more penetrating. Sizzle cymbals are found most commonly in a drum kit. It is a large cymbal with several loosely-fitting rivets locked in holes which are spaced equally apart around the cymbal closely to the rim. Sizzlers do not necessarily need holes in the cymbal in order to produce a 'sizzle' sound. There are two different patterns in sizzle cymbals - rivet sizzlers and chain sizzlers. Rivet sizzlers work through rivets suspended above the edge of the cymbal in two different groups 180 degrees apart by rivet sizzlers. On the other hand, chain sizzlers work through suspended short lengths of ball chains on the surface of the cymbal. The ball chains can be fixed, adjustable in length or removable entirely.
Cymbal Brands
There are many different brands of cymbal available on the market. Some of the most well respected brands include Zildjian, Sabian and Paiste, although there are others. Different drummers prefer different brands as there can be differences, so choice is based largely on personal opinion.
Where to Find Cymbals on eBay
In order to find cymbals on eBay, first head to the homepage. From here, using the links on the left hand side of the page, select All Categories and then select Musical Instruments from the drop-down selection. The page that loads is the shop front for Musical Instruments on eBay. In the Percussion section, select Cymbals from the possible options. The page that loads will have all the listings in the cymbals category on eBay. From here, listings can be narrowed down according to the type of cymbal, brand, size and more. Alternatively, use the search engine on the eBay homepage to find listings using keywords for the desired product.
Conclusion
In drumming, there are seven different types of cymbal. The seven different types of cymbals have their own characteristics and are used in different sorts of music. Larger drum kits will often use a combination of various types of cymbal, whereas a small kit may only have a few or even just one. An experienced drummer will be able to get the best possible sound from each type of cymbal in his or her kit when necessary.