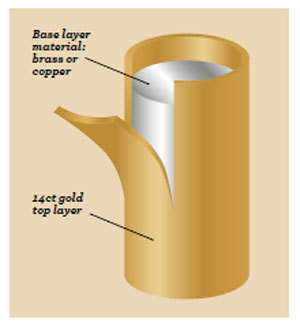 Add a caption
A Gold Filled Wire, the Core could also be Silver or any other Metals
Define Gold Filled
There is a misuse of the term Gold-Filled, we believe much of this is misunderstanding by the sellers and of course there are those who claim Gold-Filled with the intent of increasing their sales and profits, unfortunately the majority of buyers are not aware that Authentic Gold-Filled Jewellery has a Specification which ensures that Gold-Filled Jewellery products actually have a Real Gold Recovery Value or even Heir-Loom Status.

In Gold-filled a sheet of gold is mechanically applied to the surface of a stronger metal. Victorian or older period pieces are likely unmarked, but later pieces are marked with the fineness of the gold layer and the weight of the gold. For example, a piece marked "1/10 12K G.F." is composed of at least 1/10 12K Gold based on the weight of the finished piece. In the U.S, Gold filled pieces must be at least 1/20 by weight to be classified as Gold-Filled.

The U.S. Department of Commerce (F.T.C - Federal Trade Commision) played a role in the new popularity of Gold-Filled Jewelry by issuing Commercial Standard CS 47-34 which created a precise definition for "Gold-Filled", decreeing that the total weight of Gold-Filled Jewelry had to be 1/20 or more (5% or greater) 10K or higher Karat Gold.

Genuine Gold-Filled is not just the method of protecting the base metal - the surrounding Gold on the Jewellery must weigh 5% of the Jewellery's overall weight and purity of the Gold used must be 10K or more, 9K Gold is not considered Gold.

So for example, if you purchase a Gold-Filled item of 24K weighing 100gm the surrounding Gold should weigh 5gm, with Gold averaging 30 USD per gramme - the item value would not be much less than 150 USD.

If the amount of Gold is less than 5% of the Jewelry's overall weight, it does not qualify as Gold-Filled but becomes known as Rolled Gold Plate or Gold Overlay.

We hope you find this information useful.