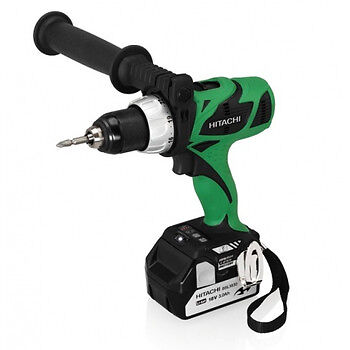 For both the DIY enthusiast and the one-time home improvement handyman, cordless drills such as those by Black & Decker, are excellent tools to have around. Unlike their industrial-grade cousins, cordless drills can be used anywhere as long as their batteries are charged, and they are intuitive in design and function. Cordless drills also allow owners to change drill bits to accomplish different tasks, from tightening screws to boring holes in metal. Because of this, cordless drills can replace many other power tools in the DIY kit. Some cordless drills are more ideal for DIY than others due to their superior design, battery life, and cost.
While cordless drills can be found in brick and mortar home improvement stores, they can also be found online using websites such as eBay, where a variety of options are available for purchase. After learning the basics about cordless drills, buyers may find that the perfect companion for their next DIY project is only a few mouse clicks away.
Components of a Cordless Drill
Before shopping for cordless drills, understanding the various components of a cordless drill and how they work can help an individual understand the differences between drills. Cordless drills are obviously characterised by their lack of a connected power source, as they are battery-operated. However, drills also differ in the various designs of other key features.
Drill Component

Description

Metal ring around the drill's chuck

Also called the clutch

Different values along the ring offer various speed settings for the drill

Some drills have limited torque selection, while others are more versatile

More torque equals more power

Also used to prevent the chuck from drilling too deeply or breaking a screw head

Clamps drill bits into place

Characterised by three jaws on a scroll plate

Can be tightened by hand rather than by key

Good for round and hexagonal drill bits

Serrated jaws offer better grip

Single-sleeve chucks can be tightened using one hand

Automatic Light

Good for DIY projects that involve working with limited light

Forward/Reverse Switch

Changes direction of drilling

Tighten and loosen using drill bits

On/Off Trigger

Turns the cordless drill on and off

Grip

Can be plastic, rubber, or other material

Good traction is recommended to prevent slipping or accidents

Battery

Slides into the bottom of the drill body below the grip

Rechargeable; charge times vary by model

Drill speeds affect battery life

Environmentally-friendly options available

Many drills come with two rechargeable batteries
Although cordless drills share these various components in their design, they also vary in the features offered by each component. For instance, cordless drills are different in battery life, torque selection, and grip.
Factors to Consider When Shopping for the Ideal DIY Cordless Drill
While it is widely agreed that cordless drills are essential staples in the DIY toolkit, some cordless drills are more ideal for DIY projects than others. Because those who lean toward DIY projects want quality results while saving money, the ultimate factor for the right DIY cordless drill is affordability. Cordless drills range in price from £30 to £300, but more expensive tools do not always make for perfect DIY equipment. Various other factors can help individuals find a quality and inexpensive drill when shopping for the right cordless drill for DIY projects.
Weight/Grip
For those who need a cordless drill for DIY projects, heavy-duty drills can be heavy and difficult to use. Rather than investing in a bulky, heavy drill, the handy DIY enthusiast should find a cordless drill that can accomplish the tasks in mind while still maintaining a manageable weight and portability. Also, the grip of the drill is very important. Not everyone has large or calloused hands from professional home improvement work, so a cordless drill with an easy and steady grip is essential.
Torque
Torque, or power, can be determined by the drill's voltage. For DIY, 14.4 volt cordless drills are more than enough for most projects. A drill with a voltage higher than this may be more expensive, and a drill with a voltage lower than 14.4 may not be powerful enough for the job. Some cordless drills come with variable speed options that allow the user to maintain control and precision at all times.
Battery Life
As the most basic component of the cordless drill, batteries make or break the quality of the drill in a toolkit. Drills with longer battery life and faster recharge times are ideal for DIY projects. This allows users to take their drills outside the house to areas far from a power outlet, where they can be used for lengthy periods of time. Fast recharge times allow individuals to work on those longer, more complex projects without wishing they had invested in a drill with a power cord.
Essential Bits for DIY Projects
The ideal cordless drill for DIY projects needs the right drill bits to be able to accomplish various tasks. There are countless types of drill bits for sale, but for the individual that only uses a drill for DIY tasks, there are a few bits that are essential to the toolkit. Regardless of the DIY project, determining the needs for the cordless drill helps shoppers find the ideal drills and necessary bits for their toolkits. With the right bits and drills, they can confidently take on any home improvement or craft project.
Standard Bit Holder and Bits
As the most common set, the standard bit holder comes with various sizes of flat and Phillips head bits. These bits are used for drilling screws into wood, metal, and plastics.
Paddle Bits
Named for its paddle-like shape, paddle bits are used to make cylindrical cuts into wood. This bit is not meant for making holes deeper than a centimetre or for being used on metal.
Countersink Bits
The countersink bit looks like the end of an auxiliary plug and is narrow and slender with rivets like a screw. Countersink bits are used to prepare holes for screws and nails, so they can sit flush with the wood's surface. It is important to use a countersink bit that is smaller than the diameter of the screw or nail used.
Masonry Bits
Masonry bits are meant to drill holes through ceramic, tile, brick, and porcelain. Masonry bits are long and have a helixed appearance. Because ceramic becomes hot when drilled, this bit should be spritzed with water to prevent cracking of ceramic surfaces.
Twist Bits
Similar in appearance to masonry bits, twist bits are made of carbon steel and are used to drill holes into wood and soft plastic. High carbon steel bits are for metal and are more expensive. Besides the standard bits for drilling screws, twist bits are the most important bits to have available for DIY projects, as they are the most versatile.
Safety Precautions for a Cordless Drill
When using a cordless drill, it is important to always exercise caution. DIY projects can sometimes seem advanced for the average person. If this is the case, it is better to be safe and call a professional for the job. When operating a cordless drill, one should always wear eye protection, as drills cause dust, splinters, and shards to fly through the air. Wearing gloves and ear protection is also recommended to minimise risk of injury.
For heavy or complicated projects, having a second person around to help is highly recommended. It can be difficult to properly use a drill with one hand while trying to hold something in place with the other. Because safety is paramount, one should use both hands to control the drill at all times. The ability to manage drill speeds is designed for safety and control during DIY projects. Users should always operate the drill at a speed where they feel comfortable. It is better to drill slowly than to lose control and risk injury.
Shopping for Cordless Drills on eBay
Cordless drills are not hard to find, but finding the ideal one for DIY projects may seem like a daunting task with so many options available. Fortunately, eBay allows shoppers to specify budget and desired features when browsing through the website for the right cordless drill. By inserting keywords such as 'DIY cordless drill' or 'twist bits' into the search box that can be found on every page at eBay, one can find all available products for sale in a matter of seconds. It is then an easy task to choose one or more of the various filters to narrow the results.
When browsing through eBay's large selection of cordless drills and accessories, it is important that buyers thoroughly research the reputation of sellers on eBay by looking at the feedback left by previous customers. Doing so gives shoppers the ability to see if the products from certain sellers have been high quality and if their customers have been satisfied with their purchases.
Conclusion
DIY projects are meant to be fun, somewhat simple, and yield beautiful results. Meeting these expectations depends on the tools that are used to accomplish the tasks. By investing in the right cordless drill for the job, shoppers can tackle DIY projects without the experience becoming too difficult or taxing. Some cordless drills are better for DIY projects than others. The right drill should fit the set budget, fit easily within the palm of the hand, have the right amount of torque, and use a battery with an appropriate battery life.
There are all sorts of drill bits that can be purchased to use with a cordless drill for DIY projects, from the standard screw bits to more specialised masonry bits. Cordless drills and the appropriate bits can be purchased online at eBay or other websites, or they can be purchased locally in home improvement and hardware stores. After buying the ideal drill, 'do-it-yourself' projects can easily become 'did-it-myself' achievements.