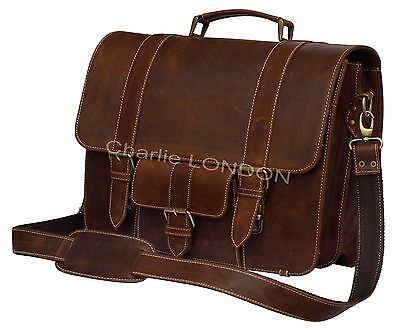 These days, our computer device has become more portable and practical. Our personal or desktop computer is no longer the only option that we have when it comes to supporting our computing tasks. Many individuals and workers who have found great uses of a laptop. This new generation of computing device allows you to do your office jobs anywhere you like. Since this kind of computer comes with a great portability, it is very important that you equip your laptop with quality laptop leather bags. Not only that this kind of bags will keep your laptop secure and safe, it should also support a more convenient use of the device.


More and more computer users start to leave their desktop computer behind and turn to using a laptop for many different reasons. This simply leads us to a very high demand for
laptop leather bags
in the market. It should not be too hard for you to find a leather bag for your laptop in many stores. They are available with many different brands, sizes, designs and styles. If you care about the your portable device, it is important for the leather bag you choose to have the following features.
Decent Durability and Waterproof Characteristic
The laptop bags made from genuine full grain leather seems to be a more preferable choice these days. This quality material offers a much better durability and your laptop bag will have no problem in holding your laptop under extreme handling conditions. The stitching and closures of your leather bag should be very solid as well. In addition to that, it would be great if you can come up with a laptop leather bag that comes with waterproof interior lining. Almost all the laptop bags made from genuine leather material are a great choice for a laptop and the waterproof interior keeps your portable device from possible damages.
Lightweight Design
You cannot take your laptop alone. You should never leave your cords, cables, extra batteries or some other electronic gear behind or your laptop will not be useful at all. It is highly recommended that you choose the leather bags that offer plenty of space for all those important accessories. Your laptop bags should be sturdy enough to hold up your portable device under many conditions. In order to make your traveling more convenient, make sure that the laptop bags come with lightweight design. This is important so that you will not get fatigued easily when carrying the laptop in the bag. Your laptop is heavy enough, it would be best if your laptop leather bags do not add more burden to your shoulder.
When it comes to choosing the right leather bag for your laptop, it is advised that you pick the one that has an adjustable shoulder strap. This simple feature will keep you away from placing your laptop on the floor when you try to reach for your wallet with your hands. Make sure that the straps are long enough to accommodate your height and body shape properly.
Please click on the link to purchase
Laptop Leather Bags